This Buffalo Chicken Salad is a versatile recipe you can use in a wrap, on a sandwich, or as a snack with crackers and veggies. It's done in 10 minutes and almost feels like cheating with how delicious it is!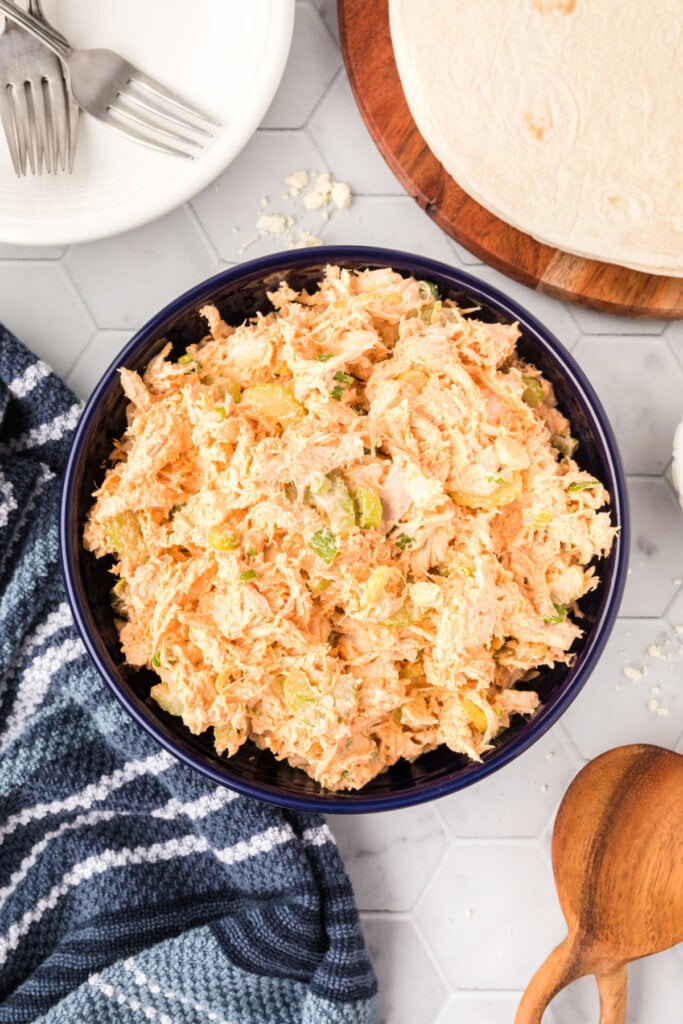 Buffalo Chicken Salad Recipe
Chicken salad is great and all, but sometimes you just need a little spice in your life, you know?! And when that happens, you gotta add spice! This Buffalo Chicken Salad has some heat thrown into it.
Basically, it's onion and celery and cooked chicken wrapped up in buffalo sauce and mayo. You can determine your heat level based on how much you can tolerate, of course, and you can use this mixture however you like. Try a tortilla! Try it as a dip! Eat it as a snack or as a filling full meal! It's fast and easy. No fuss!
By the way, this is a great low-carb lunch or dinner idea if you're on a diet that focuses on carbs.
Serve it up in a wrap or lettuce wrap, in a sandwich, or just eat it out of the bowl as I do sometimes. No matter how you decide to serve it, I hope you enjoy it!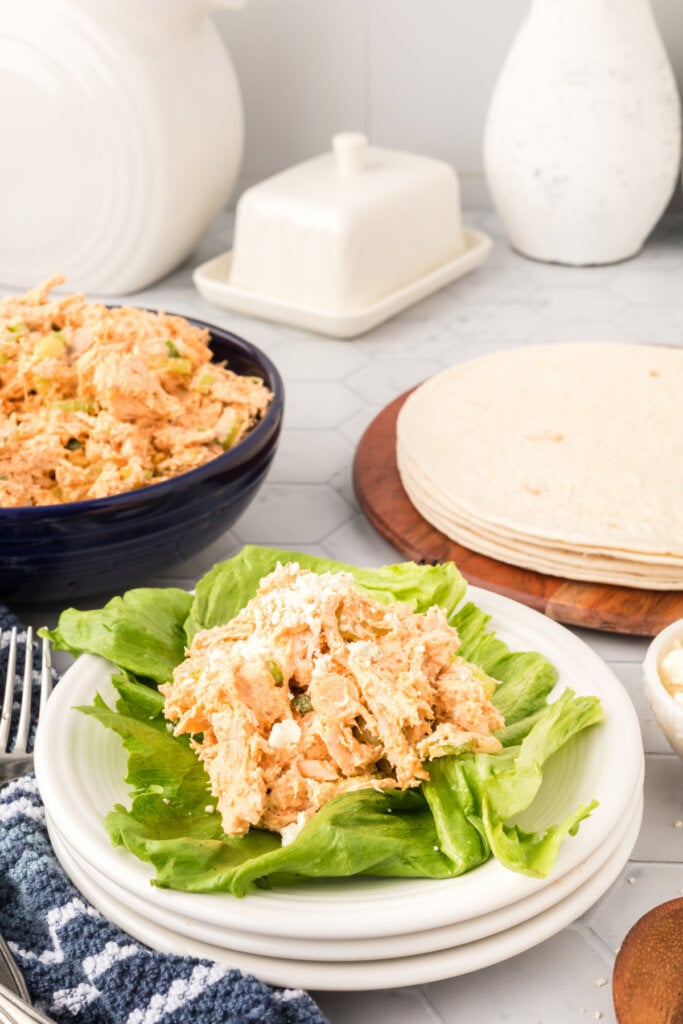 Recipe for Buffalo Chicken Salad: Ingredients & Equipment
For this Buffalo Chicken Salad recipe, you'll need …
Ingredients
cooked chicken – shredded or chopped. This is a great recipe for leftover rotisserie chicken or chicken breast! You can even use canned chicken for this recipe.
celery and green onion – the tasty veggies in your salad.
mayonnaise or sour cream, buffalo sauce – this turns your chicken salad from boring and normal to spicy and delicious!! Use your favorite brand of buffalo sauce or even something like Frank's Original Red Hot Sauce instead.
NOTE: This recipe is easily doubled or tripled if you want to make a heck of a lot more!! (And you probably will!)
Equipment
bowl – to combine all your ingredients!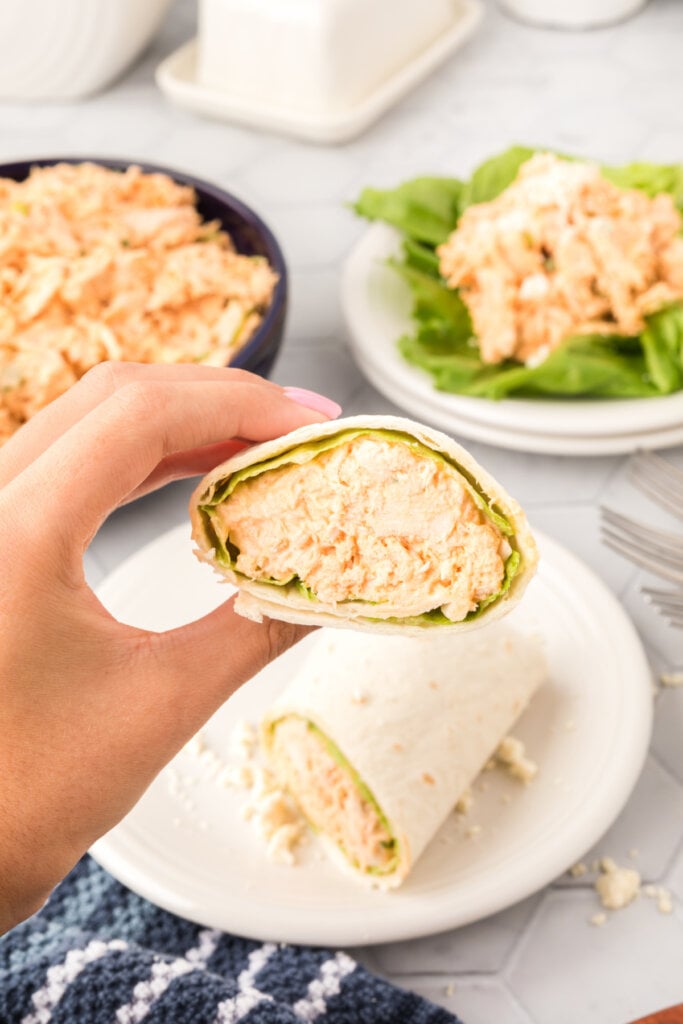 How to make Buffalo Chicken Salad
To make your Buffalo Chicken Salad, all you need to do is combine all the ingredients in a large bowl and mix them until they're well combined. Serve it immediately, and refrigerate any leftovers!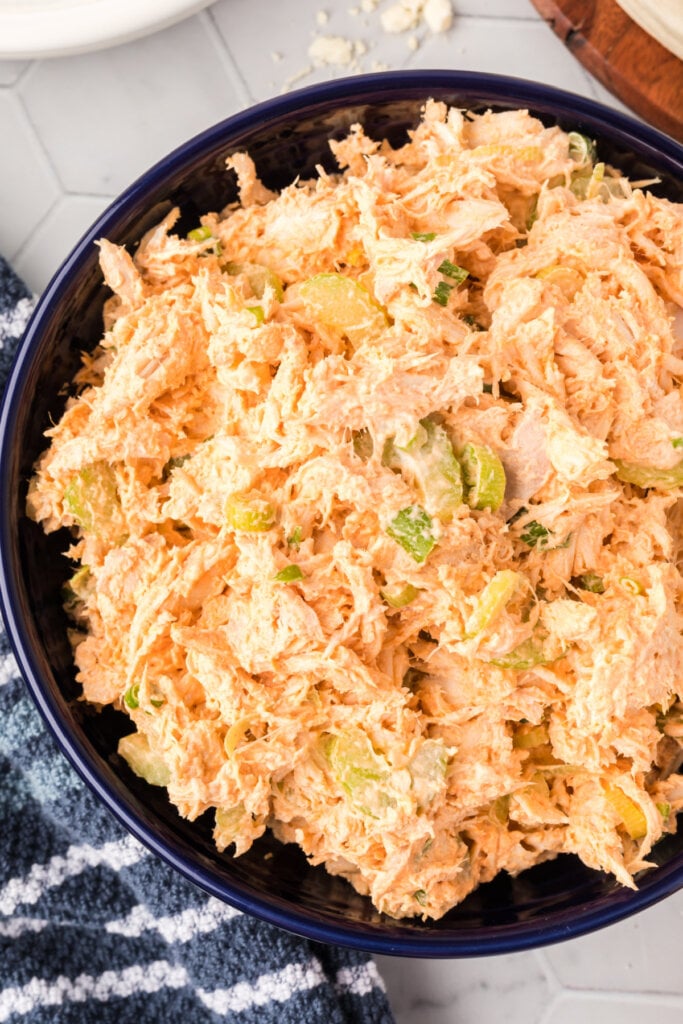 Buffalo Chicken Salad Recipes: FAQs
How long does it take to make this recipe?
Just 5-10 minutes since you'll be mixing the ingredients together. That's it!
How many servings does this produce?
It should give you enough for 6-8 servings. Like I said, though, you can easily double or triple the recipe.
Does this Buffalo Chicken Salad taste good with cheese?
Absolutely, y'all! Try adding shredded cheddar, Monterey Jack, or blue cheese. They all taste AMAZING.
How should I store leftovers?
Use an airtight container; any leftovers should last for ~3 or so days in the fridge. If you're doing something make-ahead, separate the dressing and the salad, so it doesn't get all soggy.
What other substitutions or additions do you recommend?
Try anything like the following…
– using red onion instead of green onion
– tossing in more veggies like grape tomatoes, avocados, corn, baby carrots, shredded romaine lettuce, spinach, cucumbers, etc
– a touch of honey with the buffalo sauce if you like sweetness
– adding dressing on top, like ranch or blue cheese dressing
– adding pecans or walnuts (believe it or not, it's a super tasty combo!!)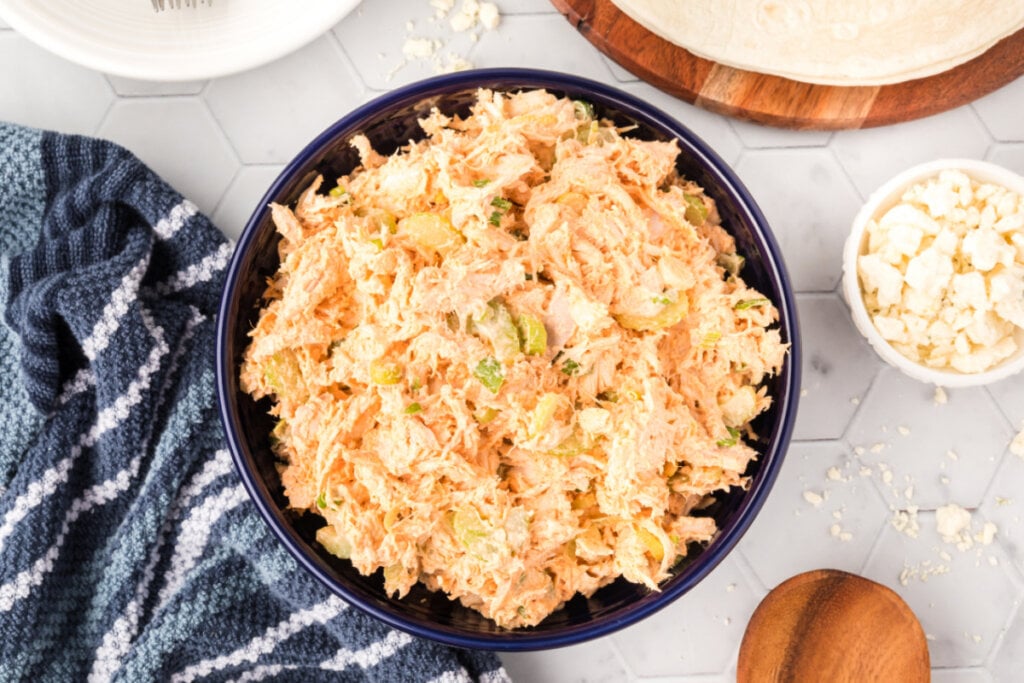 Other recipes you may enjoy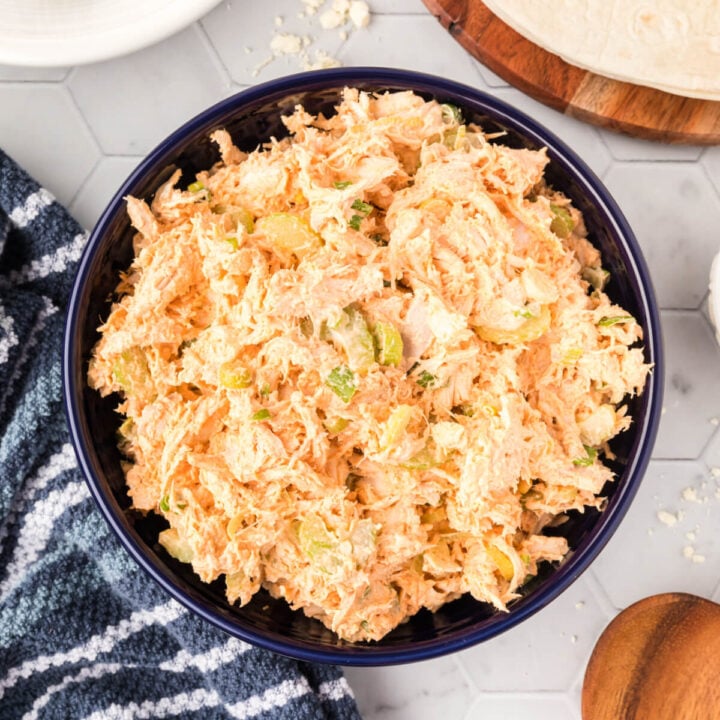 Buffalo Chicken Salad
This quick and easy Buffalo Chicken Salad is a versatile recipe you can use in a wrap or sandwich or as a snack with crackers and veggies.
Ingredients
1 to 1-1/2 lb. cooked chicken, shredded or chopped
1/2 cup finely diced celery
1/2 cup finely chopped green onion
3/4 cup mayonnaise or sour cream
4-6 tablespoons buffalo sauce, more or less to taste
Instructions
Combine all ingredients in a large bowl and mix until well combined.
Serve immediately. Refrigerate any leftovers.
Notes
This is a great low-carb lunch or dinner idea.
This recipe is a great way to use leftover chicken. You can use canned chicken for this recipe, too.
Enjoy this recipe as a snack with crackers, pretzels, or veggies.
Serve this Buffalo Chicken Salad as is, in a wrap, on a sandwich, or in a lettuce wrap.
Try adding shredded cheese to the mixture - Blue Cheese, Monterey Jack, and Cheddar are great choices.
You can also use Frank's Original Red Hot Sauce in place of the Buffalo sauce.
Recommended Products
As an Amazon Associate and member of other affiliate programs, I earn from qualifying purchases.
Nutrition Information:
Yield:

8
Serving Size:

1
Amount Per Serving:
Calories:

397
Total Fat:

31g
Saturated Fat:

7g
Trans Fat:

0g
Unsaturated Fat:

22g
Cholesterol:

116mg
Sodium:

500mg
Carbohydrates:

1g
Fiber:

0g
Sugar:

1g
Protein:

28g
Please note that the nutritional information listed on this page is an estimation based on the products I used. Ingredients and nutritional information can vary significantly between brands. Always be sure to read labels. Please verify that a recipe fits your needs before using it. Nutrition info may contain errors, so please verify it independently. Likewise, recipes may contain errors, so please use your common sense when following them.