A delicious, fresh and healthy taco recipe with chicken, apples and onions to add to your favorites!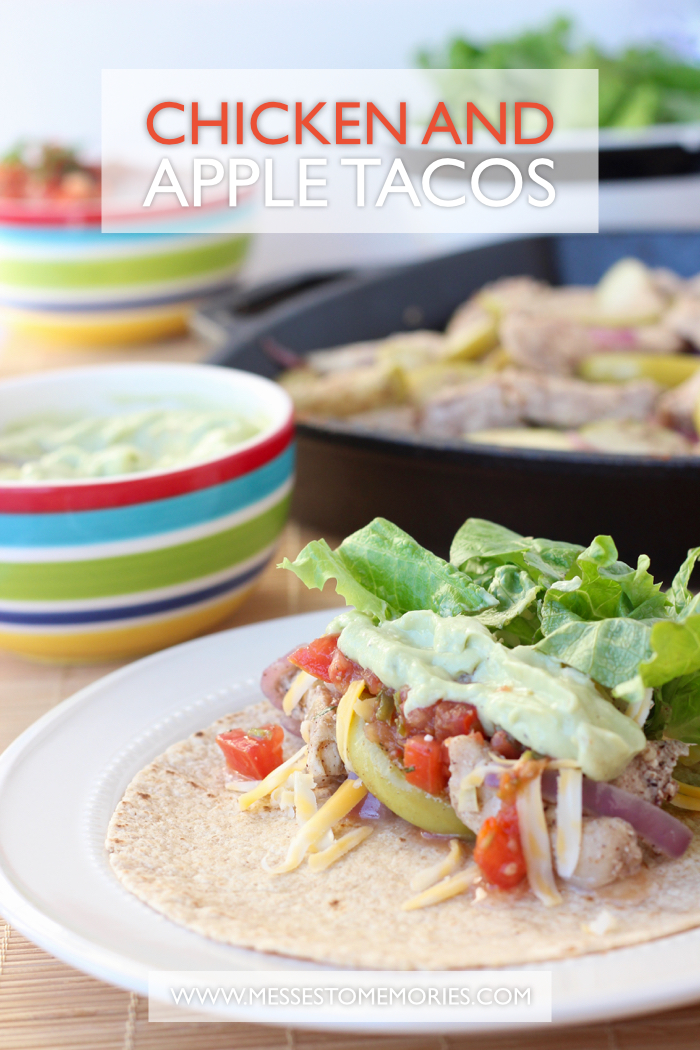 Disclaimer: Blendtec provided blenders for the giveaway and the three hostesses for review purposes. No other compensation was received, and, as always, all opinions are my own.
Chicken and Apple Tacos

Welcome to #EatHealthy16 where over 30 bloggers are coming together to share recipes to help you with your start 2016 off on the right track with food that is nutritious and delicious. Brianne of Cupcakes & Kale Chips will have healthy snacks, Jamie of Love Bakes Good Cakes will have healthy meals, and Jenny of The Melrose Family will have healthy desserts, so make sure you follow the #EatHealthy16 hashtag throughout the month of January for tons of inspiration!
We are also excited to be giving all of our readers a chance to win a Blendtec 725 blender and Twister Jar, an over $750 value. Be sure to head over to Messes to Memories to enter! You have through February 5, 2016, to enter. Giveaway is open to U.S. residents 18 years of age and older. Winner must respond via email with a valid shipping address within 48 hours of being contacted or another winner will be selected. Good luck!
Today, I am welcoming Carisa from Messes to Memories to share a recipe for #EatHealthy16. After you grab the recipe, be sure to head over to her blog and enter the awesome Blendtec giveaway for a chance to win! 🙂
Carisa here from Messes to Memories! I'm so excited to be sharing one of my favorite healthy dinner ideas!! These Chicken Apple Tacos resulted from an experiment that my mom and I threw together when I was in college. Over the years it has become a family favorite!
I came home from college to visit my mom and she asked me what we should have for dinner. We were in the mood to try something new and delicious! We searched and found the idea for Chicken Apple Tacos. At first I was dead set against it because I am not the biggest fan of soft squishy cooked apples. But my mom put her persuasive skill to use and we decided to test it out anyway.
The result was amazing and literally one of my favorite dishes ever. The flavor is out of this world and it gets 10 points for being a unique and fun dish! It's also super healthy! I mean it has apples in it! Add a little lettuce and cheese. Plus you top it off with salsa and guacamole! Mm… Two of my favorite things!
I always seem to pull this recipe out in January! I don't know why, but it just seems fresh and exciting and definitely makes me feel good about what I am putting into my body! Perfect for the new year and getting healthy.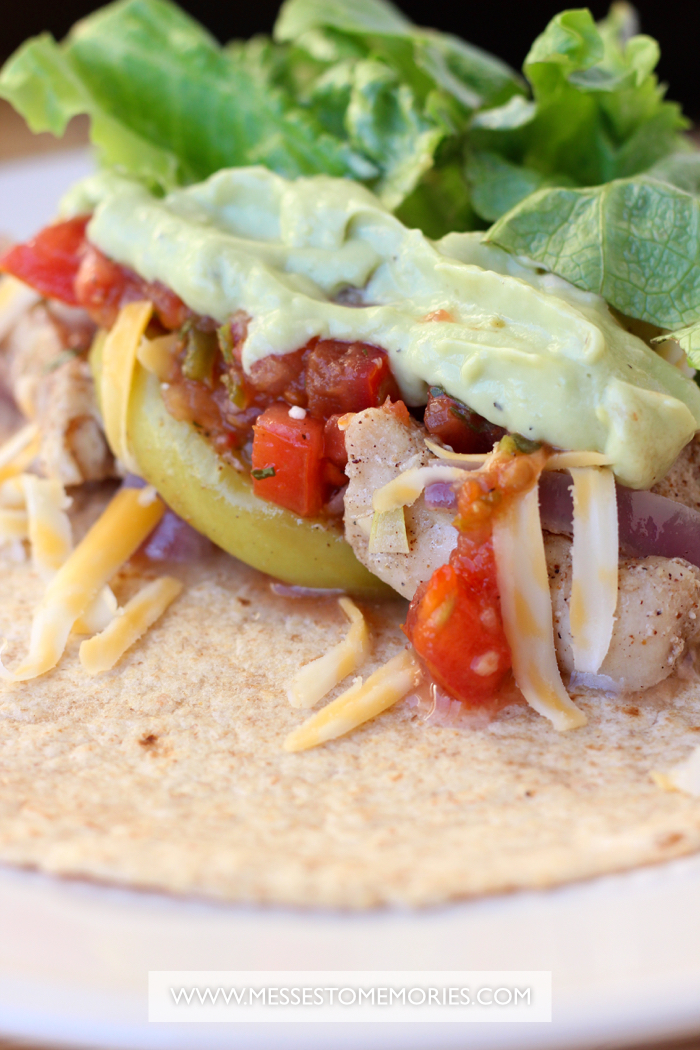 When I told my kids we were having Chicken Apple Tacos I got the weirdest reaction. My son (age 2) was completely confused why we were cooking apples and putting them in a tortilla… My daughter Lanae was thrilled we were putting apples in our tacos. She is officially the biggest apple lover that I know.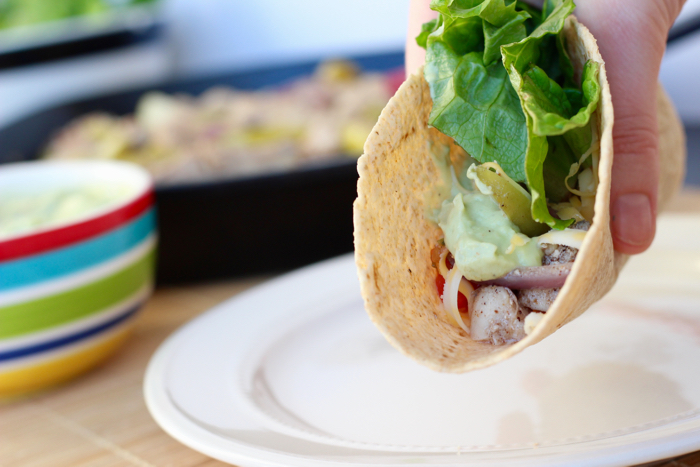 I promise, these are good and well worth trying! I have found that having the apples a little thicker and getting them cooked just right so that they aren't soggy, but still crisp and juicy and flavorful really makes this dish pop!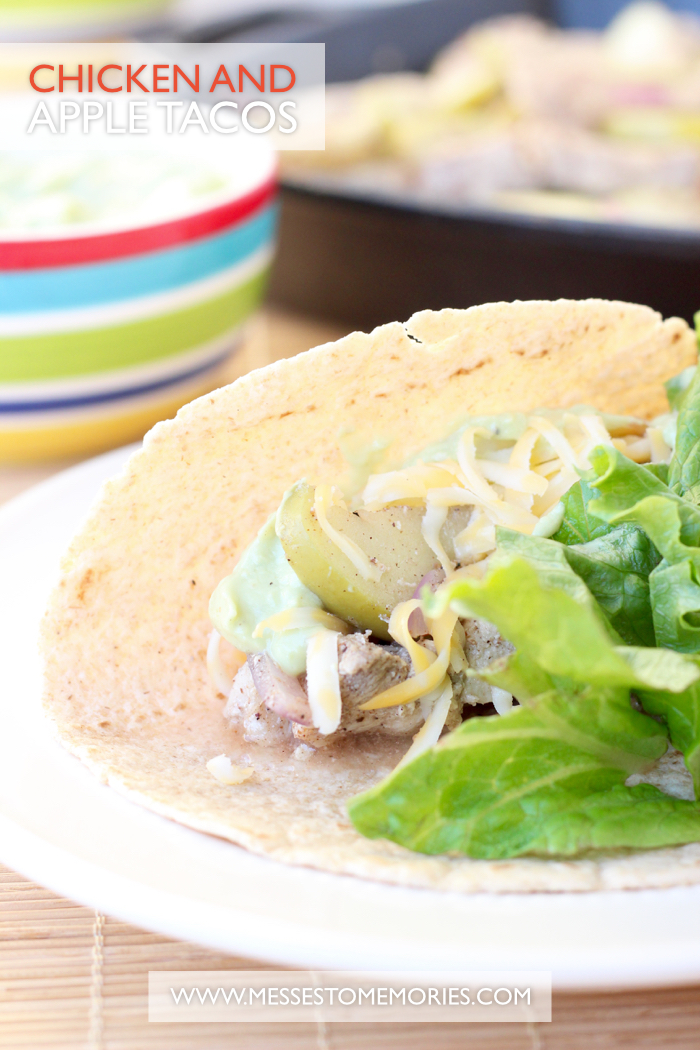 Come and check out some of my other favorite recipes on Messes to Memories!
You can also find me on my social media sharing recipes and more family fun ideas!
Facebook, Pinterest, Twitter and Instagram
Here are some more of our favorite healthy recipes: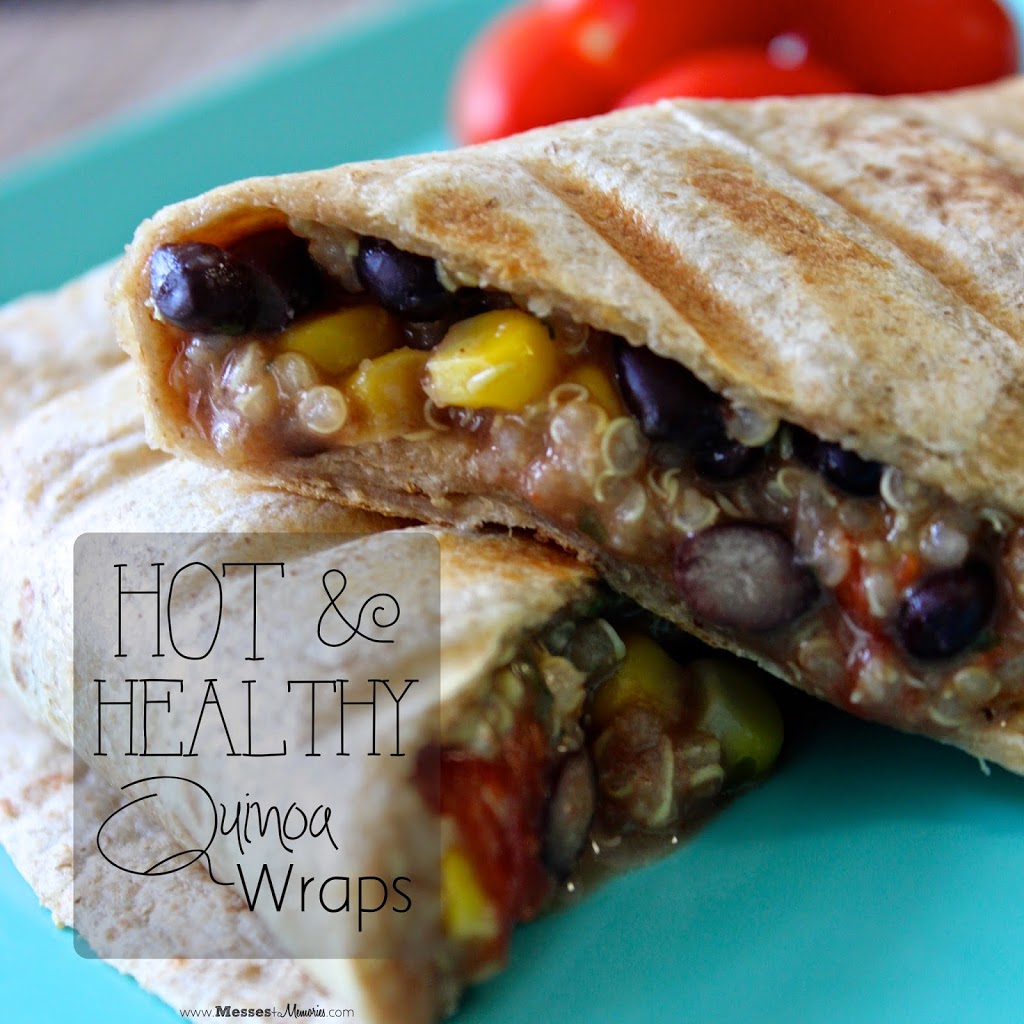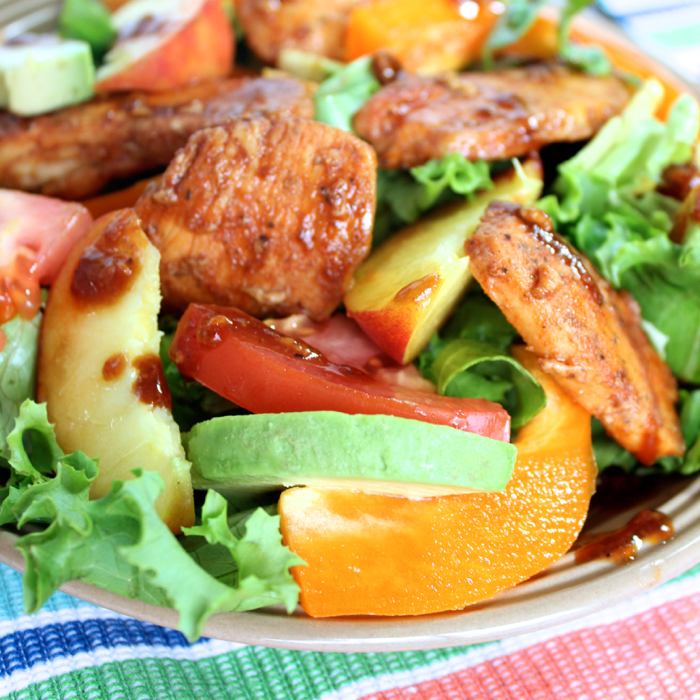 Other Posts You May Enjoy:
Red Curry Eggplant and Kale over Cauliflowered Rice
Healthier Version Chicken Parmigiana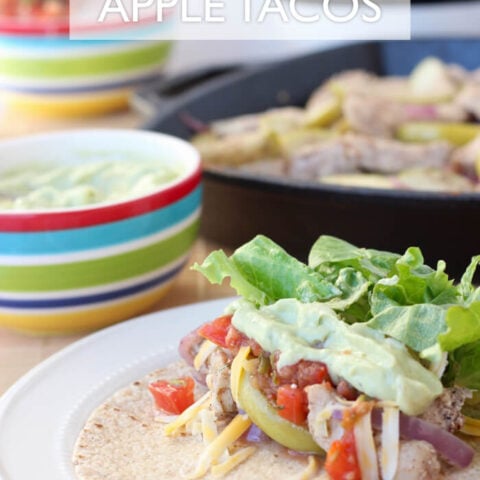 Chicken Apple Tacos
A delicious, fresh and healthy taco recipe with chicken, apples and onions to add to your favorites!
Ingredients
1 tbsp olive oil
3 chicken breasts sliced
1/2 tsp salt
1/2 tsp ground nutmeg
1/2 tsp black pepper
1 Tbs butter
2 c thinly sliced onion
2 c sliced, peeled granny smith apples
2 garlic cloves, minced
8 (6 in) flour tortillas
Instructions
Heat oil in large nonstick skillet over med-high. Sprinkle chicken evenly with spices. Add chicken to pan; sauté 7 min or until cooked through and starting to brown. Remove chicken from pan; keep warm.

Melt butter in pan, add onion, cook 4 min or until tender, stirring often. Add apple; cook 6 min or until golden, stirring frequently. Add garlic; cook 30 seconds. Return chicken to pan; cook 2 min or until thoroughly heated.

Serve with salsa, lettuce, guacamole and cheese.
Nutrition Information:
Amount Per Serving:
Calories:

420
Total Fat:

17g
Saturated Fat:

5g
Cholesterol:

61mg
Sodium:

542mg
Fiber:

3g
Sugar:

7g
Protein:

24g