Air fryer Crab Bites are a quick and easy way to enjoy the flavor of crab without the added fat and calories of deep frying. They make a great appetizer for parties and get-togethers, or they can also be served as a snack or light meal. Experiment with different seasonings and dipping sauces to find your favorite combination.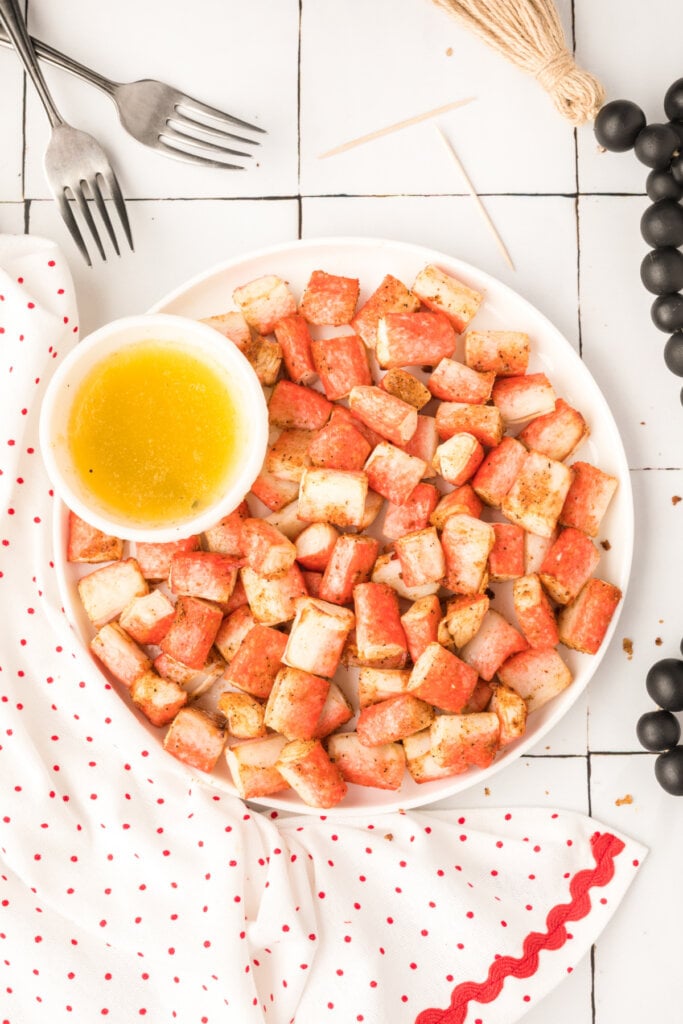 Air Fryer Crab Stick
These Air Fryer Crab Bites are the simplest way to get seafood into your belly for all you fans of crab out there! In less than half an hour, you'll have a tasty crab snack made right in your air fryer.
You know that old joke … "I like seafood. I see food, and I eat it"?! These air fryer crab bites definitely represent that joke well. You'll see them and scarf them right up without a second thought!
What makes them even better is that they're fried in butter and cajun seasoning, and they're ready so, SO quick … like, less than a half hour quick. My mouth is watering just thinking about it.
But don't worry about the cost! You can use imitation crab legs for these. In fact, unless you're a huge seafood stickler, I recommend using the imitation stuff. When it goes through the air fryer, it tastes just as good and about the same as "real" crab. Plus, it's lighter on your wallet.
I don't know why I don't have many recipes with imitation crab – but this recipe just might be the start of making some more! By the way, I got inspiration from this recipe on TikTok.
When you've got a craving for seafood or for crab, more specifically, this is a recipe that'll come in real, real handy!! Try them with different seasonings or dipping sauces. Enjoy!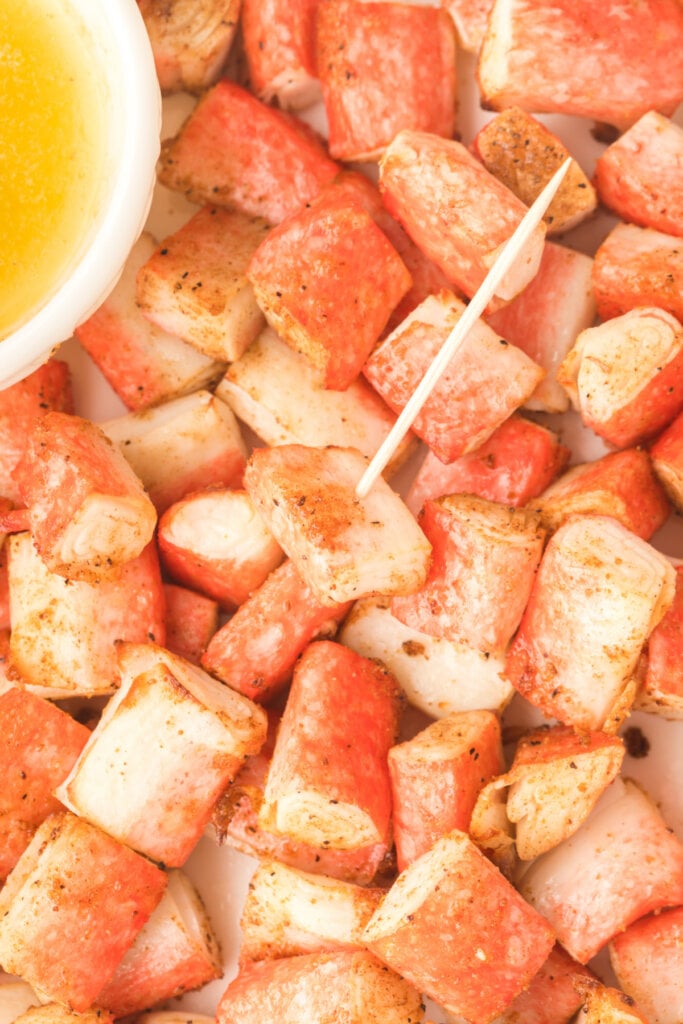 Air Fryer Crab Bites: Ingredients & Equipment
To make the Air Fryer Crab Sticks, you'll need …
Ingredients
imitation crab legs – about a pound. Certainly, you could use regular crab if you wanted, but if you like to save a bit of money, I find the imitation stuff is just as good in this recipe.
melted butter – you'll use this to coat your crab bites alongside …
cajun/creole seasoning – this seasoning! Use it to taste. For the record, cajun seasoning can be found at your grocery store, probably in the spices aisle. It's usually a (delicious) combination of paprika, salt, pepper, garlic, onion, oregano, thyme, and cayenne, or something VERY similar. Or try my homemade Cajun-Creole seasoning blend.
garlic butter dipping sauce – optional, but also in a sense … not optional, because it's just so dang good with these crab bites! 😍
Equipment
bowl – for coating your bites in butter and seasonings.
air fryer – you can't make something in an air fryer WITHOUT an air fryer, of course! As always, make sure you know your appliance well, as frying times may vary slightly from the recipe depending on the model.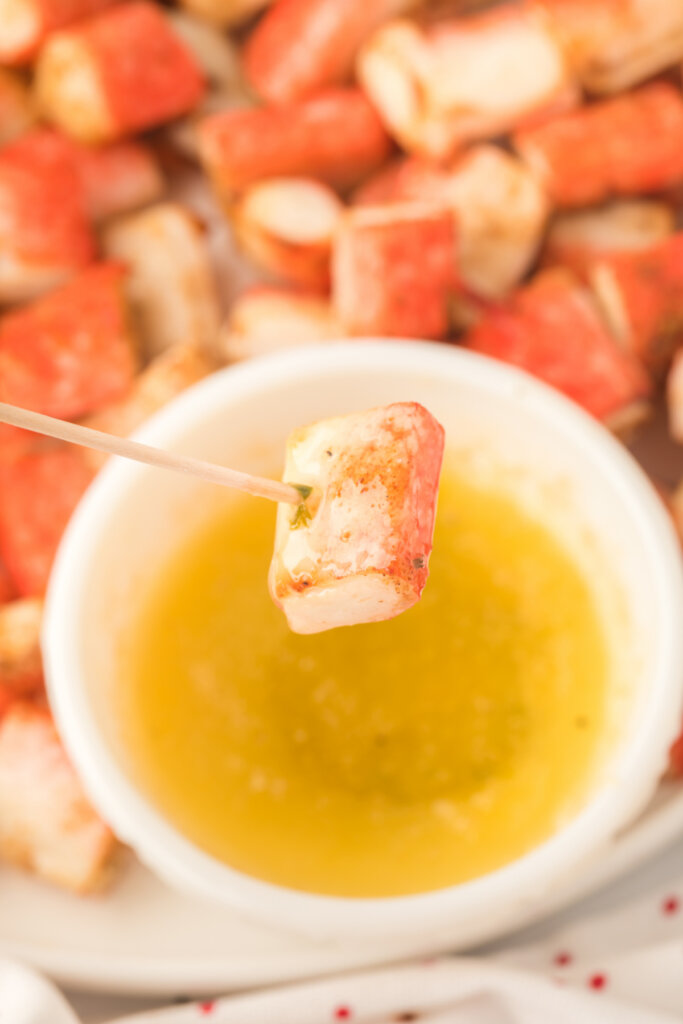 How To Make Air Fryer Crab Sticks
This recipe is a cinch and results in SUPER tasty crab bites!
First, prep your crab legs. Cut the meat into 1-inch segments (bites or strips). Combine them in a medium bowl with the butter and seasoning.
Next, cook your legs. Put the bites into your air fryer at 380°F for 8 minutes. (Do this in batches if necessary.) Shake the legs around, then put them in for 8 more minutes or until the crab is as crispy as you like it.
Finally, serve up those crab sticks. You can chow down on these immediately with your garlic butter dipping sauce!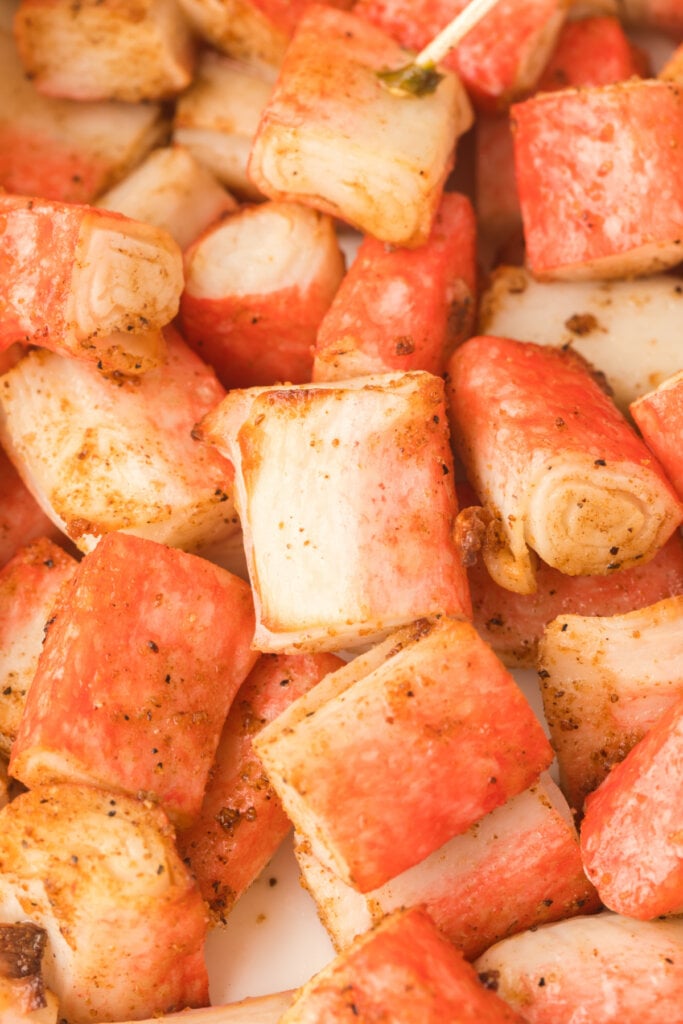 Air Fryer Crab Bites: FAQs
How long does it take to make Air Fryer Crab Bites?
The prep's 10 minutes, and the cooking time is 16 minutes or so. It's an easy appetizer, snack, or light meal!
How many servings does this recipe make?
It'll make 6 servings. Feel free to double it up and make more in batches if need be!
Is the cajun seasoning necessary?
Not at all, but I do recommend some kind of seasoning on your crab sticks. Feel free to experiment or use other favorites!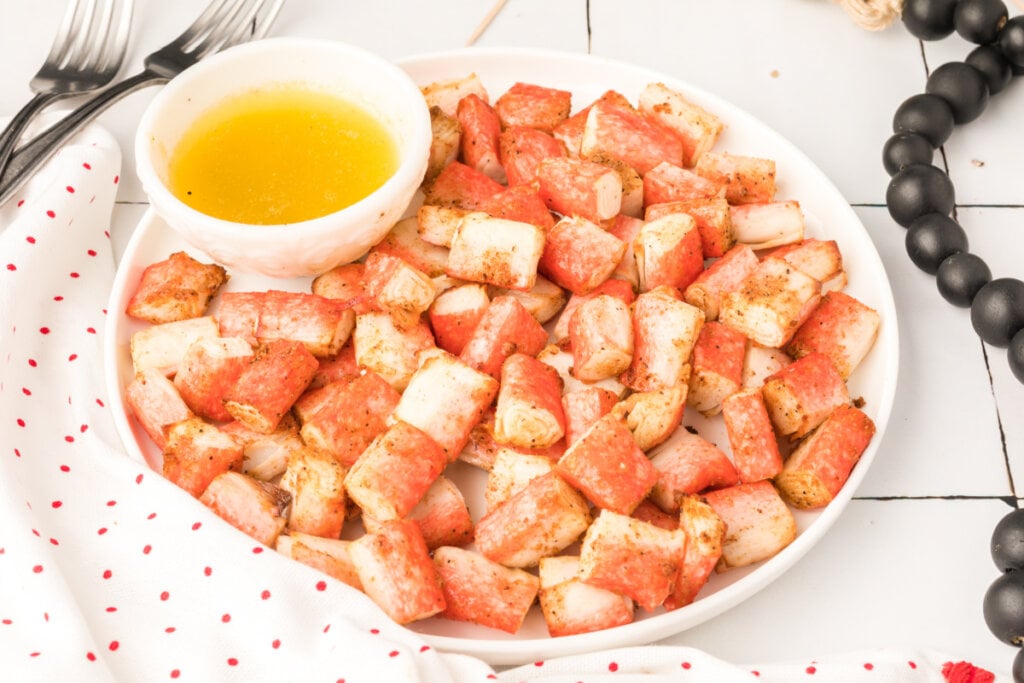 Other posts you may enjoy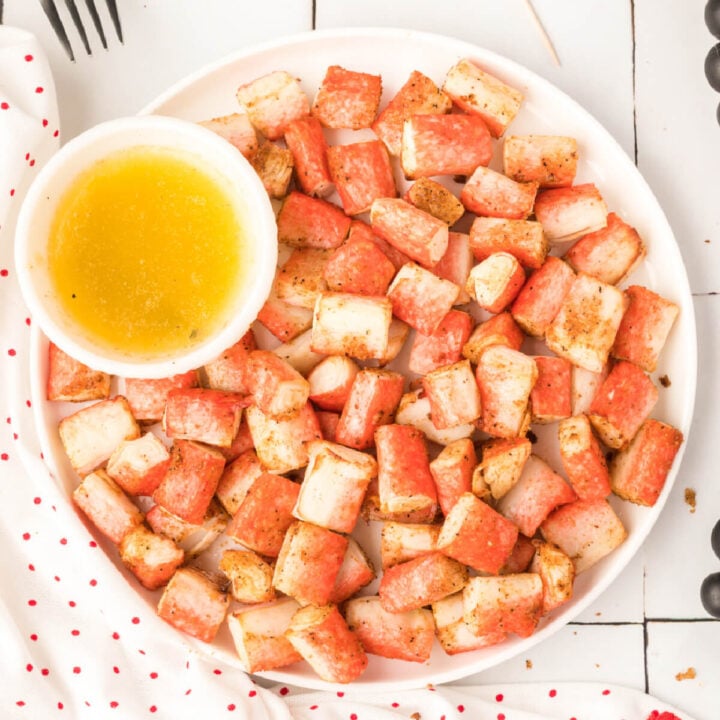 Air Fryer Crab Bites
Air Fryer Crab Bites are the simplest appetizer, snack, or light meal idea. This recipe is a quick, flavorful way to enjoy imitation crab.
Ingredients
1 lb. imitation crab legs
3 tablespoons melted butter
Instructions
Cut the crab legs into 1-inch segments.
In a medium bowl, combine the crab, butter, and seasoning.
Put the crab in the air fryer (in batches, if necessary) at 380 degrees for 8 minutes, shake, and put in for 8 more minutes, or until the crab reaches your desired crispiness.
Serve immediately with Garlic Butter Dipping Sauce.
Notes
Try this recipe with other seasonings and/or dipping sauces!
If you prefer, you can cut or tear the crab legs into strips instead.
Recommended Products
As an Amazon Associate and member of other affiliate programs, I earn from qualifying purchases.
Nutrition Information:
Yield:

6
Serving Size:

1
Amount Per Serving:
Calories:

153
Total Fat:

8g
Saturated Fat:

5g
Trans Fat:

0g
Unsaturated Fat:

3g
Cholesterol:

36mg
Sodium:

1101mg
Carbohydrates:

13g
Fiber:

1g
Sugar:

6g
Protein:

6g
Please note that the nutritional information listed on this page is an estimation based on the products I used. Ingredients and nutritional information can vary significantly between brands. Always be sure to read labels. Please verify that a recipe fits your needs before using it. Nutrition info may contain errors, so please verify it independently. Likewise, recipes may contain errors, so please use your common sense when following them.