If you ever find yourself traveling on I-80 through Eastern Iowa, I would highly recommend two stops. One is at the
World's Largest Truck Stop
in Walcott, Iowa. They have an awesome museum, shop and of course, food! The second stop needs to be in the
Amana Colonies
. It is actually seven different villages that transports you to a different time and place. They have so much to see and do ... and the Chocolate Haus is to die for! They also have a Meat Shop and Smokehouse. There are tons of little shops with antiques, quilts, candles, wood crafts, wineries, etc .... and one of my favorite stops was always the Ox Yoke Inn.
The meals at the Ox Yoke Inn are served family-style. My favorite thing to order is the
Sauerbraten with Spaetzle noodles
. I live too far away to stop by for dinner, (obviously). I like to replicate the flavor at home with this easier version of Sauerbraten. It cooks in the slow cooker and makes a great Sunday meal when you want something a little different.
I found this recipe a few years ago in one of my mom's cookbooks .... and copied the recipe down. Unfortunately, I cannot recall the name of the book and I didn't write it down. If anyone knows, I'd love to credit the source.
Sauerbraten Beef in Gingersnap Gravy
Yield: 6 servings
2 lb. beef stew meat
1 large onion, chopped
1 cup beef broth
1 cup red wine vinegar or cider vinegar
2 bay leaves
3 cups (6 oz.) uncooked spaetzle or egg noodles
¾ cup crushed gingersnap cookies (about 15 cookies)
2 tbsp. brown sugar
2 tbsp. fresh parsley, chopped (optional)
In a 4 qt. slow cooker, combine the beef, onions, broth, vinegar and bay leaves. Mix well. Cover and cook on LOW setting for 7-9 hours or until the meat is cooked through and tender. About 15 minutes before serving, cook spaetzle as directed on the package. Remove the bay leaves from the beef mixture. Stir in gingersnaps and brown sugar. Cover and continue to cook on LOW setting for an additional 15 minutes or until the mixture is bubbly and thickened. Serve beef mixture over spaetzle. Sprinkle with parsley if desired.
I hope you enjoy!
Shared at these fun parties!
Featured at Bobbi's Kozy Kitchen
**Don't forget to link up YOUR Soup Recipes HERE**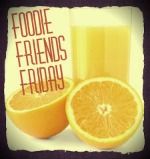 Copyright © Love Bakes Good Cakes 2012 All Rights Reserved