Sweet & Salty Trail Mix – a convenient and portable choice for wholesome, healthy, on-the-go snacking. #SnacktoSchool #LoveYourRaisins #CleverGirls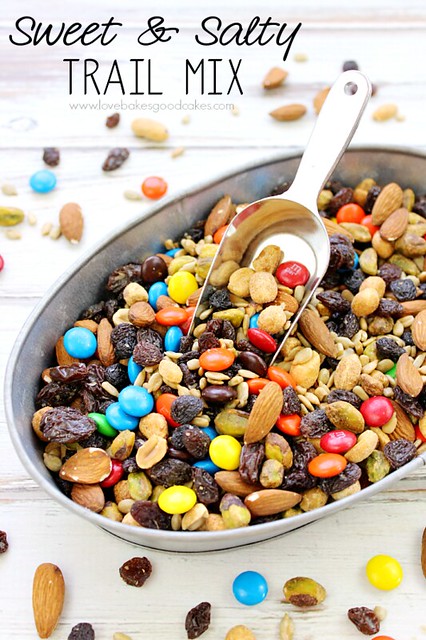 Sweet & Salty Trail Mix
We're finally getting back into a school routine at the Love Bakes Good Cakes house. Let me tell you, I may be reconsidering how we homeschool the kiddos in favor of year-round homeschool from now on! I'm sure public school teachers have quite the adjustment during the first week or so of school too … it is a job trying to get everyone on the same page – and I only have 3 little people this year!
Now that we're figuring out our schedule, I feel like I can relax just a little bit. The older two kiddos pretty much know how things are done during the school year, but for Gabriel, he is easily distracted (as most five year olds are). He loves doing "school" (as he likes to say), but sometimes becomes frustrated that things aren't all play anymore.
A little snack helps
To help motivate him – and to give our family an easy and healthy after school snack, I had Gabriel help me mix up some homemade Sweet & Salty Trail Mix. If I can be perfectly honest, I want to cry when I see the prices of the premade trail mixes at the store! I really cannot justify spending so much money on something we can just as easily make at home!
I turn making trail mix into a learning experience. Gabriel likes to count the scoops as we add them to the bowl and add them all up. We sometimes do patterns while we eat the trail mix and he even tries to teach Abby her colors with the M&M's. Learning never ends when you have kiddos – there are tons of opportunities to get them involved and make learning fun – and they may not even realize they just added 7 cups of ingredients or created an awesome pattern with trail mix! 🙂
A healthy mix
Some of the reasons I love this Sweet & Salty Trail Mix is that it's simple and easy! It contains California raisins which are all-natural and dried by the sun! The ingredient list on my raisin box says it all – one ingredient: raisins! Pair that with some of my favorite nuts to give this trail mix some healthy, unsaturated fats, protein, fiber, antioxidants, vitamin E and other essential vitamins and minerals! For a sweet treat and an extra bit of antioxidants, I add dark chocolate candy pieces! This makes a convenient and portable snack idea. And did I mention, delicious?!
Did you know that according to the USDA, raisins are the most economical dried fruit?! My kiddos love to add raisins to muffins and oatmeal at breakfast time – and of course this trail mix for snacking! California raisins come by their sweetness naturally – there is zero fat, no cholesterol and no added sugar. Plus, raisins offer 9% of your daily fiber and potassium, and 6% of your daily iron (per quarter cup serving).
For more information about California raisins, be sure to check out www.loveyourraisins.com or follow California raisins on Facebook or Twitter! If you visit their Facebook page, you can sign up to receive a California raisins prize pack (limited supply, while quantities last).
Other Posts You May Enjoy:
Strawberry Cream Cheese Fruit Dip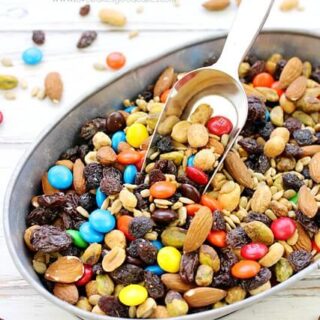 Sweet & Salty Trail Mix
Yield:
7 cups (one serving is about ¼ cup)
Sweet & Salty Trail Mix - a convenient and portable choice for wholesome, healthy, on-the-go snacking.
Ingredients
2 cups California raisins
1 cup lightly salted sunflower seeds
1 cup whole natural almonds
1 cup dry-roasted peanuts
1 cup roasted and salted pistachios
1 cup dark chocolate M&M's
Instructions
Combine all of the ingredients in a large bowl. Mix gently until thoroughly combined.
Place in an airtight container.
Nutrition Information:
Amount Per Serving:
Calories:

0
Total Fat:

0g
Saturated Fat:

0g
Cholesterol:

0mg
Sodium:

0mg
Fiber:

0g
Sugar:

0g
Protein:

0g
Originally published on August 26, 2014. Updated on May 1, 2021.