Keep cool this summer with these Strawberry-Yogurt Popsicles – they only have 2 ingredients and they're healthy!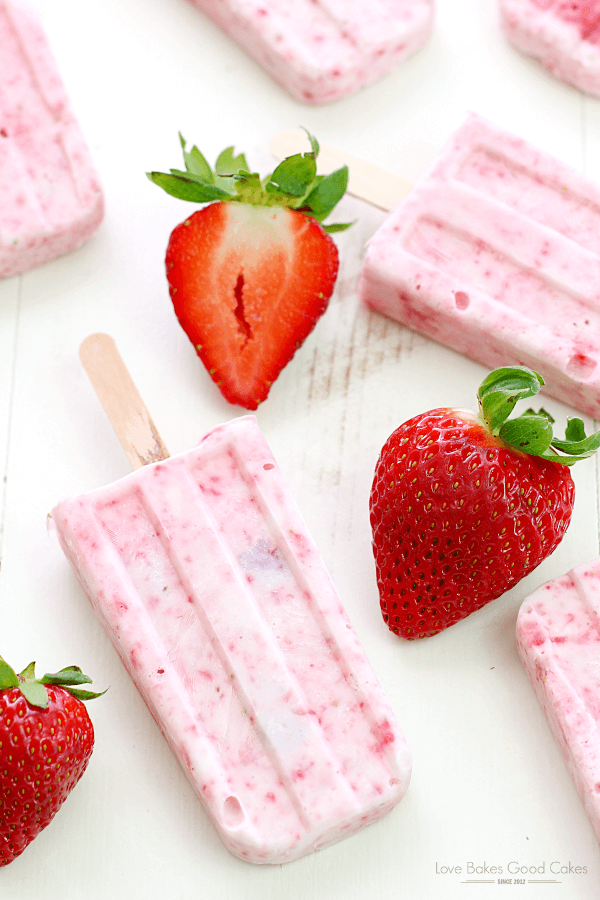 Strawberry-Yogurt Popsicles
I hate to admit that I have been blogging for just over 4 years and I do believe this is the FIRST popsicle recipe I'm sharing on the blog …. how lame-o of me!!! In my defense, popsicles don't last very long in the Love Bakes Good Cakes house and since they melt pretty fast, I'm more concerned about eating them versus taking pictures of them.
This month's #12bloggers theme was frozen desserts …. I think someone knew I needed to up my popsicle game! Ahem ….. As soon as I saw this month's theme I knew I had to add a popsicle recipe to the blog – I mean, it's kinda past time, don't ya think?! 4 Years?! If you're new to the 12 bloggers series, every month on the 12th of the month, 12 bloggers get together to share a themed recipe with 12 ingredients or less!!
Living in the Arizona desert, you can believe we eat our share of popsicles most of the year and these Strawberry-Yogurt Popsicles just happen to be one of our faves! Not only are they delicious, but they're healthy – and with 2 ingredients, they're super easy to make!!
Even though we make popsicles all of the time, I have always been fearful of sharing a popsicle recipe on the blog because I know they melt fast – which means taking pictures can be challenging! I have tried a few times in the past and I just wasn't happy with how the pictures turned out so I never posted them. Lemme tell you, it's amazing how fast you can take pictures when you know you only have a very short window to work in and this isn't a post you can just put off!! Ha! Maybe I should try that kind of pressure more often!! 😀
Hot weather
The weather is forecasted to be 120 degrees (ugh!!!!) this next coming weekend so we are in the process of making a few batches of these yummy popsicles throughout this week to have on hand in the freezer for those super hot days! Heck, with those kinds of temps, this just might be breakfast, lunch, and dinner over the weekend …. and I'm totally not joking!
Note: If you're looking for a popsicle mold, this is the one I use and love!
Be sure to stop by and see what my friends made this month:
Key Lime Pie Ice Cream from Around My Family Table
Unicorn Ice Cream from Bread Booze Bacon
Pineapple Chipotle Popsicles from Home Cooking Memories
Blackberry Yogurt Popsicles from Big Bear's Wife
Mango Strawberry Yogurt Pops from Cooking on the Front Burner
Strawberry-Yogurt Popsicles from Love Bakes Good Cakes
Mexican Hot Chocolate Ice Cream from Thyme For Cocktails
Red, White & Blue Popsicles from Celebrating Family
Cookies and Cream Pudding Pops from Pink Cake Plate
Tiger's Blood Popsicles from Liz on Call
Raspberry Lemonade Popsicles from See Vanessa Craft
Snickers Ice Cream Cake from Kleinworth & Co.
Other Posts You May Enjoy:
No-Churn Superman Jello-Swirl Ice Cream
No-Churn Chocolate Cake Batter Ice Cream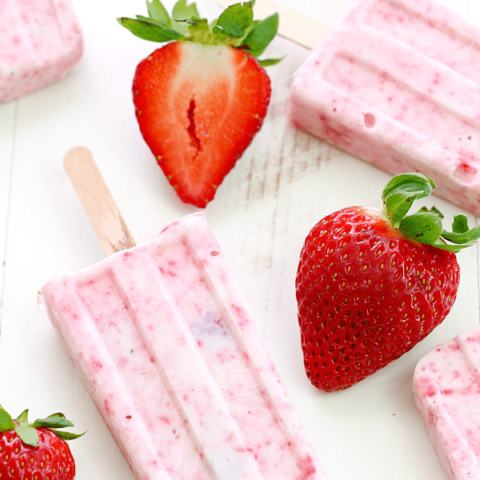 Strawberry-Yogurt Popsicles
Keep cool this summer with these Strawberry-Yogurt Popsicles - they only have 2 ingredients and they're healthy!
Ingredients
1 lb. fresh strawberries, rinsed and hulled
2 cup vanilla-flavored Greek yogurt
Instructions
Place the strawberries in the bowl of a food processor, cover and pulse a few times - or mash strawberries with a fork or potato masher until strawberries are chunky with only a few bigger pieces remaining.
Place the yogurt in a large mixing bowl. Pour the strawberries over the top and gently fold the strawberries into the yogurt. Carefully spoon the mixture into a popsicle mold.
Freeze until completely solid and set.
Notes
TIP: To easily unmold the popsicles, dip the bottom of the popsicle mold into hot water for a few seconds.
Nutrition Information:
Amount Per Serving:
Calories:

65
Total Fat:

3g
Saturated Fat:

2g
Cholesterol:

8mg
Sodium:

27mg
Fiber:

1g
Sugar:

4g
Protein:

5g