These Spring Rice Krispies Treats Pops are a fun and easy Spring treat!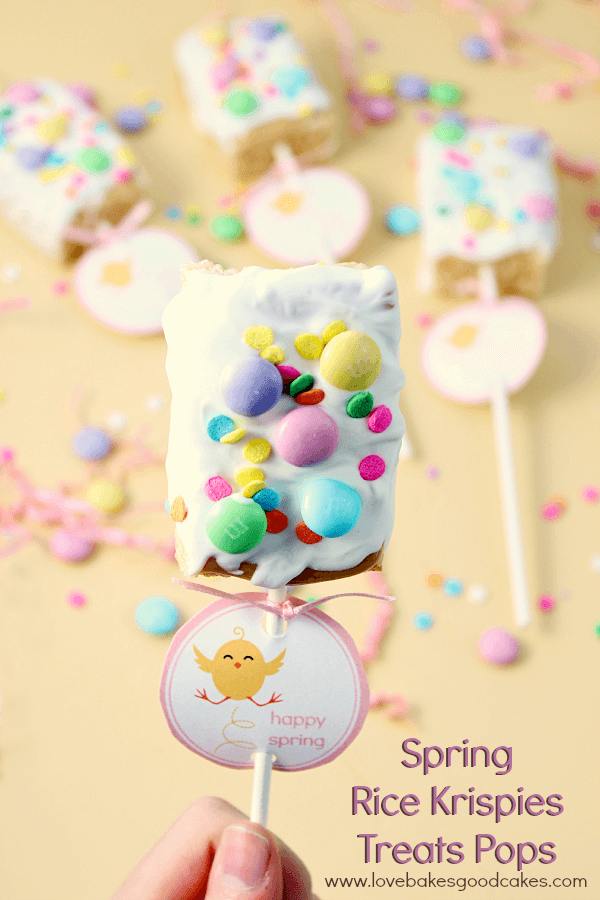 Spring Rice Krispies Treats Pops – a fun snack for Spring!
This shop has been compensated by Collective Bias, Inc. and its advertiser. All opinions are mine alone. #KreateMyHappy #CollectiveBias
Life has really gotten the best of me lately. Although I realize I often don't have enough hours in a day to do everything I want or need to do, I still try … and I have successfully managed to drain myself. Why is it as moms, we feel like we have this expectation to be able to do everything – and then do some more?!
Time to make something fun
Stress puts me in a funky place and I don't like who I am when I don't have moments to just relax. As parents, we give so much of our time and energy to our family that we often forget to take time for ourselves. Since I know a few other moms in the neighborhood who are in a similar boat, I thought it would be fun to make a little Spring treat to give them a mood boost …. I mean, who couldn't use a yummy feel-good treat?!
I love Rice Krispies Treats and it's not something I treat myself to very often. Attempting to make a fun little "pop" with some Spring bling …. I had to make a stop at my local Walmart for all of the ingredients! To save myself time, I bought the pre-packaged Rice Krispie Treats – you can find them on the cereal aisle, near the granola bars and toaster pastries.
I even made this cute little Spring printable that you can include on your Spring Rice Krispie Treats Pops too – maybe you know a few ladies who could use a fun afternoon pick-me-up?!
Click HERE for your free "Happy Spring" printable
Be sure to visit the Rice Krispies Treat contest page and enter to win by voting!
Overview:
Eligible entrants will vote on their favorite Kellogg's® Rice Krispies Treats® recipe on the Kellogg's Family Rewards® Website and via various social media platforms to be entered into a random drawing for a chance to win prizes.
Twenty (20) Grand Prize winners will be randomly drawn at the conclusion of the Sweepstakes from among all eligible entries received. Contest voting runs 3/24-5/3/15
Sweepstakes rules
How to enter the sweepstakes: Social Media: To enter via Twitter, Pinterest and/or Instagram, go to any of the Social Platforms and include the hashtag #RKTreatSweeps and the name of the Treat recipe you're voting on in the copy of your post. You must also send or share a link of your post to [email protected] in order for your Social Platform entry to be verified. To send or share a link of your post with the Sponsor, go to the Social Platform(s) containing your Treat vote post, go to your profile, select the tweet/pin/post you would like to share with the Sponsor, and copy the link (Twitter) or share the post (Pinterest & Instagram) to [email protected].
Prizes:
Twenty (20) Grand Prizes will receive:
$250 Bank-issued, pre-loaded Gift Card
Kellogg's® Rice Krispies Treats® squares (XX ct.)
Beats Pills™ Portable Stereo Speaker by Dr. Dre™
(1) bag of Jet-Puffed Mini Marshmallows (10 oz.)
(1) bag of Jet-Puffed Chocolate Swirl snacking marshmallows (3 oz.)
(1) Jet-Puffed Strawberry snacking marshmallows (3 oz.)
(1) bag of Jet-Puffed S'moresMallows
(1) bag of Jet-Puffed StarMallows (8 oz.)
Assorted MARS products
(1) M&M's® dispenser
(1) M&M's® Milk Laydown Bag
(1) M&M's® Peanut Laydown bag
Restrictions:
All Social Platform posts must be posted to a non-private Social Platform account, must include the Hashtag and link to post must be shared or sent to Sponsor using the email address noted above. Limit one (1) entry per Week by voting using a Social Platform. By using the Hashtag, you affirm that you have read, understand and agree to these Official Rules. For full rules, visit the Contest website
I've shared my holiday traditions with you. I'd love to hear about yours! Leave a comment sharing your family traditions.
Other Posts You May Enjoy:
Vanilla Cake Donuts with Strawberry Glaze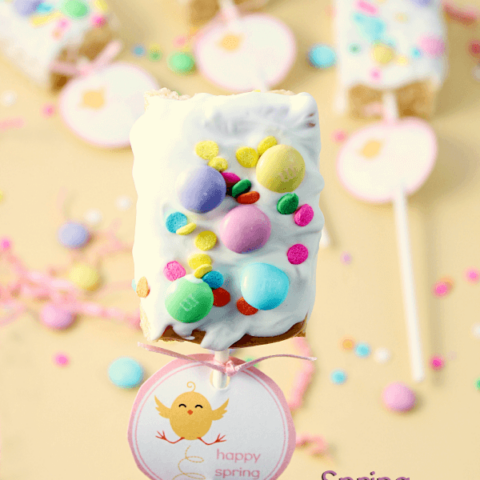 Spring Rice Krispies Treats Pops
These Spring Rice Krispies Treats Pops are a fun and easy Spring treat!
Ingredients
8 long lollipop sticks
free printable (included)
ribbon
1 box of Rice Krispies Treats (8 pack), unwrapped
2 tbsp. peanut butter
1 cup Jet-Puffed Mini Marshmallows
1 cup white candy melts
confetti sprinkles
Spring colored M&M's Milk Chocolate candies
Instructions
Lay out a piece of waxed paper long enough to hold all of the Rice Krispies Treats without touching. Place one lollipop stick in each Rice Krispies Treat and set on the waxed paper.
In a small saucepan, heat the peanut butter and marshmallows over low heat until melted, stirring occasionally. Remove from the heat. Using a spatula, coat the front face of each Rice Krispies Treat with the marshmallow mixture, returning to the waxed paper to cool.
In a small microwave-safe dish, melt the candy melts according to package directions. Using a pastry brush or spoon, coat the front of the marshmallow mixture on each Rice Krispies treat, allowing excess to run over the sides. Immediately top with confetti sprinkles and M&M's pieces. Allow to set.
Meanwhile, cut out circles from the free printable. Punch a hole at the top and bottom of the circles for the stick to go through.
Once the Spring Rice Krispies Treats Pops have set, slide the printable circles onto the stick. Tie a small bow just over the circles. Serve!
Nutrition Information:
Amount Per Serving:
Calories:

199
Total Fat:

9g
Saturated Fat:

4g
Cholesterol:

0mg
Sodium:

10mg
Fiber:

1g
Sugar:

20g
Protein:

2g