This post may contain affiliate links. As an amazon associate, I earn from qualifying purchases. See my full Disclosure Policy for details.
I am so excited to welcome Shannah from Just Us Four. I originally met Shannah through a few Facebook groups and from linky parties. Some of you may even remember that I did a guest post for her back towards the end of the Summer! I'm super excited to have her here today – and I can't wait to try the recipe she's sharing! Be sure to stop by her blog and enter to win the NINJA Supra Kitchen System that she is giving away! Round out dinner by checking out Cupcakes & Kale Chips for some Healthy Desserts or The NY Melrose Family for some Healthy Snack Ideas in our #EatHealthy15 Series.
Hi! I'm Shannah from the blog,
Just Us Four
. I can't express how excited I am to be a part of Jamie's #EatHealthy15 series. I am a huge fan of eating healthy foods that also taste great. Jamie always has such amazing recipes to share so I am thrilled that she is letting me share one of mine with you!
For the month of January, I have been doing Whole30 which it a way to totally reset your eating habits so that you focus on whole foods that are good for you. I get major bread and pasta cravings so it is a great way for me to limit my intake of so many carbs. One of my favorite recipes for this is my Southwestern chicken zoodle soup. I call this my "kitchen sink" soup because it can really be customized to have whatever you want in it and it will still taste great. Without the beans and corn, it is 100% Whole30 compliant which is awesome.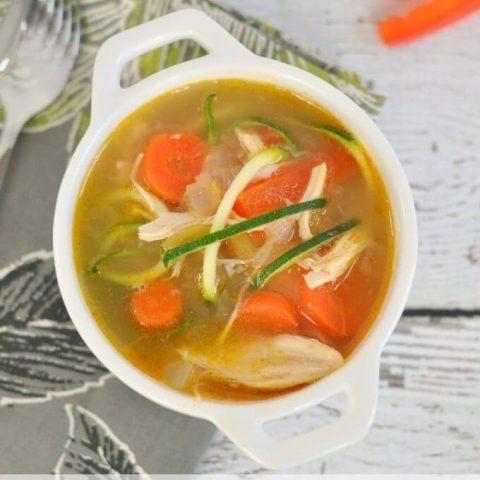 Southwestern Chicken Zoodle Soup
This Southwestern Chicken Zoodle Soup is perfect for people watching their carbs! I call this my "kitchen sink" soup because it can really be customized to have whatever you want in it and it will still taste great.
Ingredients
2 cups cooked, shredded chicken
1 tbsp. oil or ghee
1 cup onion, finely chopped
2 cloves garlic, minced
2 tbsp. taco seasoning (I like to make my own)
2 carrots, peeled and sliced
1 red pepper, sliced
1/2 cup black beans, rinsed and drained
1/2 cup corn
3 cups chicken broth
2-3 cups zucchini noodles
Salt and pepper to taste
Instructions
In a large soup pot, heat 1 Tbsp of oil or ghee over medium heat. Add onion and sauté for 2-3 minutes. Add garlic and sauté for 1 minute. Stir in taco seasoning.
Add carrots and chicken broth. Bring to a simmer and add chicken and red pepper. Cook for 5 minutes. Add zucchini noodles and cook for 2-3 minutes.
Nutrition Information:
Amount Per Serving:
Calories:

328
Total Fat:

12g
Saturated Fat:

3g
Cholesterol:

52mg
Sodium:

662mg
Fiber:

5g
Sugar:

7g
Protein:

19g
Not only is this dish super easy to make but it only takes one pot too! I love anything that requires almost no clean up! I hope you enjoy this chicken zoodle soup as much as I do! If you're still in mood for more healthy meals, be sure to check out my
Roasted Vegetable Grilled Cheese
!
Roasted Veggie & Goat Cheese Grilled Sandwiches
Thank you so much for having me here today, Jamie!
Other Posts You May Enjoy: