These Pumpkin Spice Cheesecake Bars are an easy, wonderful, dessert idea for the Holidays. Every one will love them, believe me!
Pumpkin Spice Cheesecake Bars
I couldn't wait any longer to make something with pumpkin … and not that I wanted to wait either. I've been thinking of pumpkin treats since about May or June! Pumpkin everything has to be one of my favorite things about Fall.
I had this idea to make this Cheesecake Bar recipe … and let me just say, these exceeded all of my expectations! Delish – I definitely can't wait to have these again! Our community is having a little potluck at the end of the month and I am thinking that this little recipe is what's going to score me brownie – er, I mean – Pumpkin Spice Cheesecake Bars points with the neighborhood. 😉
The crust part of the recipe is slightly adapted from an old cookie recipe I got from my gramma. The cheesecake filling is from Kraft recipes! I'm telling ya, they were made for each other!
This recipe is fairly simple to make. If you're looking for a great Fall recipe, be sure to give these a try – you'll be glad you did!
Makes you wanna bite, doesn't it? Go grab a fork!
Other recipes you may enjoy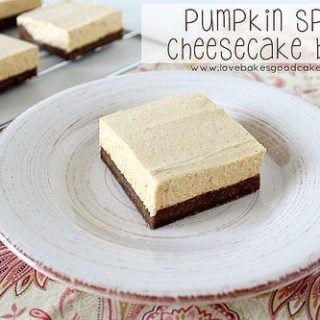 Pumpkin Spice Cheesecake Bars
This recipe is fairly simple to make. If you're looking for a great Fall recipe, be sure to give these Pumpkin Spice Cheesecake Bars a try - you'll be glad you did!
Ingredients
For the crust
2 cups all purpose flour
2 1/2 teaspoons ground ginger
2 teaspoons baking soda
1 teaspoon ground cinnamon
1 teaspoon ground cloves
3/4 teaspoon salt
1 cup (packed) brown sugar
1/2 cup vegetable shortening, room temperature
1/4 cup (1/2 stick) unsalted butter, room temperature
1 large egg
1/4 cup molasses
For the cheesecake layer
1 package (8 oz.) cream cheese, softened
1 cup canned pumpkin
1/2 cup sugar
1/2 teaspoon pumpkin pie spice
2 1/2 cups Cool Whip, thawed
Instructions
Preheat oven to 350°F.
Spray a 9x13-inch baking dish lightly with cooking spray and set aside.
Combine first 6 ingredients crust ingredients in a medium bowl; whisk to blend. Using an electric mixer, beat the brown sugar, shortening and butter in large bowl until fluffy. Add the egg and molasses and beat until well blended. Add the flour mixture and mix just until blended.
Press the dough into the pan. Bake for 25-30 minutes. Transfer to a cooling rack to cool.
Meanwhile, beat the cream cheese, pumpkin, sugar and pumpkin pie spice with electric mixer on medium speed until well blended. Gently stir in the whipped topping.
When the crust has cooled off, spoon the cream cheese mixture into crust. Level with an off-set spatula or the back of a spoon.
Refrigerate for 3 hours or overnight. Store leftover cheesecake bars in refrigerator.
Nutrition Information:
Amount Per Serving:
Calories:

280
Total Fat:

15g
Saturated Fat:

7g
Cholesterol:

37mg
Sodium:

198mg
Fiber:

1g
Sugar:

22g
Protein:

3g
Originally published on September 13, 2013. Updated on April 24, 2021.