These PMS Brownies have a little bit of chocolate and a little bit of salty crunch. They're the perfect treat to get you through that time of the month … or any time you're craving a sweet-salty combo! #ChipLove
PMS Brownies with Cape Cod® Potato Chips
This is a sponsored post written by me on behalf of Cape Cod® Potato Chips.
I can't speak for anyone else, but I know when that time of the month rolls around for me, I go on a snacking rampage. Seriously, I want to eat everything in sight. Chocolate and chips are my go to snacks – so I thought, why not combine them?! Maybe you think like me? Of course you do! That's why you're here!
Can you imagine my excitement when I found out that one of my favorite chips are now available on the West coast?! It totally made my day! If you live on the East coast, I'm sure you are familiar with Cape Cod® Potato Chips …. if you're one of my West coast friends, you have to find them and try them! Their slogan doesn't say, "Home of Ridiculously Good Chips" for nothing. These chips are amazing – they have the perfect, hearty crunch and distinctive flavor! My family thinks I'm weird (they might be right) … I'm partial to the folded chips and I have been known to shake the bag or turn it looking for them. Anyone else a "folded chip" fan?! With Cape Cod® Potato Chips, you know each chip is unique and perfect in its imperfections.
Right now, Cape Cod® Potato Chips are in over 60% of stores in the West – so be sure to look for them on your next shopping trip! Wait, make sure to get two bags, because you're going to need some extra to make these amazing PMS Brownies! 🙂
Potato chip goodness
I love to snack on the Cape Cod® Potato Chips Sea Salt & Vinegar, but figured they might not be very good perched on top of a chocolate brownie! I found some Cape Cod® Potato Chips – Waffle Cut Sea Salt and used them for the PMS Brownies recipe! Save the Cape Cod® Potato Chips Sea Salt & Vinegar for your ham sandwich or for a quick snack. If you can't find the Waffle Cut Sea Salt, the Original Cape Cod® Potato Chips would be fantastic as well.
What makes Cape Cod® Potato Chips so special you ask? For starters, Cape Cod® Potato Chips use small batch crafting with simple, high-quality, all natural ingredients! All potatoes are hand selected! Cape Cod® Potato Chips are gluten free, contain no preservatives and are cooked in 100% Canola Oil for a superior chip when compared to other brands. Be sure to check out the Cape Cod® website for more product info.
Oh, and did I mention they taste amazing on top of brownies …. so yeah, get some! Enough talking. Let's check out the recipe, shall we?
Try Cape Cod Potato Chips, now available from your local grocer!
Other Posts You May Enjoy:
Bacon Lettuce Avocado Tomato Chicken Salad Wrap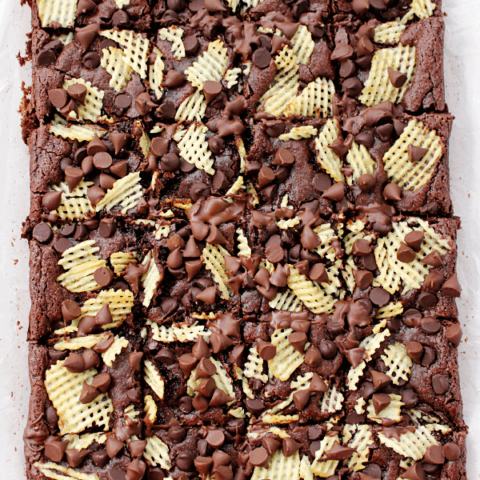 PMS Brownies
These PMS Brownies have a little bit of chocolate and a little bit of salty crunch. They're the perfect treat to get you through that time of the month ... or any time you're craving a sweet-salty combo!
Ingredients
1 1/3 cups all-purpose flour
2 cups sugar
3/4 cup baking cocoa
1 tsp. baking powder
1/2 tsp. salt
2/3 cup vegetable oil
4 eggs, slightly beaten
2 tsp. vanilla
1 cup chocolate chips
1 cup roughly crushed Cape Cod® Potato Chips - Waffle Cut Sea Salt
Instructions
Preheat oven to 350 F. Lightly spray a 9x13-in. baking dish with cooking spray.
In a mixing bowl, combine the flour, sugar, cocoa, baking powder, and salt. In another bowl, combine the oil, eggs and vanilla. Add the wet ingredients to the dry ingredients. Mix just until combined - Do NOT overmix. Spread into the prepared baking dish. Sprinkle with chocolate chips and potato chips. Gently push the potato chips into the brownie batter.
Bake for 20-25 minutes or until a toothpick inserted near the center tests clean.
Nutrition Information:
Amount Per Serving:
Calories:

209
Total Fat:

10g
Saturated Fat:

2g
Cholesterol:

28mg
Sodium:

115mg
Fiber:

1g
Sugar:

23g
Protein:

3g