Orange Slice Cupcakes get off to an easy start with a doctored up cake mix. Top it off with a simple, but delicious homemade orange buttercream frosting! These babies are perfect for summer parties! #summer #orange #cupcakes
Orange Slice Cupcakes
Since Memorial Day is behind us, I am of the belief that summer has officially started … I don't care that the calendar says it starts in June! Throw in the fact that it's been in the triple digits for the past few days here in Phoenix … it's summer. Ya know?!
Some of you may know that I grew up in Florida. Summer in Florida can only mean two things …. oranges at every roadside stand and tourists. Well, three if you throw in the risk of hurricanes. 😀 (Side note: I'm praying for an uneventful hurricane season for the East Coast and Gulf Coast this year!!)
Now, I have to be honest with y'all …. I like to stir up trouble from time to time. Surprised?! No?! I didn't think so! Haha!! My husband is from Southern California ….. and I'm from Florida – who do you think I'm gonna say has better oranges?! 😀 Florida does, of course!! Y'all saw that coming, right?! Brian disagrees. Whatever.
Being a Florida girl, I grew up going to the roadside stands almost every Saturday morning! I hear they are pretty much a thing of the past – and that's such a shame! I sure do miss the array of fresh citrus, produce, pecan rolls and hot boiled peanuts. (If you haven't had or heard of boiled peanuts, that's a story for another post!!)
Since I wanted to share something "summer-y" with y'all, I couldn't think of anything that says summer to me more than oranges! I hope you enjoy these Orange Slice Cupcakes as much as we do! 🙂
These Orange Slice Cupcakes would be perfect for a summer cookout or potluck! Just make sure you take enough – people love 'em! 🙂
Other recipes you may enjoy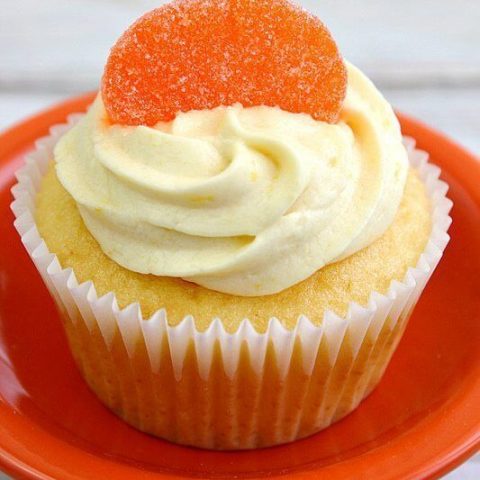 Orange Slice Cupcakes
Orange Slice Cupcakes get off to an easy start with a doctored up cake mix. Top it off with a simple, but delicious homemade orange buttercream frosting! These babies are perfect for summer parties!
Ingredients
For the cupcakes
1 box (15.25 oz.) vanilla cake mix
1 cup orange juice
1/2 cup vegetable oil
3 eggs
For the orange buttercream frosting
1/2 cup (1 stick) unsalted butter, softened
4 cups powdered sugar
2 teaspoons grated orange peel
1 1/2 teaspoons vanilla extract
2-3 tablespoons orange juice
Additional ingredients
candy orange slices or real orange wedges, for garnish (optional)
Instructions
Preheat the oven to 375F. Line muffin tins with paper liners and set aside.
In a large bowl, beat the cake mix, orange juice, oil and eggs with an electric mixer on low speed for 30 seconds. Scrape down the sides of the bowl and mix on medium speed for 2 minutes. Divide the batter equally between the prepared pans.
Bake for 14-18 minutes or until a toothpick inserted near the center comes out clean. Cool cupcakes in the pan for 10 minutes before transferring them to wire racks to cool completely.
While the cupcakes cool, make the frosting by creaming the butter until light and fluffy. Add the powdered sugar, orange peel, vanilla extract and 2 tbsp. of orange juice; beat until thoroughly combined and the mixture is light and fluffy. Add the additional tablespoon of orange juice only if needed to thin the frosting.
Frost cupcakes. Garnish with a candy orange slice or wedges of real orange, if desired.
Nutrition Information:
Amount Per Serving:
Calories:

240
Total Fat:

10g
Saturated Fat:

3g
Cholesterol:

30mg
Sodium:

118mg
Fiber:

0g
Sugar:

21g
Protein:

2g
Originally published on May 29, 2014. Updated on April 29, 2021.