These moist Orange Muffins are a delicious way to start your day! A combination of citrus flavors and chocolate results in a tasty treat suitable for a quick breakfast.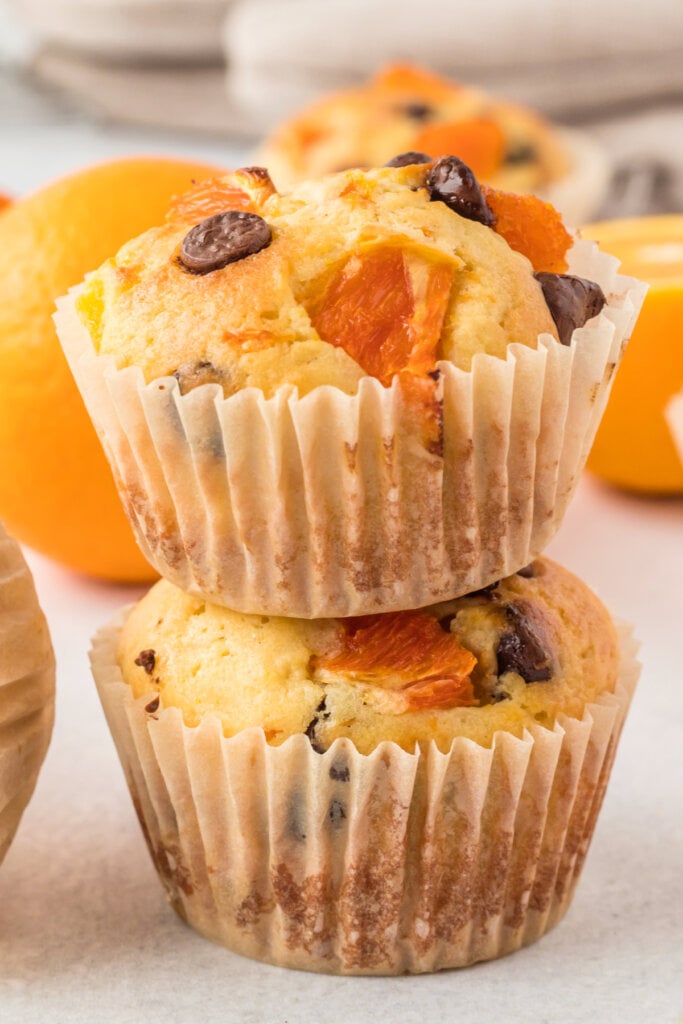 Orange Breakfast Muffins
Orange Muffins are a delightful treat that can be enjoyed any time of day. Whether you're in need of a quick breakfast, a midday snack, or a dessert after dinner, Orange Muffins are the perfect solution. They offer a burst of citrusy flavor and a fluffy, moist texture that is sure to satisfy your cravings.
One of the great things about Orange Muffins is that they are versatile. You can enjoy them plain or dress them up with toppings like cream cheese frosting or a sprinkle of powdered sugar. While I added chocolate chips, you can also add other ingredients like nuts or dried fruit to make them even more delicious.
In addition to being delicious, Orange Muffins also offer some health benefits. Oranges are packed with vitamin C, which is essential for a healthy immune system. They also contain antioxidants, which can help protect your cells from damage caused by free radicals. 🤩
If you're looking for a tasty and healthy snack or dessert, these Orange Muffins are a great choice. They are easy to make, versatile, and offer a burst of flavor and nutrients.
I may not always be a breakfast fan, y'all, but these muffins DEFINITELY have me reconsidering my stance!! I hope you enjoy this recipe!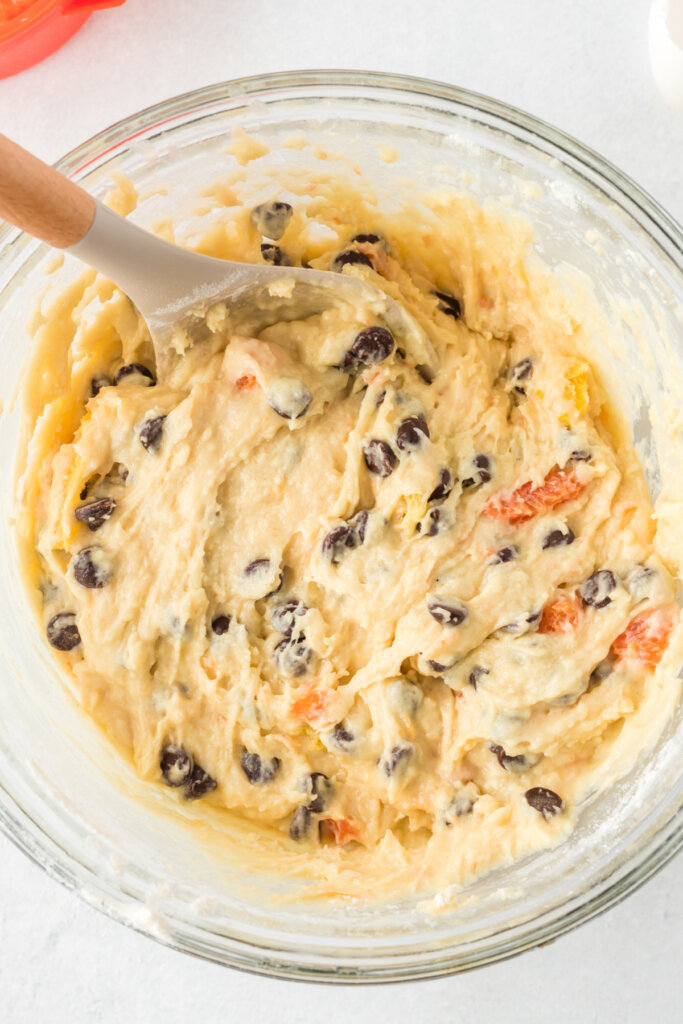 Orange Muffins with Chocolate Chips: Ingredients & Equipment
For this Orange Breakfast Muffins recipe, you'll need …
Ingredients
flour, baking powder, salt, and granulated sugar – your dry ingredients for the muffin batter. Nothing too out of the ordinary here!
egg, butter – one part of your wet ingredients, which act like "binders" and keep all the other ingredients together.
oranges – you'll use the juice of one orange as part of your wet ingredients and cut the other into chunks to put whole into the batter.
semi-sweet chocolate chips – for a further dash of sweetness in your muffins. Yum!
Equipment
bowls, hand mixer, or whisk – for mixing the batter.
muffin pans – silicone/paper-lined to ensure you've made them the proper shape and size!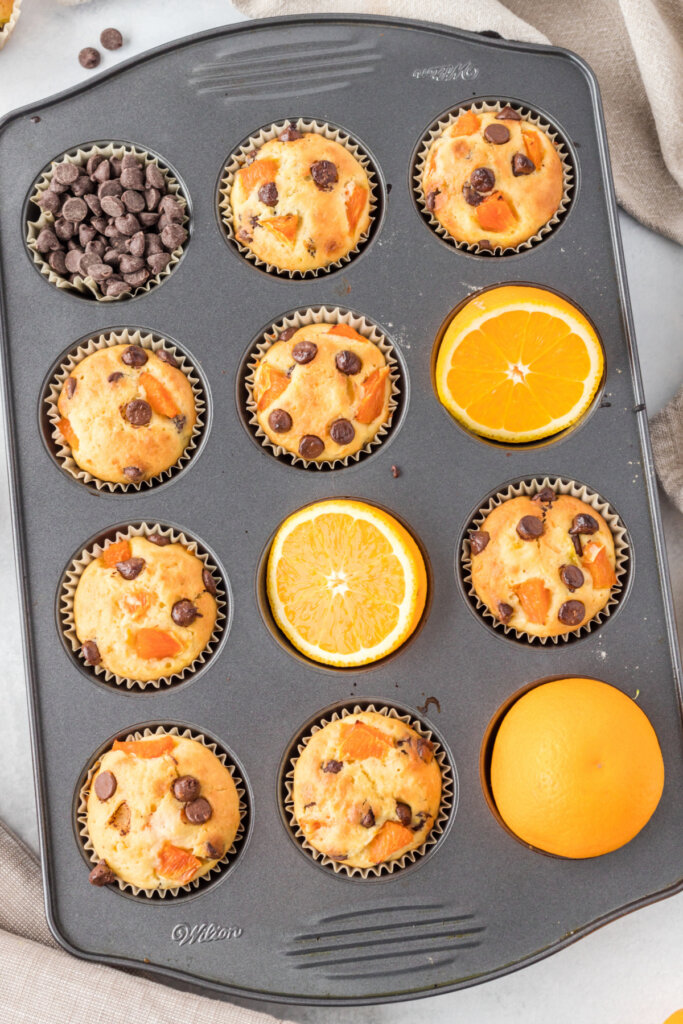 How to make a recipe for Orange Muffins
First, prep your supplies and ingredients. In a bowl, sift the flour, baking powder, and salt. Set it aside. Next, take one orange, cut it in half, and press the juice out of it. Save it for later! Finally, you'll need to peel the other orange, then slice it into chunks.
Second, mix your wet ingredients. Add the egg, sugar, milk, oranges pieces, juice, and butter into another medium bowl. With a hand mixer or a whisk, mix until all the ingredients are well combined.
Third, add your dry ingredients. Pour the liquid mixture over the dry ingredients, mixing as little as possible. You want to mix it JUST enough to make a moist batter. (Any more than that, and the muffins will come out lumpy and hard, not airy and light!!) After that, gently fold in the chocolate chips.
Finally, bake your batter and enjoy! Spoon the batter into silicone or paper-lined muffin pans about 3/4ths of the way high. Bake at 375°F for about 25 minutes. Serve immediately, or let them cool to room temperature!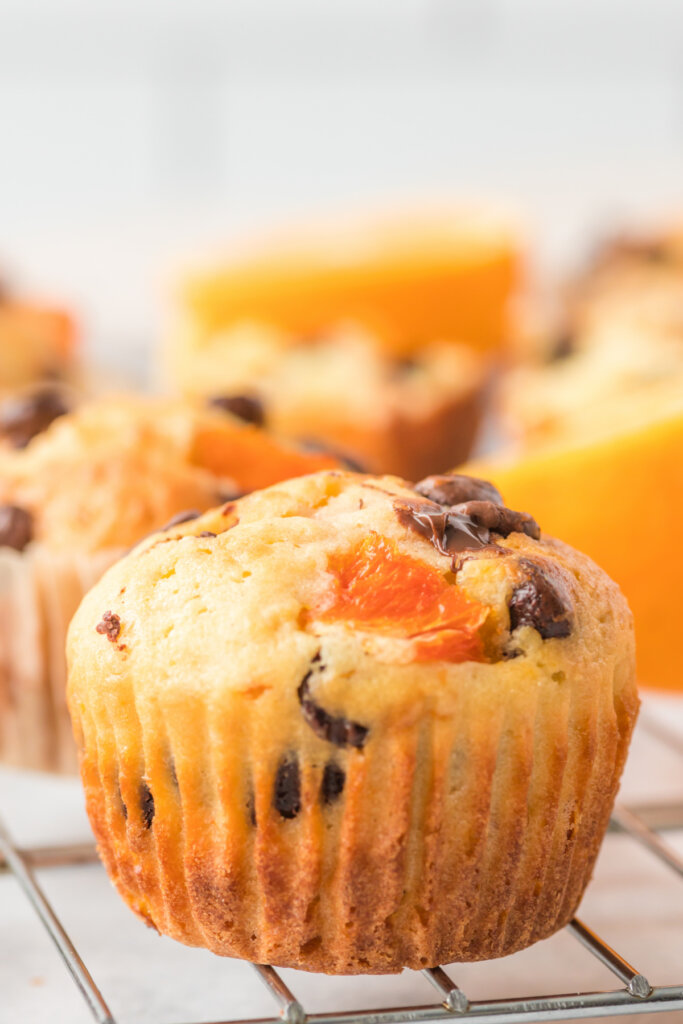 Orange Muffins recipe: FAQs
How many muffins does this recipe produce?
This will make enough batter for 12 muffins.
How long does it take to make moist Orange Muffins like these?
This orange muffin recipe requires less than an hour of your time! You'll need 15 minutes to prep the ingredients and 25 minutes to cook them.
How should I store these muffins?
Using an airtight container, you can keep these right on the counter at room temperature for about 5 days. You can also store them in the fridge for 7-8 days. If you want to reheat them, 10 or so seconds in the microwave should do.
Can you freeze these Orange Muffins?
Yes! They'll remain fresh in the freezer for up to 3 months. Remember to use a freezer-safe bag! You can reheat them in the microwave when you're ready to eat them again.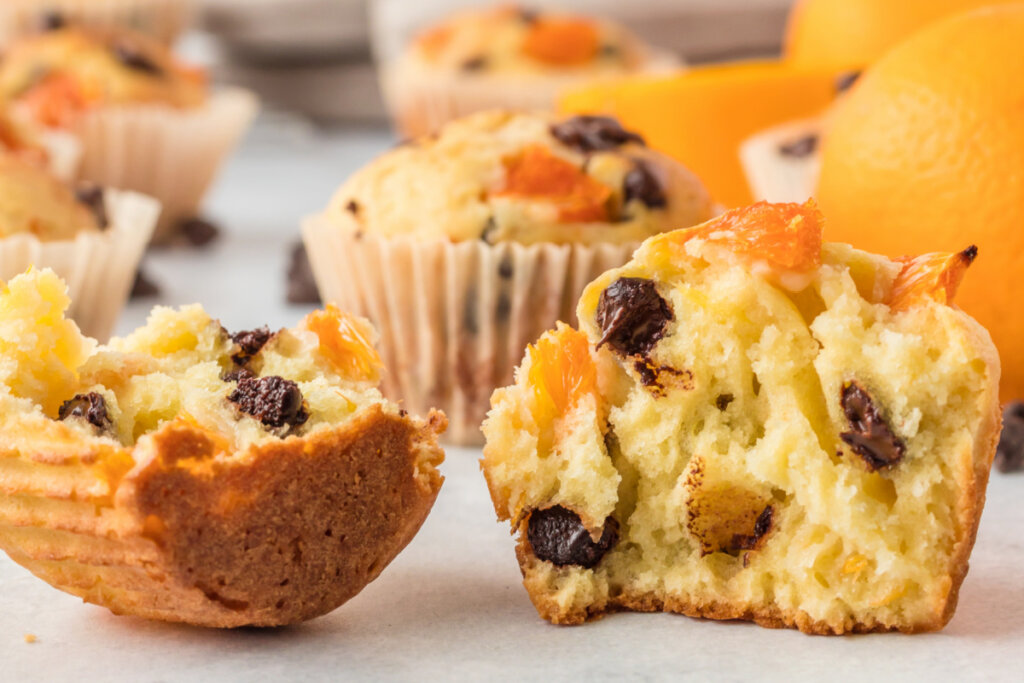 Other recipes you may enjoy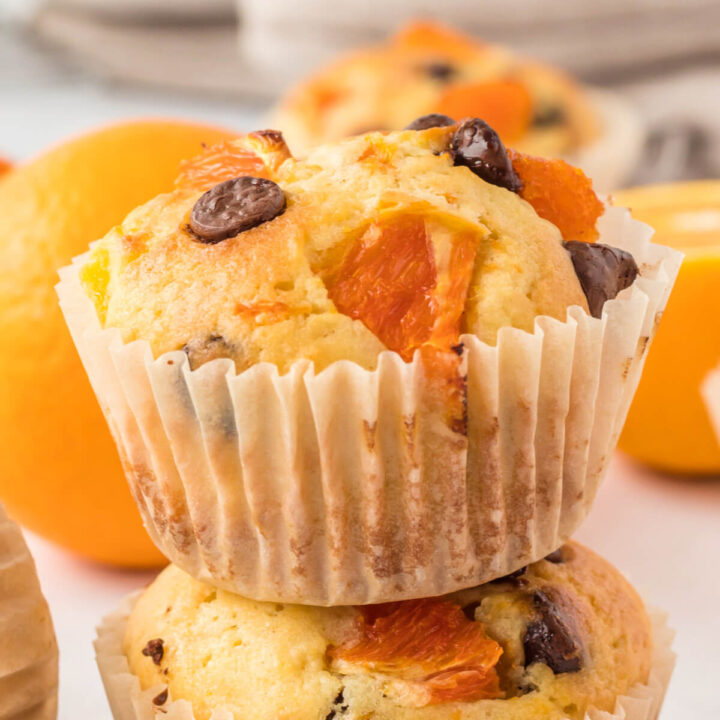 Orange Muffins
With a combo of citrus flavors and chocolate, these moist Orange Muffins are a delicious way to start the day and delight your taste buds.
Ingredients
1-3/4 cup all-purpose flour
1 teaspoon baking powder
3/4 tsp salt
1 large egg
1/2 cup granulated sugar
1/2 cup milk
1/3 cup melted butter
1 whole orange, cut in half and the juice squeezed out of it
1 whole orange, peeled and cut into chunks
1 cup semi-sweet chocolate chips
Instructions
Preheat oven to 375°F. Line a muffin tin with liners and set aside.
In a medium bowl, whisk or stir together the flour, baking powder, and salt. Set it aside.
In another medium bowl, add the egg, sugar, milk, butter, juice, and orange pieces. Beat with a hand mixer until all the ingredients are well combined.
Pour the orange mixture over the dry ingredients, and use a wooden spoon or rubber spatula to mix the ingredients just until combined. Do NOT overmix the batter. Gently fold in the chocolate chips.
Evenly divide the batter into the muffin pan, filling each cavity about three-quarters full.
Bake for 25-30 minutes or until a toothpick inserted near the center of the muffin tests clean.
Enjoy warm or at room temperature.
Notes
It is important not to open the oven door while your muffins are baking, or they may not rise properly.
Likewise, it's also important not to overmix your batter, or it will make your muffins dense and heavy.
For the best result, don't fill the muffin cavities more than three-quarters full, and be sure to place them in the center of the oven when you bake them.
Nutrition Information:
Yield:

12
Serving Size:

1 muffin
Amount Per Serving:
Calories:

624
Total Fat:

11g
Saturated Fat:

6g
Trans Fat:

0g
Unsaturated Fat:

4g
Cholesterol:

30mg
Sodium:

247mg
Carbohydrates:

116g
Fiber:

5g
Sugar:

19g
Protein:

15g
Please note that the nutritional information listed on this page is an estimation based on the products I used. Ingredients and nutritional information can vary significantly between brands. Always be sure to read labels. Please verify that a recipe fits your needs before using it. Nutrition info may contain errors, so please verify it independently. Likewise, recipes may contain errors, so please use your common sense when following them.