Here is a round-up with ten of my favorite posts from 2014. They're all so delicious!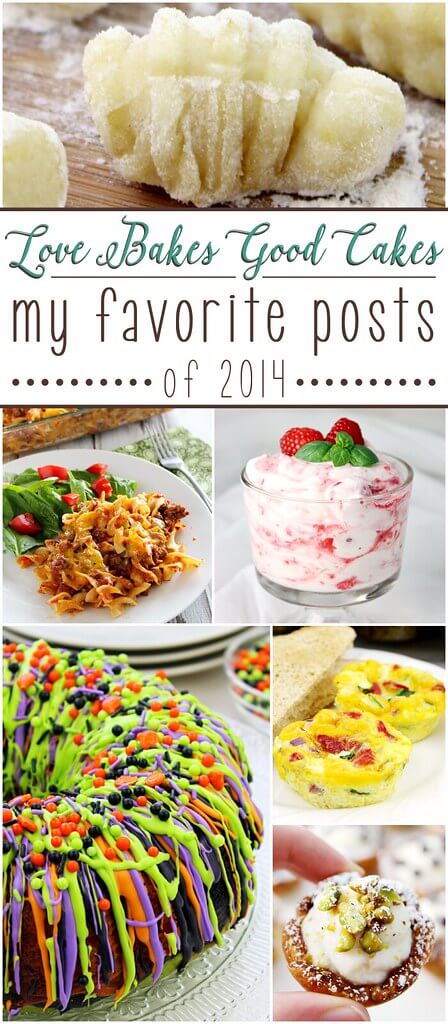 My Favorite Posts of 2014
Yesterday, I shared the top ten posts picked by my readers based on page-views and social media shares. Today, I'm sharing some of my favorite recipes from this year. They're my favorite posts of 2014 for different reasons and I have included my reasons with the descriptions! Enjoy!
This Beefy Sour Cream Noodle Bake is pure comfort food! Wide egg noodles and a meaty sauce with a creamy middle layer, all topped with Cheddar cheese!
This one is such a hit with my family that we ate it five times in two weeks (if you know anything about food bloggers – or at least me, having repeat meals doesn't happen too often – it might be a year or two before we have the same dish again). It has been probably two years since we had this before I made this and posted it in July …. I might not wait that long to have this one again ….
…. is there anything any better?! Whether you scoop it up with chips, slather it on a burrito or dig in with a spoon – there's no denying how versatile (and delicious!) this Mexican dip is! Did you know it's super easy to make restaurant quality guacamole at home?!
I could eat this entirely by myself – it's that good and I love it!
A great way to welcome Spring! If the weather's not cooperating where you are, these bars will surely give your taste buds a tease and get your mind in Spring mode!
This is an old recipe I got from my mom. Whenever I'm feeling down or when the cold of Winter gets the best of me, this recipe always makes me smile. It's perfectly lemony and it's easy to make!
An Italian potato dumpling that is easy to make at home and tastes great in your favorite Italian recipes! Serve it with melted butter and sage, pesto or your favorite marinara sauce for an easy meal idea!
This is one of those recipes I was too intimidated to make for such a long time. I broke free of that fear and made these yummy gnocchi when I couldn't find the packaged stuff at the store. There's no going back now. Homemade is soooo much better – and it's easier than I thought!
Lemon Cupcakes with Raspberry Buttercream
A from-scratch lemon cupcake with a fun and fruity raspberry buttercream frosting! These babies scream fun in the sun!
I love these cupcakes, y'all. Definitely one of the best cupcakes ever, in my humble opinion! If you're a fan of Fruity Pebbles, my kiddos seem to think that these cupcakes taste like that! This may be my birthday treat in 2015!
Perfect for busy days! They're a great breakfast, snack or dinner idea! Make them ahead and reheat in the microwave for a fuss-free meal the whole family will love!
We make a few varieties of omelet cups, but these veggies ones are my fave! They're simple, delicious and good for you. Judging by some of my other favorites, I need some healthy balance!
"Oooh" and "aah" your guests with this impressive Halloween Bundt Cake! It is so colorful and it's easy to make.
This was just a fun cake to make and share! We ended up giving it to our neighbor across the street because we were "caked" out from all of the birthdays in late September and into October. You can make this for any occasion by changing up the colors!
Take your taste buds "South of the Border" with these Beef Enchiladas.
This recipe is one that brings back tons of memories. It's a copycat recipe from a friend my mom had when I was young. Her children taught my brother and I how to say all of the bad words in Spanish. I can still taste Sharon's enchiladas 30-something years later.
With only 4 ingredients, you can whip up this Raspberry Fool in no time! It's an impressive dessert throughout the year, but it's especially nice during the holidays!
These desserts were so easy and soooo good! Any kind of fruit would be good in place of the raspberries – I can't wait for Summer peaches to make a peach version of this dish! They look fancy enough for company or holidays!
Be the star of any party or get-together with these amazingly easy and delicious Mini Cannoli Cups! A real crowd-pleaser!
After much frustration on trying to find actual cannoli tubes, I gave up and went another direction. These cups are so much easier and just as good! I may never make a real cannoli after making these!
Other Posts You May Enjoy: