With a blog name like Love Bakes Good Cakes, it's pretty safe to assume that I bake a lot. I am a cheap-o when it comes to doling out money on stuff that I can make better and cheaper at home.
To be honest, I have never been a fan of cooking spray. Although I often list that as an option in the recipes I share (because I know so many people use it), I usually do it the old-fashioned way and coat my bakeware with shortening/butter or line it with parchment paper or I use my trusty Silpat. Don't get me wrong, I have used cooking spray in the past – and I'm not knocking you if you use it! Personally, I try to stay away from it now. I hate the residue it leaves on my pots/pans and bakeware – and let's be honest, it can be hard as heck to get off of your stuff. I have had to trash countless nice baking pans because I have used cooking spray on them. Remember I said I'm a cheap-o?! I hate wasting money like that!
Growing up, I remember my mom greasing and flouring pans to bake with – and for a long time, I did this too. When a friend told me about her miracle pan release, I was sold and I have never looked back!
Seriously, this stuff is amazing. Nothing sticks! It's easy to keep on hand with stuff you probably already have in your pantry (only three ingredients!) – and you can easily make more or less just by remembering to keep the proportions equal! In the recipe I share, I used a half of a cup of each ingredient – which fills a half-pint sized mason jar. If you don't bake as much, you may only want to use a quarter of a cup of each ingredient.
I use this stuff for all of my cakes and I love how easy it makes everything! The cakes literally just slide right out of the pan – making cleaning them easy too! The best part? I'm not throwing away my bakeware and having to replace it because of all of the built-up gunk from cooking spray!
Yield: about 1-1/2 cups
Miracle Pan Release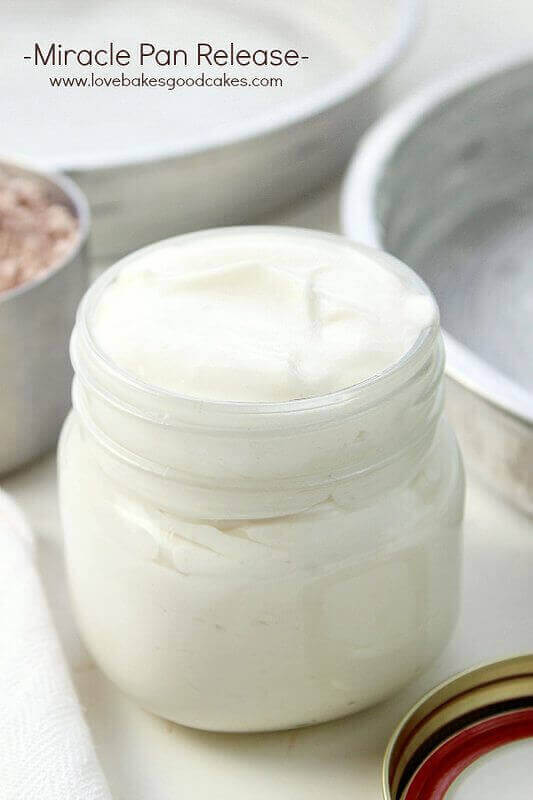 If you bake a lot, then this Miracle Pan Release recipe is a must-have item in your pantry! Nothing sticks to the pan, making clean up a breeze!
Ingredients
½ cup all-purpose flour
½ cup vegetable shortening
½ cup vegetable oil
Instructions
In a medium bowl, combine all ingredients with a hand mixer until the mixture slightly increases in volume and the mixture looks smooth and creamy.
 Place in a covered container and store on counter top or in the pantry.
To use: Use a pastry brush, clean paper towel or clean fingers to coat the inside of baking pans before baking. Use within 3-4 months or store in refrigerator for longer use.
Notes
You can easily adjust this to make larger or smaller batches! Use the same measure for all three ingredients to increase or decrease amounts.
Example measure if you need less - 1 Tablespoon each all-purpose flour, vegetable shortening, and vegetable oil.
Example measure if you need more - 1 cup each all-purpose flour, vegetable shortening, and vegetable oil.
Recommended Products
As an Amazon Associate and member of other affiliate programs, I earn from qualifying purchases.
Other Posts You May Enjoy: