With back to school, life can get hectic – especially dinnertime! This Mediterranean Tuna Salad is a great, healthy way to have dinner on the table in no time! It's great stuffed in pita bread for lunch, too! #BumbleBeeB2S #CleverGirls #ad
Mediterranean Tuna Salad
By the looks of social media today, any remaining kiddos headed back to school this morning. I saw so many pictures of kiddos getting on school buses or meeting some of their new classmates …. and so many mamas fighting back the tears. As a busy mom, that means there is a need for quick, delicious and healthy dinner (and lunch) ideas!
As I have told my readers before, one of my biggest kitchen tips is to keep a well-stocked pantry! I can't tell you how many meals I have been able to make by having many of my family's favorite ingredients on hand! Not only is it a life-saver at dinnertime, but I would like to think it is a budget saver as well – no trips to the closest fast food joint! I always have cans or pouches of Bumble Bee® tuna on hand – it's perfect for a quick lunch or dinner and we love adding it to some of our favorite recipes! This Mediterranean Tuna Salad comes together faster than the time it takes to get in the car and drive to your local greasy hamburger place. It's also budget-friendly and an excellent source of omega-3!
Although my family loves traditional tuna salad, sometimes we like a lighter fare without mayonnaise. Switching it up to a salad or putting it in pita bread is a nice change of pace also! I had a similar dish to this Mediterranean Tuna Salad at a restaurant a few years ago and decided to recreate it at home. It has easily become a family-favorite!
As a side note, I used two Bumble Bee® Premium Albacore Tuna in Water Pouches for this recipe. If you can't find the pouches, you can easily substitute Bumble Bee® canned tuna in this recipe! Be sure to visit Bumble Bee® for even more easy and delicious recipes!
For news, recipes, special offers and new product information, be sure to visit the Bumble Bee® website. You can also follow them on Facebook, Twitter and/or Pinterest.
What are some of your favorite recipes that use tuna?
Other Posts You May Enjoy:
Not Yo' Mama's Tuna Noodle Casserole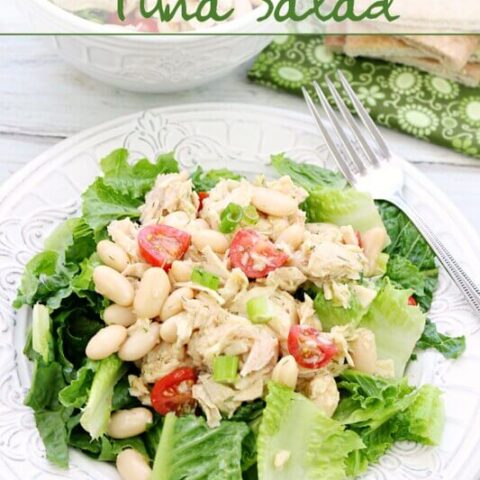 Mediterranean Tuna Salad
This Mediterranean Tuna Salad is a great, healthy way to have dinner on the table in no time! It's great stuffed in pita bread for lunch, too!
Ingredients
1 teaspoon Dijon mustard
2 tablespoons lemon juice
2 tablespoons olive oil
1/2 teaspoon dried dill
2 cans (5 oz. each) tuna in water, drained
1 can (15 oz.) cannellini beans, drained and rinsed
10-12 grape tomatoes, quartered
2 green onions, thinly sliced
salt and pepper, to taste
Romaine lettuce, chopped (optional)
pita bread (optional)
Instructions
In a medium bowl, combine the Dijon mustard, lemon juice, olive oil, and dill.
Add the tuna, beans, tomatoes, and green onions. Then, add salt and pepper to taste, if desired.
Gently stir to combine.
Serve the tuna mixture atop chopped Romaine lettuce or inside of Pita bread with Romaine lettuce. Refrigerate any leftovers.
Nutrition Information:
Amount Per Serving:
Calories:

286
Total Fat:

9g
Saturated Fat:

2g
Cholesterol:

30mg
Sodium:

562mg
Fiber:

6g
Sugar:

2g
Protein:

25g
Originally published on September 2, 2014. Updated on May 1, 2021.