Loaded with flavor you'll enjoy this Mediterranean Spaghetti Squash Salad as a tasty lunch or side dish!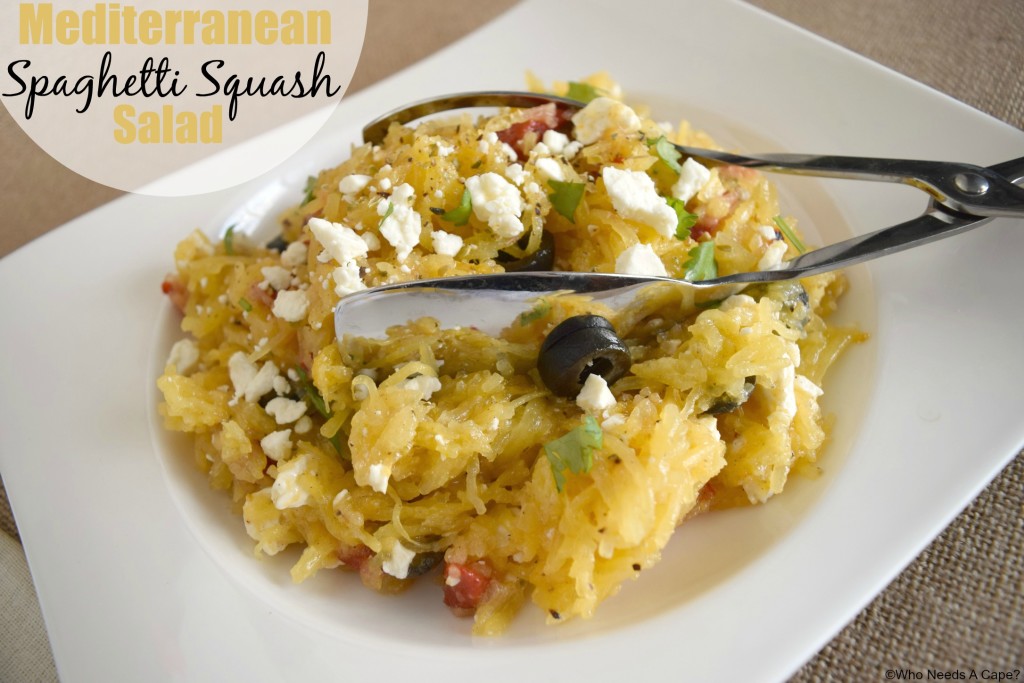 Disclaimer: Blendtec provided blenders for the giveaway and the three hostesses for review purposes. No other compensation was received, and, as always, all opinions are my own.
Mediterranean Spaghetti Squash Salad
Welcome to #EatHealthy16 where over 30 bloggers are coming together to share recipes to help you with your start 2016 off on the right track with food that is nutritious and delicious. Brianne of Cupcakes & Kale Chips will have healthy snacks, Jamie of Love Bakes Good Cakes will have healthy meals, and Jenny of The Melrose Family will have healthy desserts, so make sure you follow the #EatHealthy16 hashtag throughout the month of January for tons of inspiration!
We are also excited to be giving all of our readers a chance to win a Blendtec 725 blender and Twister Jar, an over $750 value. Be sure to head over to Who Needs a Cape? to enter! You have through February 5, 2016, to enter. Giveaway is open to U.S. residents 18 years of age and older. Winner must respond via email with a valid shipping address within 48 hours of being contacted or another winner will be selected. Good luck!
Today, I am welcoming Lori from Who Needs A Cape? to share a recipe for #EatHealthy16. After you grab the recipe, be sure to head over to her blog and enter the awesome Blendtec giveaway for a chance to win! 🙂
Hi, I'm Lori from Who Needs A Cape? and today I couldn't be happier to be sharing a healthy recipe to get 2016 off to a great start. 2015 was a transitional year for our family, one of our daughters moved away to college in a very remote area of northern Michigan. Her school is in a very small town which doesn't resemble your average college town in the least. There isn't an abundance of coffee shops, pizza joints or public transportation. She's a freshman and like many of her fellow students and friends, does not have a car. This has made getting to a store rather difficult. Have I mentioned her school also has the distinction of being the "snowiest university in the U.S."? So there's that too!
A healthy recipe
She came home at Thanksgiving break and I instantly realized she hadn't gained the traditional "Freshman 15", she'd actually lost some weight, not something she could spare. While on break she nearly ate us out of house and home, she was craving real food. The food in her residence hall is just not desirable, many times she's not eating. As a mom I hated hearing this, she's on a full meal package, I was depending upon her eating 3 meals a day at school. I decided to give her some easy recipe inspiration which led me to this Mediterranean Spaghetti Squash Salad. She has access to communal kitchen on her floor, but in a pinch could prepare this salad in her dorm room since she has a microwave. I've also made sure she has a decent supply of basic seasonings which helps her get some easy dishes prepared on her own.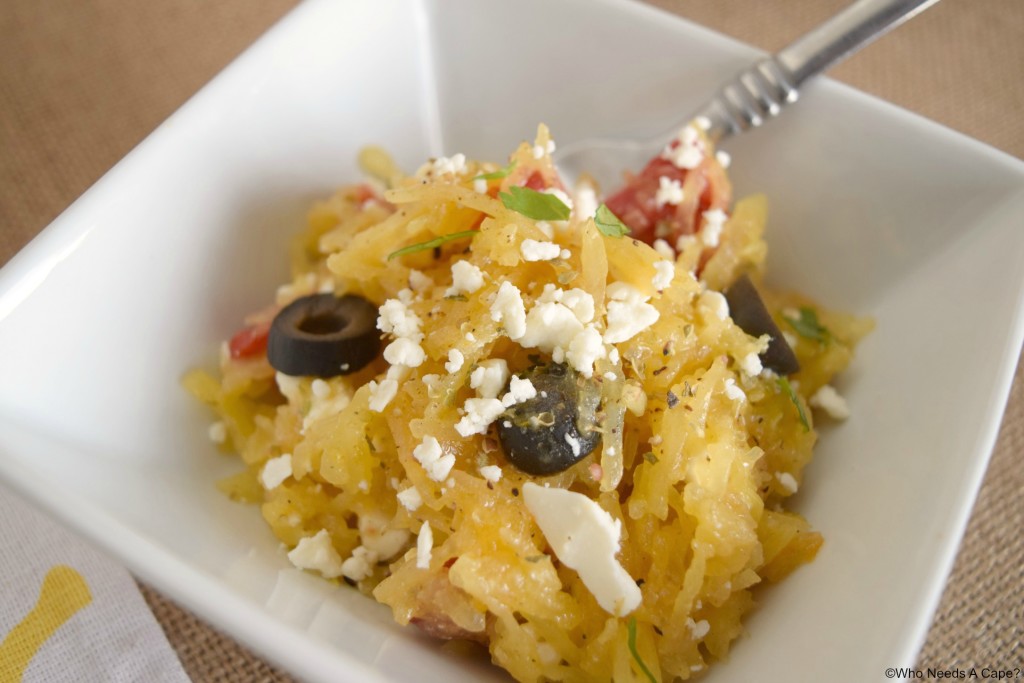 I knew she could easily prepare this Mediterranean Spaghetti Squash Salad, as she's quite adept in the kitchen. She loves a similar dish I make with Orzo, so the flavors I knew would make her happy. This dish can easily be prepared on a Sunday afternoon and kept refrigerated for her lunches during the week. Of course she can customize the ingredients based on what she can find at the supermarket when she occasionally gets a ride there.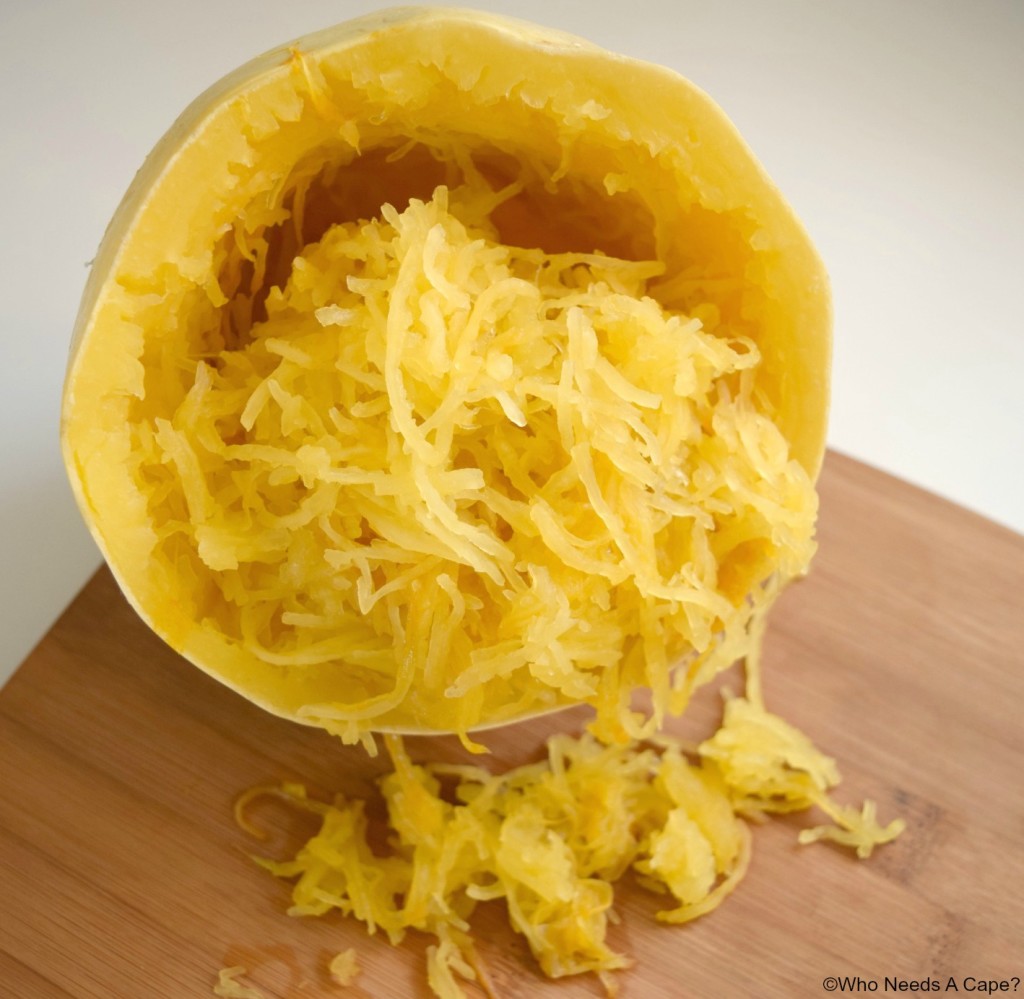 Making the salad
Now don't let this dish scare you if you've never prepared spaghetti squash. It is super easy to prepare, honest. Here's how I prepare my spaghetti squash in the microwave. Of course you prepare in the oven if you choose.
Place uncut spaghetti squash on microwave safe dish, poke all over with a fork. Approximately 10-15 times.
Microwave on high 5-7 minutes, until flesh is slightly softened.
Carefully move to cutting board (I use oven mitts) and cut in half with large knife. Scrape out seeds.
In a microwave safe dish (I use a glass pie plate) put one half of spaghetti squash cut side down, add 1/4″ of water. Microwave an additional 5-7 minutes until inside is tender.
Once again carefully move to cutting board (use those oven mitts). Using fork gently pull out strands of spaghetti squash.
Repeat with other half of spaghetti squash.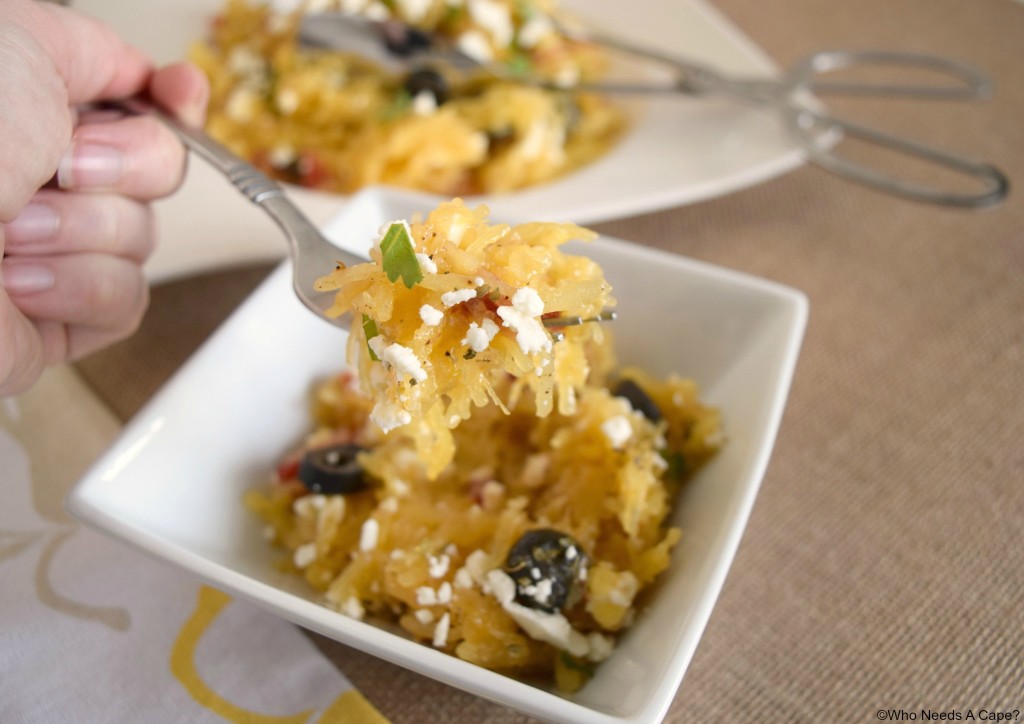 Giving my daughter some healthy ideas for easy to prepare dishes has made me feel so much better. Knowing that she can eat heartily outside of the cafeteria gives me some satisfaction until the next visit home where I can load her plate up myself. Next weekend she's attempting Slow Cooker Fiesta Chicken Soup which I'm sure will have her gaining some new friends when they smell it cooking away down the hallway.
You can follow Who Needs A Cape? on:
Pinterest | Twitter| Facebook | Instagram
Enjoy other healthy dishes we're offering:
<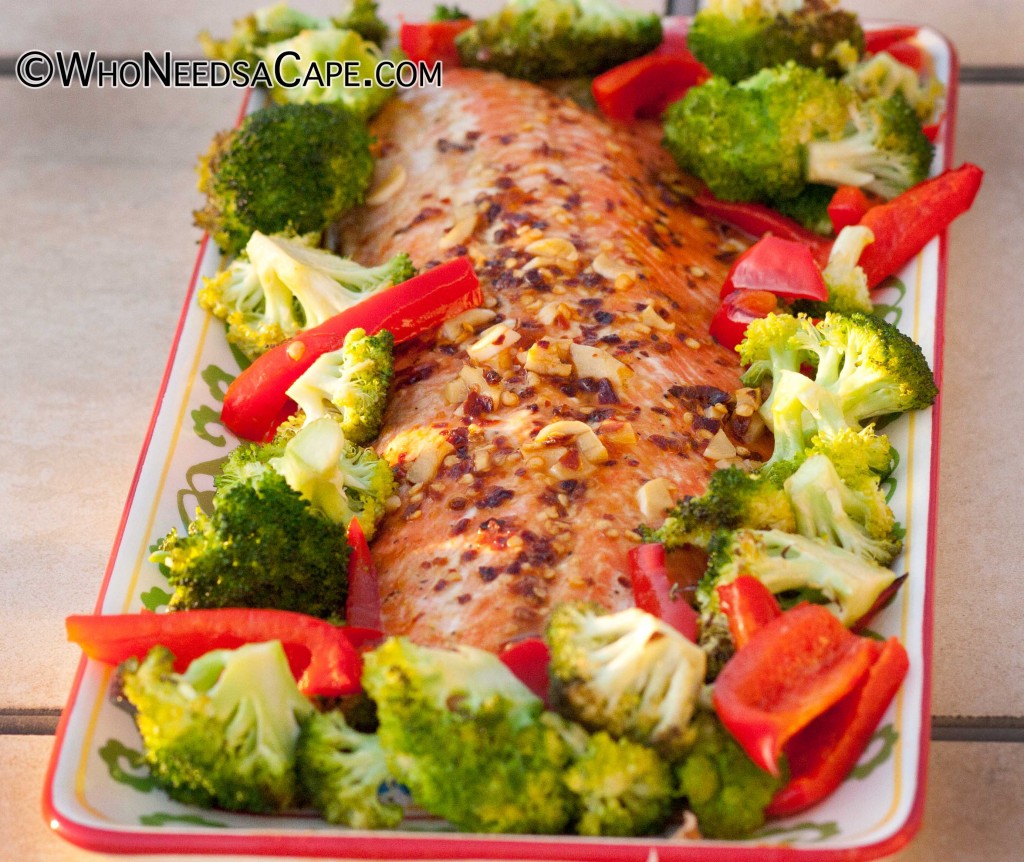 Other Posts You May Enjoy:
Red Curry Eggplant and Kale over Cauliflowered Rice
Healthier Version Chicken Parmigiana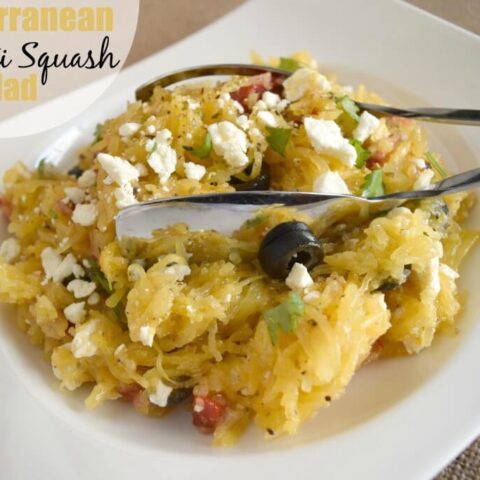 Mediterranean Spaghetti Squash Salad
Loaded with flavor you'll enjoy this Mediterranean Spaghetti Squash Salad as a tasty lunch or side dish!
Ingredients
4 cups prepared spaghetti squash, cooled
4 oz feta cheese, crumbled
1/2 cup Greek salad dressing
1 T olive oil
1/2 cup roasted bell pepper, chopped
1/4 cup black olives, sliced
1 t dried oregano
Salt & pepper to taste
Instructions
In large mixing bowl, toss all ingredients together. Season to taste with salt and pepper, top with finely chopped parsley if desired.
Refrigerate if not serving immediately.
Nutrition Information:
Amount Per Serving:
Calories:

181
Total Fat:

16g
Saturated Fat:

5g
Cholesterol:

17mg
Sodium:

292mg
Fiber:

2g
Sugar:

4g
Protein:

3g