This Lemon Funfetti Ice Cream is the perfect combination of sweet and tart, with plenty of lemon flavor! Throw in some sprinkles for added fun! #icecream #SummerDesserts #lemon #showusyourmess #PMedia #ad
Lemon Funfetti Ice Cream
This shop is part of a social shopper marketing insight campaign with Pollinate Media Group™ and Wet-Nap but all my opinions are my own. #pmedia #showusyourmess http://my-disclosur.es/OBsstV
I've said it before and I'll say it again, Summer just isn't Summer without ice cream. Lots of ice cream! Although my family eats it year round, it's especially delicious on a hot day! We get plenty of those in Phoenix! 🙂 That means more excuses to make and eat ice cream, right?!
Knowing that our pool would be done this past weekend and that we were going to be celebrating, I headed to Walmart to pick up stuff for dinner and to make lemon ice cream. I love their everyday low prices! While I was there, I had the idea to find something to clean up the "ice cream goatees" and the messy ice cream dripped hands. Being a mom of five, I know messes! I found these Wet-Nap Hand Wipes which were perfect for the job! I knew they could handle the job by keeping my family clean and ready to swim! 🙂
Wet-Nap Hand Wipes
I found my Wet-Nap Hand Wipes near the pharmacy section of the store, but saw some more over by the napkins on the paper product aisle. The Wet-Nap Hand wipes are stronger and softer than before, and they moisturize with aloe! Choose between Fresh Scent or Citrus Scent! I went with the citrus canister, but they also have pop-ups and packettes. The packettes would be perfect packed in a lunchbox and I may just need to grab some of those on my next trip for our lunchtime outings to the park during the school year (we homeschool).
I even saved a little bit of money on my purchase – and I'm sharing the coupon with you! Don't forget to get your 55 cents off any Wet-Nap product (while supplies last).
I decided to go with a yummy, sweet and tart Lemon Funfetti Ice Cream. It really hit the spot and it was the perfect treat to enjoy by our new pool! If you are a lemon lover, you will love this ice cream!
I picked up some cute little mini cones that were perfect for poolside. Just a few bites and they were gone! They are just enough to keep cool without having to wait 30 minutes to swim …… Now that I think about it, I'm not even sure if that "rule" was ever really true or not?!
Stay up to date with special news, offers and great ideas for Wet-Nap on Facebook or Pinterest.
Other Posts You May Enjoy: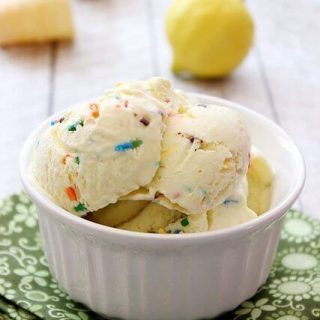 Lemon Funfetti Ice Cream
This Lemon Funfetti Ice Cream is the perfect combination of sweet and tart, with plenty of lemon flavor! Throw in some sprinkles for added fun!
Ingredients
2 cups heavy whipping cream
1 cup half and half
1 cup sugar
3 tbsp. grated lemon zest
5 egg yolks
1/2 cup lemon juice
1/3 cup sprinkles
Instructions
In a medium saucepan, combine the heavy whipping cream, half and half, sugar and lemon zest. Bring to a simmer over low heat. Cook and stir until the sugar is dissolved, about 5 minutes. Cover and allow the mixture to steep for 10 minutes.
Uncover the saucepan and bring the mixture back to a simmer over low heat. Beat the egg yolks in a medium bowl. Slowly add about one cup of the hot cream mixture into the yolks, bringing the eggs up to temperature. Pour the yolk mixture back into the cream mixture and stir to combine. Continue to cook and stir the mixture until it just coats the back of a spoon - about 5-10 minutes. Transfer the mixture to a large bowl. Cover and refrigerate at least 8 hours or overnight.
Stir the lemon juice and sprinkles into the cold mixture. Freeze in a 4-5 qt. ice cream maker according to manufacturers' directions. Transfer to a lidded container and freeze at least 4 hours to ripen flavors before serving.
Nutrition Information:
Amount Per Serving:
Calories:

405
Total Fat:

28g
Saturated Fat:

17g
Cholesterol:

184mg
Sodium:

40mg
Fiber:

0g
Sugar:

37g
Protein:

4g
Originally published on July 28, 2014. Updated on April 30, 2021.