These Lemon Berry Pancakes are perfect for breakfast or dinner! Use your favorite berry paired with lemon for a delicious flavor explosion!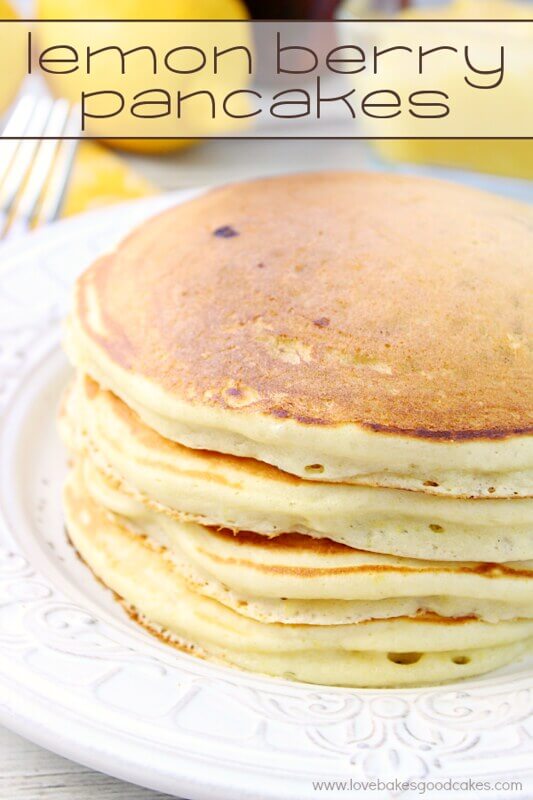 Lemon Berry Pancakes
I hope y'all are big fans of lemons. I have a feeling there will be plenty of lemon recipes shared this year! Living in Phoenix, there are plenty of citrus trees. As we drive around the valley, I keep telling myself that I want to plant a few citrus trees too. They are so pretty and fragrant!
At this time of the year, my neighbors are practically giving lemons away because their trees have so many! I think I have finally all but convinced Brian that we need our own lemon tree, and he's asked our gardener to plant one for us this weekend! We're going to start with one (to make sure I don't kill it – ha!), and maybe add some more trees later. It kinda excites me because I know somewhere down the road, I'll have plenty of lemons of my own!
More lemons, of course means more lemony treats. Lately, one of my family's favorite ways to use lemon is in pancakes. My kiddos could eat pancakes, or breakfast food in general, all of the time. I'm one of those kinds of people that runs in streaks. Sometimes, I can't get enough breakfast food (mmmmm, biscuits and gravy!) … and other times, I just can't stand the thought of it. There is no middle ground for me, and don't even suggest breakfast food when I am not in the mood for it. Ain't gonna happen.
Good thing for my family, I have been loving pancakes lately! Of course when you can make these delicious Lemon Berry Pancakes, who wouldn't want some?! One of the great things about these pancakes is, you can use your favorite berries or whatever happens to be on sale that week! 🙂 I've included a blueberry and a strawberry version in the pictures just to show you how versatile it is. In my opinion, lemon curd (homemade is best!) is a mandatory accompaniment with a few extra berries. My two youngest prefer maple syrup … different strokes for different folks, they say! I hope you enjoy this Lemon Berry Pancake recipe as much as my family does!
Other Posts You May Enjoy:
Fluffy Pancakes with Nutella and Strawberry-Banana Salsa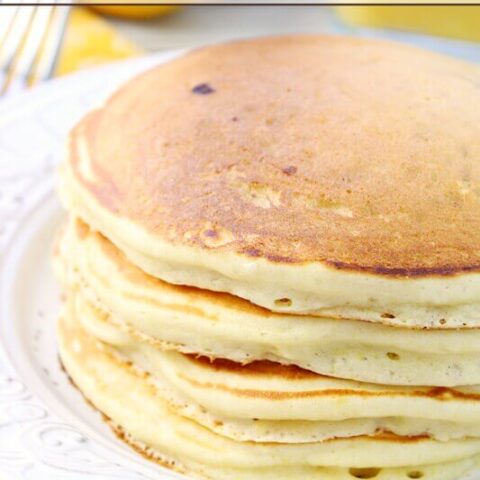 Lemon Berry Pancakes
These Lemon Berry Pancakes are perfect for breakfast or dinner! Use your favorite berry paired with lemon for a delicious flavor explosion!
Ingredients
For pancakes
3/4 cup milk
1 tbsp. distilled vinegar
1 tsp. lemon juice
1 large egg
2 tbsp. butter, melted
1/2 tsp. vanilla extract
1 cup all-purpose flour
2 tbsp. granulated sugar
1 tsp. baking powder
1/2 tsp. baking soda
1/2 tsp. salt
1 tsp. lemon zest
1 cup fresh berries, chopped if needed
For serving
Lemon curd, additional berries and/or maple syrup
Instructions
In a medium mixing bowl, combine the milk, vinegar and lemon juice. Allow to stand for 10 minutes before using. Whisk in the egg, butter and vanilla extract.
In a separate mixing bowl, whisk together the flour, sugar, baking powder, baking soda, salt and lemon zest. Pour the milk mixture into the flour mixture and whisk a few times until the batter is mostly free of lumps. Gently fold in the berries.
Heat a griddle over medium heat and spray with cooking spray. Pour ¼-cups of batter for each pancake and cook until bubbles appear on the surface, about 2-3 minutes. Flip the pancakes over with a spatula and cook an additional 2-3 minutes or until the pancakes are cooked through. Repeat with any remaining batter.
Serve with lemon curd and additional berries or maple syrup.
Nutrition Information:
Amount Per Serving:
Calories:

259
Total Fat:

9g
Saturated Fat:

5g
Cholesterol:

66mg
Sodium:

343mg
Fiber:

2g
Sugar:

13g
Protein:

7g