The June Bug Drink is summer in a glass! This non-alcoholic drink has a citrus taste and is loved by kids and adults alike!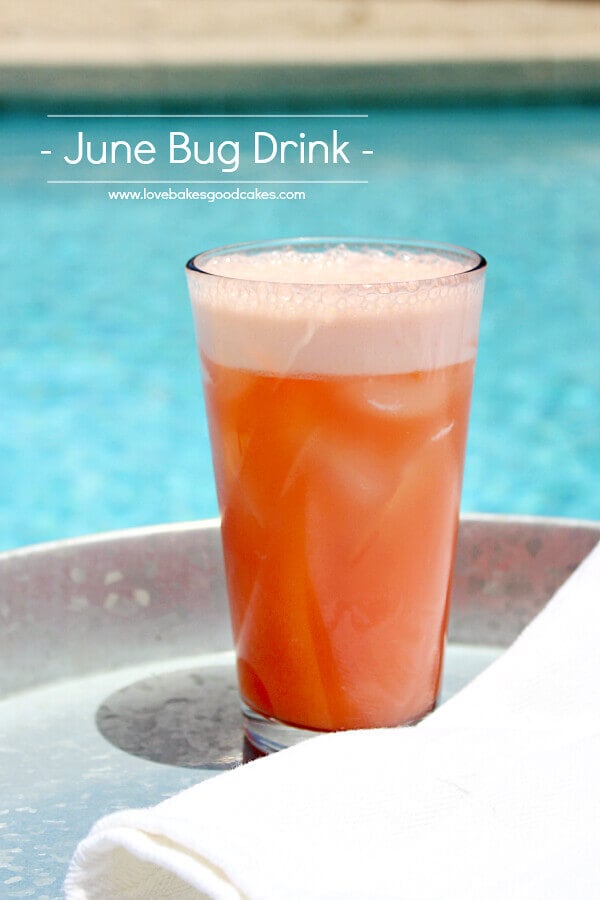 This shop has been compensated by Collective Bias, Inc. and its advertiser. All opinions are mine alone. WhereFunBegins.net #WhereFunBegins #CollectiveBias
June Bug Drink
As I sit here to write this post, the only thing going through my mind is Alice Cooper's song, "School's Out" …. you just can't help but sing along or at least hum the tune. When you get to the part where Alice Cooper says, "School's out for summer, School's out forever" …. you find yourself yelling that part. Just me?! Obviously. ☺ If there is an anthem for kids regarding the end of the school year and the welcoming of summer, that song has got to be it. Amiright?!
When do kids finish school in your area? Maybe they have already finished school? My kiddos have about a week or two left in their school year. They are already planning on all the fun things they want to do this summer …. between the pool, splash pads and the sports park, I don't think they will care about much else. Eh, maybe food and sleep once in awhile?!
Living in Arizona, it gets brutally hot in the summer. As a mom, I have to remind my kiddos often about the need to stay hydrated. Although our drink of choice is plenty of water, sometimes, we just have to have something a little more fun!
SunnyD
Do any of y'all remember drinking SunnyD as a kid?! SunnyD is unapologetically fun! My mom didn't buy it for us very often, but we loved it when she did! Sometimes, we would make popsicles out of the SunnyD … and on occasion, we would get a fun little fruity drink called a June Bug. Maybe you have had it before and called it something else?! It basically sherbet, lemon-lime soda, grenadine and SunnyD. If you could bottle summer, it would taste just like a June Bug – I'm almost positive!
Summer fun
Since we've already had temperatures over 100 degrees here in Phoenix, I thought it would be the perfect time to share this yummy drink with my kiddos. It made me reminisce about my childhood and the careless days of summer. Days where we played in our fort (a huge lilac bush we weren't supposed to play in – oops!) or where we would swing so high we felt like we could touch the sky. At night, we would all grab our jars and wait for the first lightening bugs to light up just so we could catch them. We spent hours climbing up my grandma's hill just so we could roll down it … sometimes on our sides and sometimes, (stupidly) in a somersault.
We would lay on that same hill and ask our cousins if they could see the same animal shapes we saw in the clouds. My cousins and I would listen to the wind whistle through the trees and imagine all kinds of craziness. The stories we told and made up make me laugh now! We spent hours and hours in imagination. Life was so much simpler then …. wasn't it?! We would spend all day outside and not come in until the street lights came on … and sometimes we would just wait for mom to yell out the door that it was time to come in. Those were the days!
My kiddos don't have the same kind of freedom. Unfortunately, it is a different world. We do more things as a family and they have less of the freedoms many of us had growing up. After a hard day playing, we love to eat as a family too.
Sam's Club
We host quite a few barbecues during the summer and we like to do our shopping for them at Sam's Club. I love that we can buy in bulk! While we were there, I decided to see if I could pick up the SunnyD to make these June Bug Drinks for my family. Just a note for when you go shopping, they've moved the SunnyD! I don't want you to have to hunt for it – you can find it featured on the end cap in the refrigerated section! I almost walked right by it! Sam's Club also has it on rollback for $5.38 for the 24-pack of SunnyD 6.75 oz. bottles. I grabbed two for that price and shared the second pack of bottles of SunnyD as a drink option for our weekend barbecue!
Be sure to check out more fun in the sun with SunnyD at sunnyd.com. I'd love to hear how you have fun with SunnyD!
Other Posts You May Enjoy:
Perfect Southern Sweet Iced Tea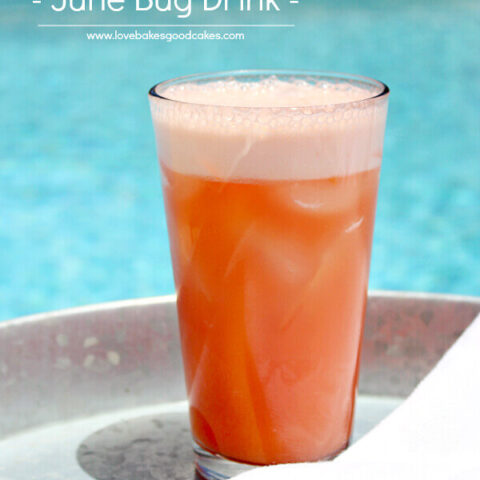 June Bug
The June Bug Drink is summer in a glass! This non-alcoholic drink has a citrus taste and is loved by kids and adults alike!
Ingredients
2 cans (12 oz. each) lemon-lime soda
1/4 cup grenadine
1 bottle (6.75 oz.) SunnyD Tangy Original flavor
3 scoops orange sherbet
Instructions
Add all ingredients to a blender. Cover and blend until the mixture is well combined.
Pour into ice-filled glasses. Serve immediately!
Nutrition Information:
Amount Per Serving:
Calories:

394
Total Fat:

3g
Saturated Fat:

1g
Cholesterol:

1mg
Sodium:

591mg
Fiber:

3g
Sugar:

44g
Protein:

4g