Now you can spread a little love with this Smart Balance & Buttermilk Pancakes Recipe. What could be better with fluffy goodness?
This post may contain affiliate links. As an amazon associate, I earn from qualifying purchases. See my full Disclosure Policy for details.
It's Hip To Be Square with Smart Balance & Buttermilk Pancakes Recipe
I participated in this campaign on behalf of Mom Central Consulting for Smart Balance. I received product samples, and a promotional item as a thank you for participating.


Have you heard the news? Smart Balance has revolutionized (a first in the industry) and redesigned their round packaging to an innovative square tub to help save valuable space in your refrigerator and on the grocery store shelf! Although the packaging has changed, you still get the same 15 oz. quantity and the same delicious heart healthier taste of Smart Balance! Smart Balancing is proving that sometimes, it's hip to be square! 🙂
I absolutely love that it fits in my refrigerator door so much better than the round containers do! I love, love, love the square containers!
The newly designed, square tub is eco-friendly and reduces greenhouse gas emissions by 18% – that equals 6,487 newly planted trees each year! The conversion from round to space-saving square tubs solves one of the biggest issues grocers face with dairy products today – freeing up refrigerated shelf and warehouse space!
With this move, Boulder Brands (the maker of Smart Balance), expects shelf efficiency to increase by 50% and warehouse efficiency to increase by up to 60%! By switching from the round tub to a 4-inch wide square tub, grocers will be able to put 60 units of product in the same space that previously held 40 units – and at least for me, the best part of this change is that it does not affect the product price, weight, volume or ingredients! It's still everything you know and love about Smart Balance – in more efficient packaging!
Spread a little love
From spreading Smart Balance on your morning toast or pancakes (a Love Bakes Good Cakes family favorite) to incorporating it in your favorite pasta or casserole recipe to substituting it in your favorite birthday cake, Smart Balance provides an easy 1-to-1 swap for butter in your everyday meals. There is no need to try to figure out how to adjust the measurement since you can swap equal amounts of Smart Balance!
You can visit the Smart Balance website for more information about the buttery spread and while you're there, be sure to check out some of the great heart healthier recipes! You can also follow them on Facebook for all of the latest news and product information!
Other recipes you may enjoy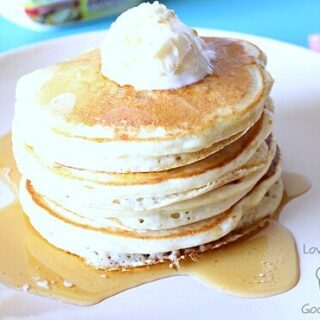 Buttermilk Pancakes
Ingredients
For the pancakes
1 large egg
1 cup all-purpose flour
1 cup buttermilk
1 tablespoon granulated sugar
2 tablespoons vegetable oil
1 teaspoon baking powder
1/2 teaspoon baking soda
1/4 teaspoon salt
For the griddle
For serving
Butter and/or maple syrup, for serving
Instructions
Beat the egg in a medium bowl with a hand mixer until fluffy. Beat in the remaining pancake ingredients just until smooth.
Heat a griddle or skillet over medium heat or to 375°F. If necessary, grease the griddle with butter or shortening.
For each pancake, pour slightly less than 1/4-cup of the batter onto the hot griddle. Cook the pancake until puffed and dry around the edges. Carefully flip the pancake over and cook on the other side until golden brown. Repeat with any remaining batter.
Notes
How do you know when your griddle or skillet is hot enough? When you flick water on it and it sizzles - it's ready!
For thinner pancakes, you can add 1-2 tablespoons of extra buttermilk.
Because cooktops, pan materials, and the thickness of your pans can vary, you may need to adjust your heat as necessary.
Keep pancakes warm in a single layer on a wire rack or towel-lined cookie sheet in a 200°F oven. Stacking them while keeping them warm will produce steam that can make your pancakes soggy.
Nutrition Information:
Yield:

9
Serving Size:

1 pancake
Amount Per Serving:
Calories:

143
Total Fat:

8g
Saturated Fat:

3g
Trans Fat:

0g
Unsaturated Fat:

5g
Cholesterol:

29mg
Sodium:

263mg
Carbohydrates:

15g
Fiber:

0g
Sugar:

4g
Protein:

3g
Please note that the nutritional information listed on this page is an estimation based on the products I used. Ingredients and nutritional information can vary significantly between brands. Always be sure to read labels. Please verify that a recipe fits your needs before using it. Nutrition info may contain errors, so please verify it independently. Likewise, recipes may contain errors, so please use your common sense when following them.
Originally published on August 17, 2013. Updated on April 23, 2021.