This Italian Sub Sandwich is perfect for a quick dinner idea or for game day snacking! Easy to customize! #OldWorldStyleOM #ad
Italian Sub Sandwich
Are you a football fan?! Me, not so much. I'm not gonna lie … I only watch football for the food! Oh – and to watch people backseat referee and yell at the TV! 🙂 What can I say, I'm easily amused!
As you know, any game day needs easy to eat food! One of my favorites is the classic sub sandwich – because they feed a lot of people and they are so easy to customize! Although we have a gazillion varieties we enjoy at the Love Bakes Good Cakes house, one of our favorites is the Italian Sub.
Our version of the Italian Sub may not be "traditional," but it sure is tasty! 🙂 I recently saw that Oscar Mayer has a few new products on the market – and since Oscar Mayer is a name I grew up knowing and loving, I couldn't wait to make sandwiches with their new Old World Style Pepperoni and Classic Salami! Not only are these sandwiches great for game day, but they're perfect when you need dinner in a hurry! From start to finish, you can have this baby done in about 15 minutes .. and you don't even have to "cook" anything! For meal time, we love this Italian Sub with a simple pasta salad! If you're looking to spice up your lunch rotation, you can easily make smaller versions of this Italian Sub using your favorite hoagie rolls or heck, even hamburger buns!
The sandwich popularity
Did you know: Since 2006, annual sandwich consumption has increased by 25% …. and 65% of consumers consider themselves frequent sandwich eaters! More than half of sandwich occasions are homemade. Industry experts believe salami will be the next big thing when it comes to packaged meat!
The new Oscar Mayer Old World Style Pepperoni and Classic Salami come in 4 oz. package sizes. They are available nationwide in the refrigerated meat section for the suggested retail price of $3.29. The Old World Style line of deli meats includes four new varieties, all in sandwich-ready slices: Classic Salami, Cracked Black Pepper Salami, Classic Pepperoni and Turkey Pepperoni! The Old World Style pepperoni and salami makes for a great addition to any sandwich, but it's also an excellent source of protein, with up to 8 grams per serving!
For the latest on Oscar Mayer news, products, recipes and special offers, be sure to visit the Oscar Mayer website. You can also find them on Facebook, Twitter and Instagram!
Other Posts You May Enjoy: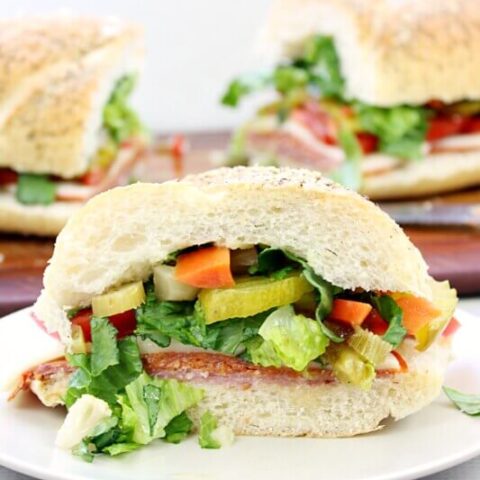 Italian Sub
This Italian Sub is perfect for a quick dinner idea or for game day snacking! Easy to customize!
Ingredients
1 loaf French bread, sliced in half lengthwise
1/4 cup Italian dressing
1 pkg. (4 oz.) Oscar Mayer Classic Pepperoni
1 pkg. (4 oz.) Oscar Mayer Classic Salami
8-10 slices Provolone cheese
2 tomatoes, sliced
Salt and pepper, to taste
Pickle slices
1/2 cup Giardiniera
Lettuce, chopped
Instructions
Place the French bread on a cutting board. Hollow out some of the bread from the top and bottom portion, leaving a 1-inch shell.
Drizzle the Italian dressing over the cut side of the top half of bread.
On the cut side of the bottom half, layer in order: pepperoni, salami, cheese, tomatoes, salt and pepper (if desired), pickles, Giardiniera and lettuce. Replace the top half of the bread on the top of the sandwich.
Cut into slices to serve.
Notes
NOTE: You can make this ahead of time and wrap the sandwich in plastic wrap. Store sandwich in the refrigerator until serving time.
Nutrition Information:
Amount Per Serving:
Calories:

364
Total Fat:

22g
Saturated Fat:

10g
Cholesterol:

57mg
Sodium:

1004mg
Fiber:

1g
Sugar:

3g
Protein:

19g