This post may contain affiliate links. As an amazon associate, I earn from qualifying purchases. See my full Disclosure Policy for details.
I received coupons for free product for review purposes. All opinions and text are 100% my own.
Grape Cupcakes with Banana Icing and WONKA™ Peel-a-Pop™ Frozen Treats Review #Wonkafy #desserts #cupcakes #ad
I'm the kind of person who explores the grocery store aisles for new food items when I go grocery shopping. I love finding new products that make my life easier … and I especially love finding fun novelty items! Awesome flavored cookies, weird potato chips flavors, mix-ins for baking, innovative ice cream products …. you name it! You can almost bet that I buy them to try at least once!
On a recent shopping trip, I spotted these WONKA™ Peel-a-Pop™ frozen treats. Upon further inspection, I realized that you could actually peel these treats like a banana! Say what?! No kidding – they actually peel like a banana!! How fun and cool is that?! And …. you can eat the peel too!!! Behind that peel is a vanilla flavored dessert! These babies are only 70 calories per pop too – making it a guilt-free treat for the kid in all of us! 🙂
My kiddos especially loved the grape flavor and I actually preferred the banana flavor. Both were great and so much fun! They were the perfect treat on a hot Summer day … and now that we're back to school and the weather is still Summer-like here in Phoenix, it made a nice after-school snack too! We'll be picking up some more WONKA™ Peel-a-Pop™ frozen treats on our next trip!
You can find WONKA™ Peel-a-Pop™ frozen treats nationwide at Wal-Mart, Target, Safeway and Kroger stores at a suggested retail price of $4.29 per 8-bar carton.
I thought it would be fun to wonkafy one of my favorite treats – cupcakes!! I took the inspiration from the WONKA™ Peel-a-Pop™ Frozen Treats and created these Grape Cupcakes with Banana Icing – two flavors from the frozen treats and two flavors my kiddos love, but I never thought about combining!
I hopped over and followed Wonka on Facebook and Wonka on Twitter so I can stay up to date on the latest WONKA™ news and special offers! You can follow them too! 🙂
Now about those crazy delish cupcakes ….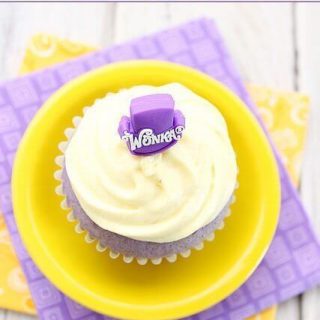 Grape Cupcakes with Banana Icing
Grape Cupcakes with Banana Icing and WONKA™ Peel-a-Pop™ Frozen Treats
Ingredients
For the cupcakes
1 box (16.25 oz.) white cake mix
Ingredients listed on box to prepare cake
1/4- 1/2 tsp. LorAnn Oils - Grape Flavor
purple food coloring
For the icing
1/4 cup ( 1/2 stick) butter, softened
1 banana, mashed
1 tsp. lemon juice
1/2 tsp. vanilla extract
3 drops yellow food coloring (optional)
3 1/2 cups powdered sugar
Instructions
For the cupcakes:
Prepare the cake mix according to package directions for cupcakes, adding the grape flavor and desired amount of purple food coloring to the batter along with the ingredients listed on the box to prepare the cake.
Bake according to package directions. Allow to cool.

For the icing:
With an electric mixer, cream the butter, banana, lemon juice, vanilla extract and food coloring. Slowly add the powdered sugar and continue to beat until smooth and fluffy.
Ice cupcake with icing.
Notes
**NOTE - This is icing .... it will not have the same consistency as frosting. It will not hold its shape as well as frosting. 🙂
Nutrition Information:
Amount Per Serving:
Calories:

171
Total Fat:

4g
Saturated Fat:

2g
Cholesterol:

5mg
Sodium:

128mg
Fiber:

0g
Sugar:

28g
Protein:

1g
Other Posts You May Enjoy: