This Frosted Italian Anise Bread is a sweet and fluffy treat from the old country that'll change how you see anise forever. Serve it up at Easter or Christmas, as is tradition, or whenever you feel like making something very special for the whole family to enjoy!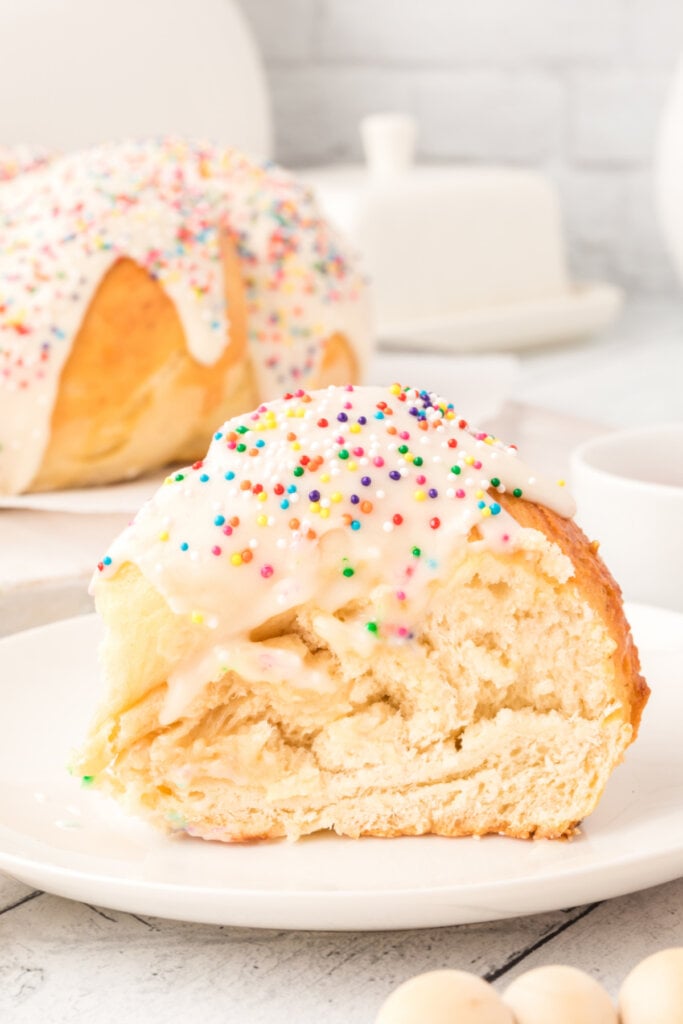 Italian Easter Bread
This Frosted Italian Anise Bread is an old Easter dessert and a proud Italian tradition straight from the old country!
It's the right mix of sweet and fluffy bread plus the aromatic and slightly spicy hint of anise. Honestly, I know a lot of people dislike anise since it has the taste of black licorice, but this recipe is perfect for introducing the seed and its oil to any skeptical picky eaters.
Traditionally, people serve this bread up on Easter or Christmas. I'm planning on doing that this year!!
However, whenever you want something new and special to bring to the dinner table, this bread will do the trick – so don't just save it for the holidays! Make it anytime!
It's a bit of an involved recipe, but it's worth it, trust me! Frosted Italian Anise Bread is just, yum!! 😍
Anise is sometimes an acquired taste, but this recipe will absolutely help you acquire it … it's delicious! I hope you enjoy it!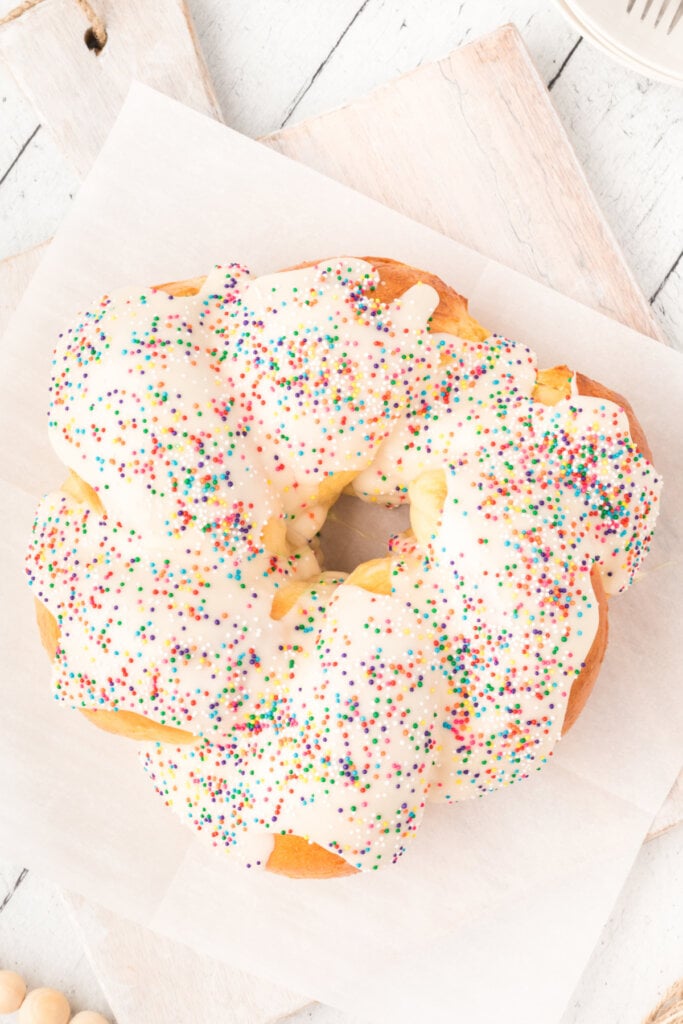 Frosted Italian Anise Bread: Ingredients & Equipment
For this Italian Anise Bread recipe, you'll need …
Ingredients
For the bread:
all-purpose flour, white sugar, salt, rapid-rise yeast, milk, and butter – standard baking ingredients. Nothing out of the ordinary here!
anise extract – this gives your Italian sweet bread its notable licorice-like taste.
eggs – two eggs will go into the dough. You'll use a third egg, beaten, as a wash over your uncooked anise bread.
For the frosting:
milk, corn syrup, butter, powdered sugar – these ingredients will give the frosting its consistency.
vanilla extract – a touch of vanilla extract brings out all the other flavors in a recipe.
anise extract – again, you want this for more of that special licorice taste!
Additional ingredients:
multi-colored nonpareils – to sprinkle onto your bread!
Equipment
bowls – to mix your wet and dry ingredients, as well as form your dough.
saucepan – you'll warm your anise extract and milk in this.
baking sheet – where you'll, you know, bake your anise bread!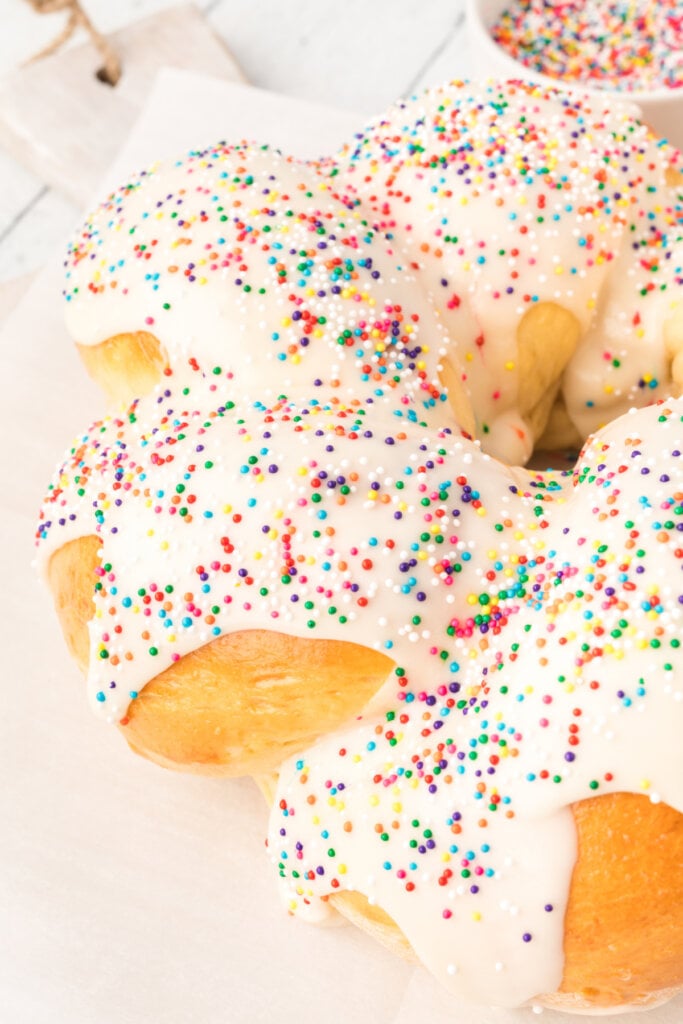 How to make Italian Easter Bread
First, mix your dry ingredients and preheat your oven. That means whisking your flour, sugar, salt, and yeast together in a large bowl. Make sure your oven is preheated to 350°F.
Second, mix your wet ingredients into your dry ingredients. Warm your milk and anise extract in a small saucepan until it hits 110°F. Pour this into a well in the center of your flour mixture. Combine the flour and milk mixture. Add butter and eggs (one at a time) and the remaining flour until the dough starts to form.
Third, shape your dough. Knead the dough on a floured surface for about 8 minutes, then cover it with a damp cloth for 10 minutes. After that, cut the dough into halves. Roll each half into a ball, then shape the balls into 2 long pieces (think 1.5 inches thick and 20ish inches long). Pinch the two top ends together, then twist the pieces together. Pinch the bottom ends together, and form the twist into a ring.
Fourth, let the dough rise. Lay the loaf onto a greased baking sheet and cover it again with a damp towel. Let it rise until it's doubled, which should take about 1 hour.
Next, bake your dough. Brush your uncooked loaf with egg and throw it in your preheated oven for 20-25 minutes. You want the bread to be golden brown but not to burn, so watch the oven closely!
Finally, let the bread cool and frost it! Put the loaf on a wire rack to cool down. Combine your frosting ingredients and drizzle it over your bread, then sprinkle on your nonpareils. Serve the bread once the frosting has set!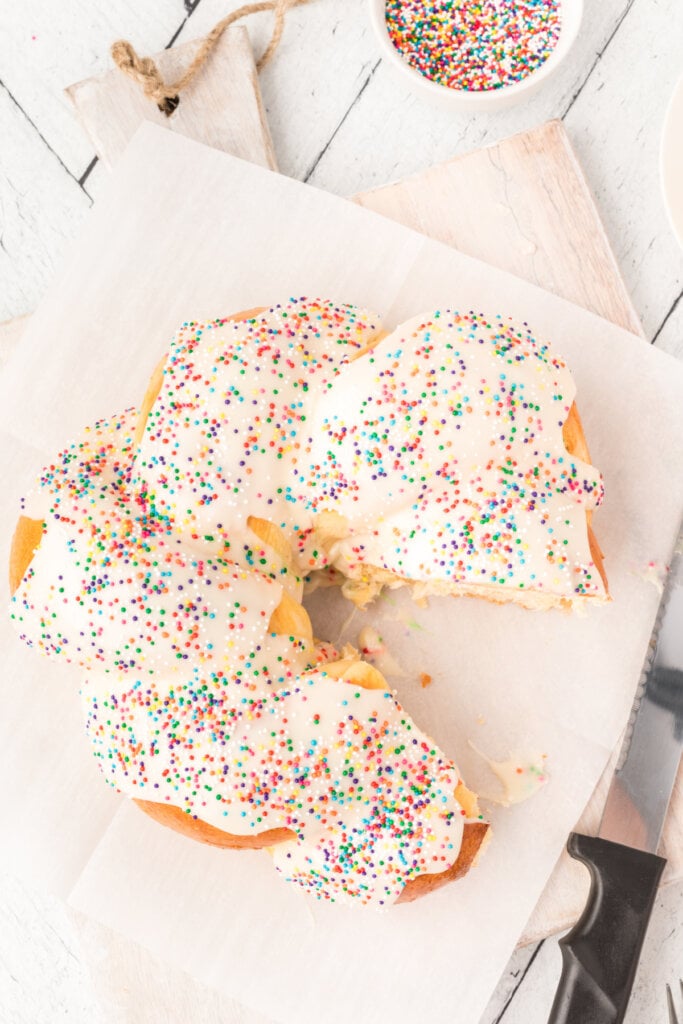 Frosted Italian Anise Bread: FAQs
How much Italian Anise Bread does this recipe produce?
It makes 1 loaf, which should cut up into about 10-12 servings, more or less!
How long does it take to make Italian Anise Bread?
The ingredients take 15 minutes to prep, and the loaf takes 20 minutes to cook. You'll also have an additional 85ish minutes to allow the dough to rise, etc. It's not a fast recipe, I admit, but it's one that's great for special occasions!
Should I use whole anise seed anywhere? Some recipes call for it!
You can add some whole or ground anise seed to the recipe if you really love the flavor, but I think the extract works fine to deliver the taste you're looking for!!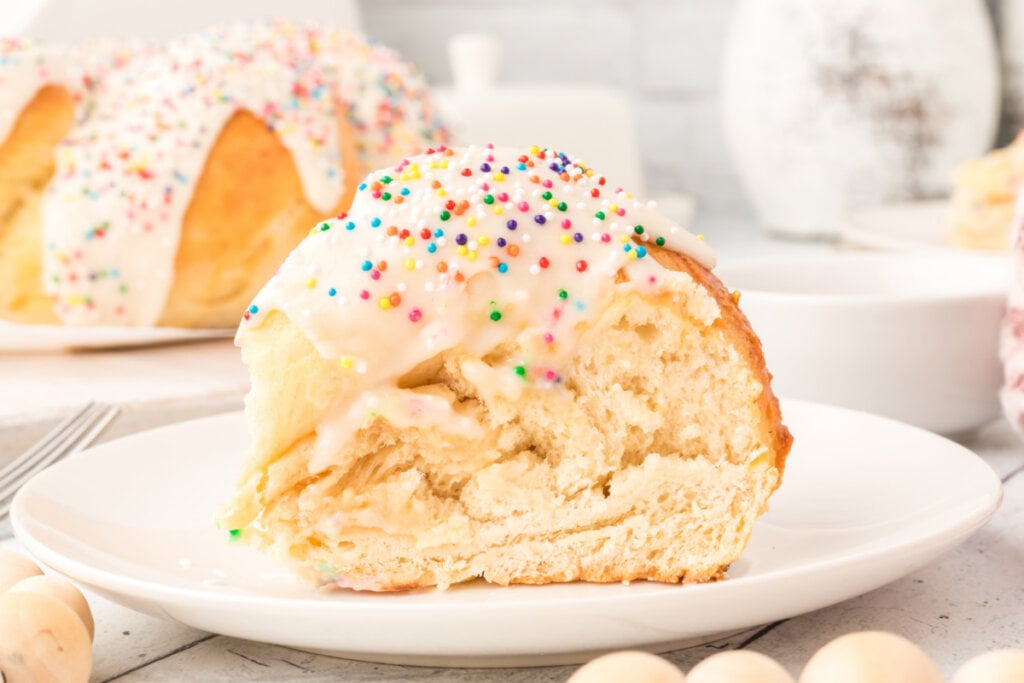 Other recipes you may enjoy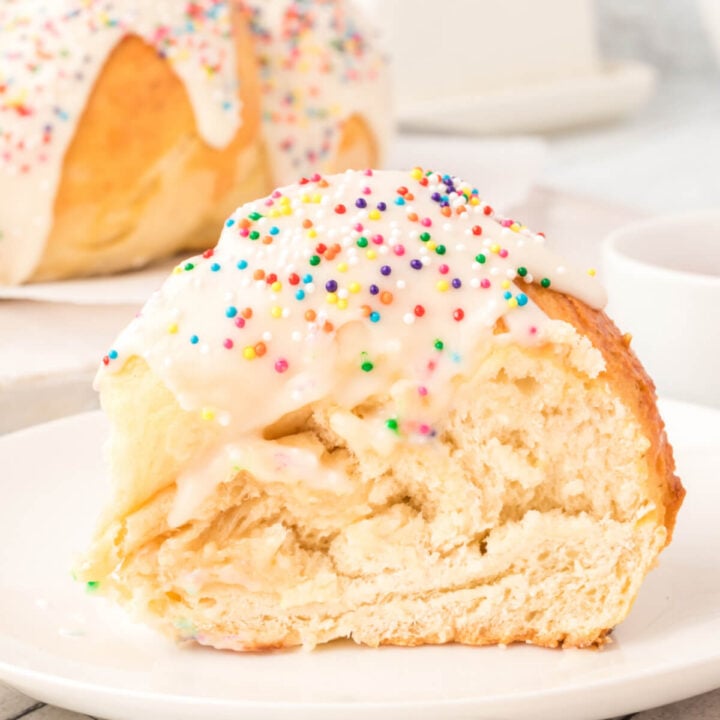 Frosted Italian Anise Bread
Yield:
1 loaf (10-12 servings)
Additional Time:
1 hour
25 minutes
This Frosted Italian Anise Bread is a sweet and fluffy treat from the old country traditionally served at Easter or Christmas. It'll change how you see anise forever!
Ingredients
For the Bread
3 cups all-purpose flour, divided
1/4 cup granulated sugar
1 teaspoon salt
1 package (0.25 ounce) rapid rise yeast
2/3 cup milk
1 teaspoon anise extract
2 tablespoons butter, at room temperature
2 large eggs
1 large egg, beaten (for brushing over the loaf)
For the Frosting
2 tablespoons milk
1 tablespoon light corn syrup
1 tablespoon butter, melted
1-1/2 cups powdered sugar
1/2 teaspoon anise extract
1/2 teaspoon vanilla extract
Additional Ingredients
Instructions
Mix 1 cup of flour with sugar, salt, and yeast in a large bowl, and whisk together.
Place the milk and anise extract into a small saucepan over low heat and warm it to about 110°F.
Make a well in the center of the flour mixture with your hand, and pour in the milk mixture. With your clean hand, swirl it in a circular motion to combine the flour mixture with the milk mixture. Mix in the butter and eggs, one at a time, then mix in the remaining flour until the dough begins to pull together.
Turn the dough out onto a floured work surface, and knead until soft but elastic, about 8 minutes. Cover with a damp cloth, and let the dough rest for 10 minutes.
Cut the dough into halves.
On floured work surface, roll each half into a ball, then shape the balls into 2 long pieces, about 1-1/2 inches thick and between 18 to 20 inches long. Pinch the 2 top ends together and loosely twist the pieces to form a twisted loaf; pinch the bottom ends together, and form the twist into a ring, and pinch the ends together.
Grease a baking sheet, then lay the loaf onto the prepared sheet and cover with a damp towel/ Let the loaf rise until doubled, about 1 hour.
Preheat the oven to 350°F.
Brush the loaf with the beaten egg.
Bake the loaf until golden, 20 to 25 minutes. Watch closely towards the end of the baking time so that the bread does not begin to burn.
Transfer the loaf to a wire rack immediately after baking to cool completely.
Once the bread has cooled, combine all of the frosting ingredients in a small bowl and drizzle the frosting over the cooled loaf. Immediately sprinkle with the nonpareils. Allow the frosting to set completely before slicing and serving.
Notes
If you prefer, make this into a straight twisted/braided loaf, and tuck the two ends underneath the loaf.
You can also make this bread in a bread machine using the dough setting. Use your manufacturer's directions for adding the ingredients to the loaf pan. After the dough is prepared, proceed with the recipe as directed. 
If you prefer to use your stand mixer for the mixing and kneading, you can! Proceed with the rest of the recipe as directed.
You can use all anise or all vanilla extract for the frosting if you prefer. The flavor you choose will be stronger.
Nutrition Information:
Yield:

12
Serving Size:

1 slice
Amount Per Serving:
Calories:

260
Total Fat:

5g
Saturated Fat:

2g
Trans Fat:

0g
Unsaturated Fat:

2g
Cholesterol:

55mg
Sodium:

227mg
Carbohydrates:

49g
Fiber:

1g
Sugar:

24g
Protein:

6g
Please note that the nutritional information listed on this page is an estimation based on the products I used. Ingredients and nutritional information can vary significantly between brands. Always be sure to read labels. Please verify that a recipe fits your needs before using it. Nutrition info may contain errors, so please verify it independently. Likewise, recipes may contain errors, so please use your common sense when following them.