Deana's Five Bean Chili – quick and easy! Perfect for a cold night!
Deana's Five Bean Chili
When I first started blogging, I tried to do a series where readers would submit their recipes to me and each month, my family would pick one to try. Then I would blog about it with any tidbits the person who submitted the recipe had. It never really went very far – I didn't have many readers at the time. 🙂 I had pretty much forgotten about this idea ….
Recently, I was contacted by one of my Facebook readers, Deana. She told me about her family's chili recipe, and how many people have told her that they thought making chili was hard – and she reassured them it was easy, just dump it all in a pot! She even told me her husband married her because of her chili recipe! He loves her chili so much that he eats it when it's blazing hot in Texas. It gets hot in Texas, y'all. There's just something about a bowl of chili … I love it in the middle of Summer too! Yum!
Being a huge fan of chili myself and remembering that blog series that never really took off, I asked Deana if I could make her recipe and blog about it – to which she happily obliged! Thanks, Deana, for a wonderful recipe and the opportunity to share it with my readers!
Feel free to share
About that series … I really would love to start it up. At least even occasionally. If you have a recipe you would like the Love Bakes Good Cakes family to try, feel free to shoot me an email with some background info and the ingredients and directions of the recipe. My email address is over in the right hand sidebar under my picture! Or private message me on Facebook! Maybe at the first of the year, I'll come up with some kind of form for recipes to be submitted?!
Here are the other two recipes that were submitted from Love Bakes Good Cakes readers for me to try: Debra's Greek Baked Beans and Shipwreck Stew (from my Aunt Wanda).
Other Posts You May Enjoy:
Chili Cheese Tater Tot Casserole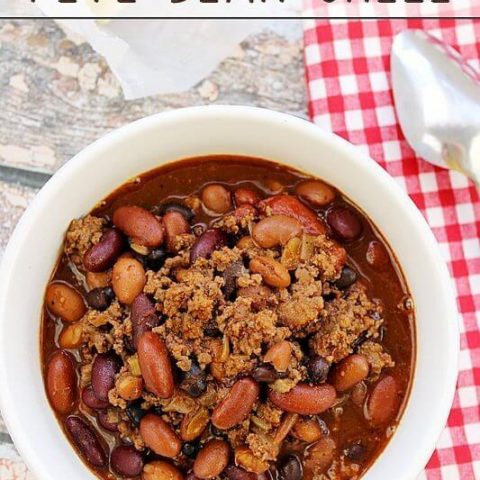 Deana's Five Bean Chili
Deana's Five Bean Chili - quick and easy! Perfect for a cold night!
Ingredients
1 lbs ground beef
5 cans of various beans of your choice , do not drain
1 can of stew tomatoes
1 can (8 oz.) tomato sauce
1 medium onion, chopped
1 packet of chili seasoning
1 tbsp. of chili powder
1 tbsp. onion powder
1 tsp. cayenne powder
Salt and pepper to taste
Instructions
In a soup pot, brown and crumble ground beef with the onion until beef is no longer pink. Drain.
Add all remaining ingredients to the pot and heat to a boil. Cook for 5 minutes, then lower heat to simmer. Cover and cook 20 minutes stirring occasionally.
Serve with your favorite crackers!
Nutrition Information:
Amount Per Serving:
Calories:

522
Total Fat:

13g
Saturated Fat:

5g
Cholesterol:

40mg
Sodium:

1008mg
Fiber:

17g
Sugar:

3g
Protein:

33g