Add this Crunchy Slaw with Citrus & Cilantro atop a burger, taco, sandwich; or use as a side dish, it's a keeper!
Crunchy Slaw with Citrus & Cilantro
Hello my #LoveBakesGoodCakesPeeps! I hope you are all having a great summer. I am summering in Alaska this year….because when one thinks of summer the first place that pops into your head is Alaska, right? Okay, so it does have beaches…..cold beaches….but it also has glaciers – so that's pretty amazing!
Sean and I are workamping in the Copper River Valley.  We are the camp hosts for the 2014 season at a local campground.  It is a lot of fun meeting different people as they make their way through the area.
Meals are challenging.  I have grown to heavily depend on my crockpot, or, on recipes like this one – recipes that can be versatile and prepared quickly, and/or in advance.
So whether you want to add this slaw atop a burger, taco, sandwich; or use as a side dish; or consume it directly from the serving bowl, barefoot – poised at the open fridge like a neanderthal (haven't we ALL been there?)….however you want to serve it – it's a keeper!
I mentioned versatile, right?  I used lemon juice, yet orange or lime would work if you didn't have lemon.  Basil, mint, or parsley could be easily substituted for the cilantro….some people just aren't on team cilantro.  But DO choose red cabbage, it works wonderfully for this – I find it to hold it's texture better than that of green cabbage. 
Although I am on #TeamCilantro, I cannot say the same for #Team GreenCabbage.
Related Posts:
Honey Lime Teriyaki Chicken W/ Hot Sweet & Sour Cilantro Carrots
Buffalo Chicken Patties With Blue Cheese Slaw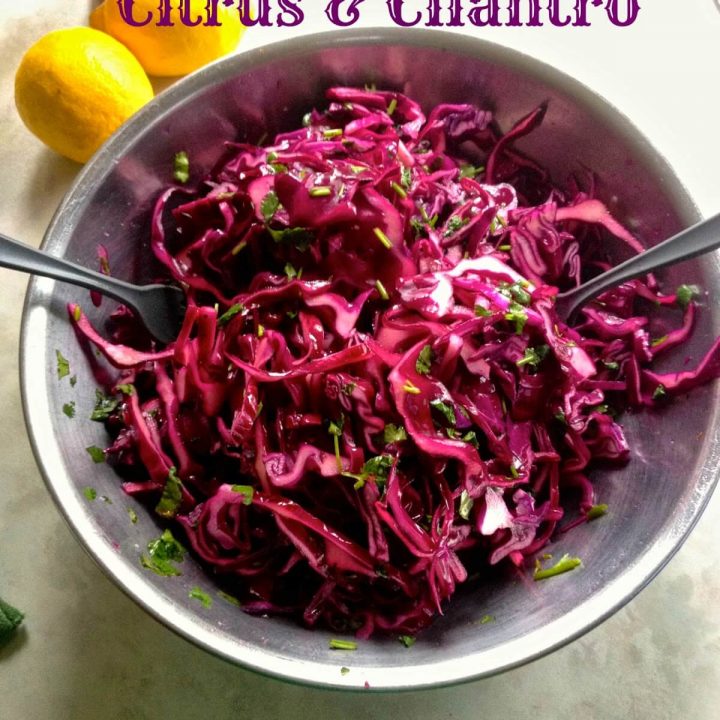 Crunchy Slaw With Citrus & Cilantro
Crunchy Slaw With Citrus & Cilantro
Ingredients
1 red cabbage (about 4-5 pounds), washed, cored & shredded
1 bunch fresh cilantro, chopped (about 1 1/2 cups)
1/4 cup fresh lemon juice
1/4 cup brown sugar
zest of 1 lemon
1 tsp coarse salt
Instructions
Add the shredded cabbage in a large bowl, toss with the chopped cilantro.
Sprinkle the brown sugar over the top, then pour over that the lemon juice, and finally the salt. Let it sit for 5 minutes, then toss to coat.
Cover with plastic wrap and refrigerate for at least 1 hour. Toss again when ready to serve. Keeps for up to 5 days if kept n an airtight container in the refrigerator.
Nutrition Information:
Amount Per Serving:
Calories:

170
Total Fat:

1g
Saturated Fat:

0g
Cholesterol:

0mg
Sodium:

586mg
Fiber:

9g
Sugar:

25g
Protein:

6g
Originally published on August 2, 2014. Updated on April 30, 2021.