This Chocolate Chip Pound Cake is an easy dessert idea! It's FULL of chocolate chips! #desserts #poundcake #chocolate
I needed an easy dessert idea the other day, so I found myself digging through one of my many recipe boxes. I had lots of potential ideas (you know the stack), but when I saw this Chocolate Chip Pound Cake, I knew it would be perfect!! I put the other recipes back in the box and went to the kitchen to make this!
I love that this recipe is sooo easy to make and that I always have the ingredients on hand. Plus, it makes 2 loaves!! I can freeze one for later for an easy dessert another time! One night, we had this just like this – and the other night, we served it with fresh berries and sweetened whipped cream – kind of like a strawberry shortcake, but not exactly! I wish I would have taken pics, but I didn't!
Yield: 2 loaves (10-12 slices each)
Chocolate Chip Pound Cake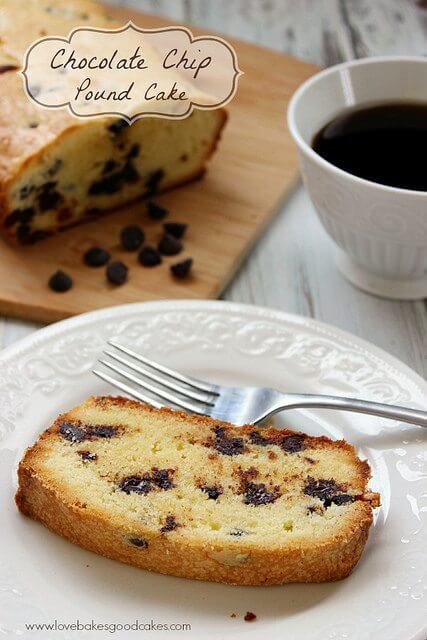 This Chocolate Chip Pound Cake is an easy dessert idea! It's FULL of chocolate chips!
Cook Time
1 hour
20 minutes
Ingredients
3 1/2 cups all-purpose flour
1/2 tsp. salt
4 eggs
4 egg yolks
1 tbsp. vanilla extract
1 1/2 cups (3 sticks) unsalted butter, softened
2 cups sugar
1 bag (12 oz.) semi-sweet chocolate chips
Instructions
Preheat oven to 325°F. Grease and flour two 9x5x3-inch loaf pans; set aside.
In a medium bowl, stir together the flour and salt. Set aside. In a small bowl, beat together the eggs, egg yolks and vanilla. Set aside.
In a large bowl, cream the butter and sugar with an electric mixer on medium-high speed until light and fluffy (about 4-5 minutes). Reduce the mixer speed to medium and add the egg mixture gradually. Continue to mix for an additional 2-3 minutes, scraping down the sides of the bowl, if necessary. Switch the mixer to low speed and gradually add the flour mixture and beat just until blended. Stir in the chocolate chips.

Divide the batter between the two loaf pans, smoothing out the top. Bake for 1 hour and 10 minutes to 1 hour and 20 minutes - or until a toothpick inserted near the center tests clean. Cool in the pan on a wire rack for 20-30 minutes before removing from the pan to cool completely.
Nutrition Information:
Amount Per Serving:
Calories:

3836
Total Fat:

207g
Saturated Fat:

123g
Cholesterol:

978mg
Sodium:

761mg
Fiber:

16g
Sugar:

294g
Protein:

46g
Other Posts You May Enjoy: