This Chocolate Peanut Butter Oatmeal Smoothie is so decadent that's it's almost like having dessert for breakfast – did I mention it's healthy and gluten-free, too?!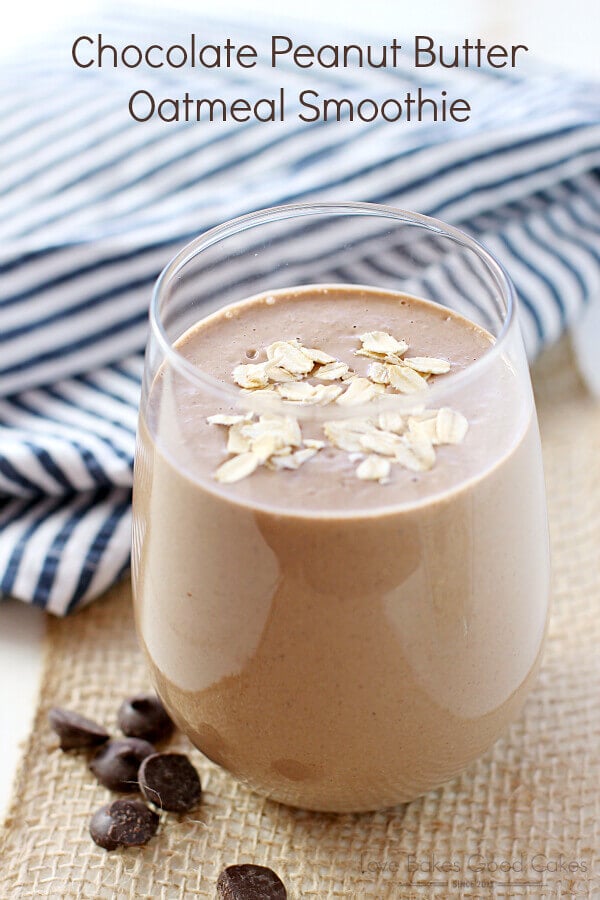 Disclaimer: Blendtec provided blenders for the giveaway and the three hostesses for review purposes. No other compensation was received, and, as always, all opinions are my own.
Chocolate Peanut Butter Oatmeal Smoothie
Welcome to #EatHealthy16 where over 30 bloggers are coming together to share recipes to help you with your start 2016 off on the right track with food that is nutritious and delicious. Brianne of Cupcakes & Kale Chips will have healthy snacks, Jamie of Love Bakes Good Cakes will have healthy meals, and Jenny of The Melrose Family will have healthy desserts, so make sure you follow the #EatHealthy16 hashtag throughout the month of January for tons of inspiration!
We are also excited to be giving all of our readers a chance to win a Blendtec 725 blender and Twister Jar, an over $750 value. Be sure to read to the end of this post to enter! You have through February 5, 2016, to enter. Giveaway is open to U.S. residents 18 years of age and older. Winner must respond via email with a valid shipping address within 48 hours of being contacted or another winner will be selected. Good luck!
How are y'all holding up on those New Year's resolutions?! I've had my ups and downs. While I am doing pretty good with making better choices and menu planning, I have been struggling with finding the time (and sometimes motivation) to exercise like I should be. I'm not gonna lie – I wish I was doing better about those resolutions than I am.
Blendtec 725
I know y'all are going to think I'm crazy for asking this question, but here it goes …. Have you ever fallen in love with an appliance?! I mean like, really loved an appliance?! Recently, I had the opportunity to try a Blendtec Designer 725 with Twister Jar and I can tell you, this is probably the best appliance in my kitchen! I look for reasons to use it!
Of course, with all of those resolutions means I have been trying to be better about breakfast. As you know, breakfast is just not my thing and most of the time, I have a pretty unhealthy meal of toast and coffee. By mid-morning, I feel drained and that toast and coffee that sounded so good doesn't sound so good anymore.
One of the things I have been working on is making an actual breakfast of some sort that has some substance! You know, the kind that doesn't make me feel like I'm dead at 11 am! I am not a big fan of oatmeal, but I have discovered that I actually enjoy it in smoothies and I kinda even dig it in overnight oatmeal – a real shocker for me!
Making the smoothie
One of my current fave smoothies is this Chocolate Peanut Butter Oatmeal Smoothie. Omgish – yum!! One of my favorite flavor combos ever is chocolate and peanut butter!! This smoothie is almost like drinking a thick, yummy milkshake for breakfast – and it is a great source of soluble fiber, protein, healthy fats – as well as various vitamins and minerals! Here is a breakfast idea you can drink up and feel good about! Plus, it's sooooo delicious!
Blending it up in my new Blendtec makes it a piece of cake! With SmartBlend technology, multi-speed pulse, a 100-speed touch slider, and the sleek, show-stopping design, it makes the Designer 725 the star of any kitchen!
I love my new Blendtec Designer 725 so much and I am excited that my friends at Blendtec are giving one lucky reader a Blendtec 725 with Twister Jar for the #EatHealty16 series! Seriously, enter this giveaway because you need this blender in your life! Good luck, y'all!
In case you are not a winner, you can buy the Blendtec Designer 725 here.
Other Posts You May Enjoy:
Strawberry Banana Oatmeal Smoothie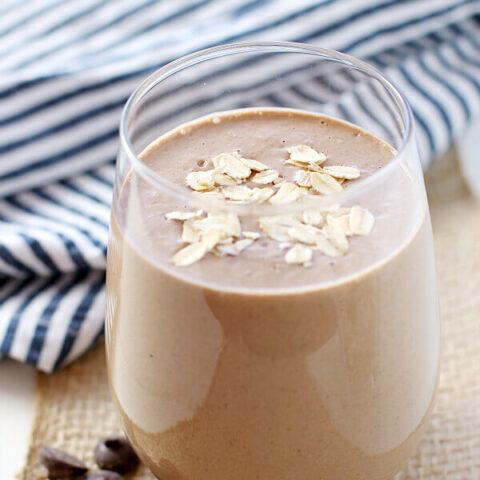 Chocolate Peanut Butter Oatmeal Smoothie
Yield:
1 large or 2 small servings
This Chocolate Peanut Butter Oatmeal Smoothie is so decadent that's it's almost like having dessert for breakfast - did I mention it's healthy and gluten-free, too?!
Ingredients
1/2 cup oatmeal
1 tbsp. chia seeds
1 tbsp. peanut butter
1 tbsp. unsweetened cocoa powder
1 1/2 cups almond milk (or milk of choice)
2 tbsp. maple syrup
Instructions
Place the oatmeal in a blender. Cover and process until the oatmeal resembles flour.
Add the remaining ingredients. Cover and process until fully combined.
Pour the smoothie mixture into serving glasses.
Serve immediately.
Nutrition Information:
Amount Per Serving:
Calories:

478
Total Fat:

19g
Saturated Fat:

4g
Cholesterol:

0mg
Sodium:

269mg
Fiber:

15g
Sugar:

26g
Protein:

14g