Blackberry Crostata an Italian pastry, with a flaky butter crust filled with fresh blackberries. Holy yumminess! A simple and elegant tart that you can easily serve at breakfast or as an afternoon treat.
Blackberry Crostata
Hey friends, welcome back to Foodie Friday!
Where every 2nd Friday of the month I, Sandra from A Dash of Sanity, will be sharing one of my favorite recipes with the friends and followers of Love Bakes Good Cakes.
I absolutely love pastries. It is one of the reasons I miss working on the east coast, they have some amazing bakeries. Oh, even thinking about them now, my heart and mind instantly go to Boston. I literally would just fill up on things like these crostatas.
It wasn't until the last few years I started to make pastries, including my favorite Chocolate Croissants, but crostatas are my favorite to make, my Peach and Raspberry Crostata is my favorite, these Blackberry Crostatas with a scoop of my favorite ice-cream and a pinch of cinnamon is ranked right up there. I couldn't wait to share this recipe.
Making the dough
While it may look or sound complicated, I literally made the dough in 10 minutes, the filling in 3 minutes and it took 18 minutes to bake. You literally can have these treats in 30 minutes. Now I like to let my dough rest in the fridge for 2 hours, making the flaky layers. So I will make the crust before I leave for the gym and by the time I come back it is ready to roll out and bake.
Easy, simple and elegant. Your family and friends will think you spent hours in the kitchen. Whip up a batch for the holidays, my gift to you this holiday season. See you next month.
Happy Thanksgiving!
Enjoy!
XOXO San
Follow  A Dash of Sanity:
Pinterest  |  Facebook  |  Twitter 
Kids review: They loved this. It is great for a snack after school and fantastically beautiful for breakfast.
Here are some of my most recent post, hope you come over and check them out.
My holiday favorite: German Chocolate Cake Cookies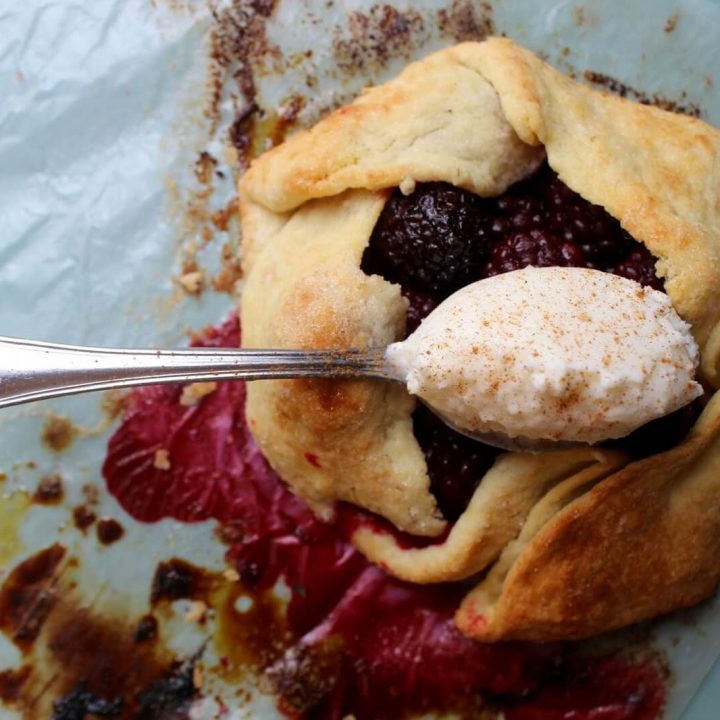 Blackberry Crostata
A simple and elegant tart that you can easily serve at breakfast or as an afternoon treat.
Ingredients
1 1/2 cups flour
1 teaspoon sugar
Pinch of salt
8 tablespoons unsalted butter, cold and cut into 1/2 inch cubes
2 large egg yolks
3 tablespoons cold water
3 – 6 ounce containers fresh blackberries, about 3 cups
2 teaspoons white granulated sugar
1/3 peach preserves
2-3 tablespoons natural cane turbinado sugar, if you don't have this use white granulated sugar
3 tablespoons unsalted butter, melted
Instructions
In a medium mix bowl add flour, sugar and a pinch of salt and stir to combine.
In a separate bowl or cup, beat together egg yolks and water until well blended.
Add unsalted butter to flour mixture, using a pastry blender or 2 knives, cut the butter into the flour until the mixture resembles coarse crumbles, with some small pea-sized pieces. Gradually mix in the egg mixture using a fork. It will be crumbly, use your hands to bring it together, it will moisten and the mixture will start to clump together. If the mixture is still too crumbly and not holding together when pressed, add an additional teaspoon of cold water.
*Note this is not a wet dough, you do not want to add too much water.
Shape dough into a thick disk, wrap with plastic wrap and place in the refrigerator for 1-2 hours.
Preheat oven to 425 degrees.
In a medium sized bowl add fresh blackberries, juice from ½ lemon, and 4 teaspoons of sugar. Stir together. Set aside.
Cut the dough into 4 equal pieces, for your 4 crostatas. On a lightly floured surface roll out the dough until 1/8 inch thick, repeat with remaining 3 pieces of dough.
Add about ½ cups of blackberries to the center of each piece of dough, evenly distributing blackberry filling between each pastry leaving a 1 inch border around the edge. Top with remaining fresh raspberries, about 6-8 on each. Bring up the edges of the dough, pleating and folding as needed, to partly cover the blackberry filling and leaving the center exposed. This is my favorite part, play around and find what you like, each of mine come out a little different. Brush the pastry with the melted butter and sprinkle the dough and blackberry center with turbinado sugar.
Using a metal spatula carefully place on to prepare pan, add remaining crostatas to the pan and place in the oven to bake for 18-20 minutes. You can bake all of them at the same time, on the same pan. Let it cool 10 minutes to allow center to thicken, then serve on plate or in a small skillet with a dollop of ice-cream. I like to specifically serve this with coconut gelato with a pinch of cinnamon, seriously the most amazing combination ever!
Nutrition Information:
Amount Per Serving:
Calories:

538
Total Fat:

35g
Saturated Fat:

21g
Cholesterol:

176mg
Sodium:

83mg
Fiber:

3g
Sugar:

13g
Protein:

7g