Make dinnertime easy and delicious with these Easy Beef Sliders! Your family will LOVE them!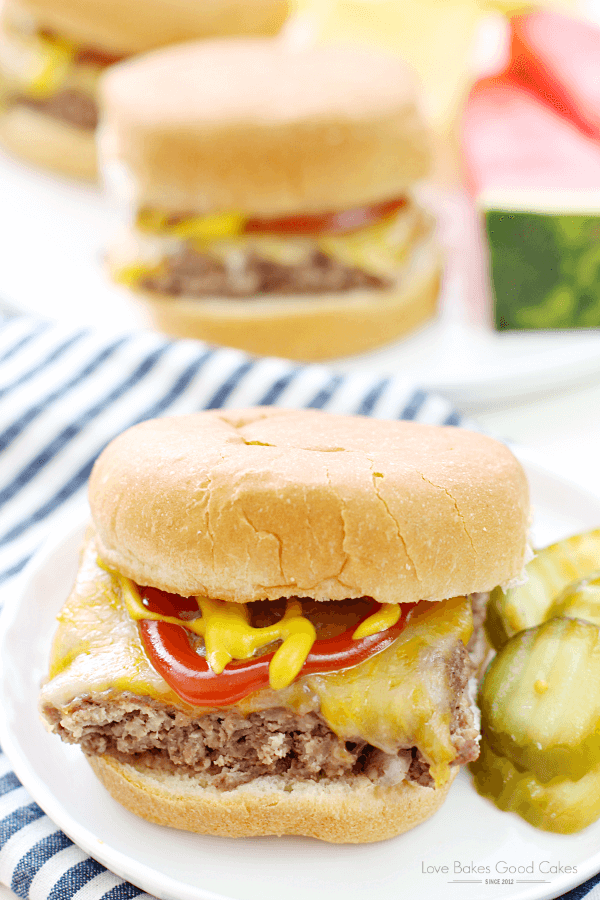 Easy Beef Sliders
We love to grill burgers in the summer … I mean, who doesn't? As much as we love our regular burgers, there's just something about eating smaller or mini versions of our favorite food, amiright?!
Sliders are a favorite in the Love Bakes Good Cakes house – and I have the easiest method EVER to make them. You don't have to worry about making and flipping dozens of little patties …. nuh-uh. Not today. I love this method so much and I'm almost positive that you'll love it too! I made a quick little video just to show you just how quick and easy this Easy Beef Sliders recipe is ….
As you'll notice in my video, I like easy clean-up along with my easy recipes – so I line the baking sheet with foil …. but that is totally optional!
I think that you'll agree that sometimes, it's nice to do things a little different. These Easy Beef Sliders couldn't be simpler, and they are perfect for when you can't or don't want to grill. Grilling on a rainy day just doesn't seem reasonable … although, I have been known to grill in the rain … and the snow – and yes, always in my flip-flops!
Not to mention, with the Easy Beef Sliders, you and your family will be enjoying these little beefy bites all year long …. no grill or good weather required! Enjoy!
Other Posts You May Enjoy:
Copycat Red Robin Whiskey River BBQ Burger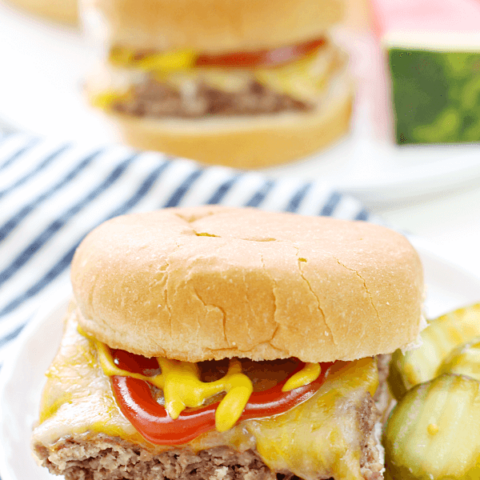 Easy Beef Sliders
Make dinnertime easy and delicious with these Easy Beef Sliders! Your family will LOVE them!
Ingredients
1 medium onion, finely chopped
2 lb. lean ground beef
Salt & pepper, to taste
18-24 Slider rolls
2 cups (8 oz.) shredded Cheddar cheese
Favorite condiments (ketchup, mustard, pickles, etc ...)
Instructions
Preheat oven to 350° F. Spray a 10x15-in. rimmed baking sheet with cooking spray and set aside.
Sprinkle the chopped onion evenly in the baking sheet. Crumble the ground beef over the onions. Using your hands, press the ground beef evenly into the pan over the onions, covering them evenly. This layer will be very thin. Season with salt and pepper.
Bake for 15-20 minutes, or until the beef is cooked through. Remove the pan from the oven and carefully drain the grease. (You don't want the meat falling out with it!) Top the beef with shredded cheese. Return to the oven to melt cheese, about 2-4 minutes.
Remove the pan from the oven. Using a pizza cutter, cut the beef into approximately 2-in. squares (or the size of your rolls). Place patties on top of rolls and serve with your favorite condiments.
Nutrition Information:
Amount Per Serving:
Calories:

337
Total Fat:

12g
Saturated Fat:

5g
Cholesterol:

46mg
Sodium:

476mg
Fiber:

2g
Sugar:

1g
Protein:

20g