I'm going to admit my envy of Cajuns right now. I am fascinated by their culture, language, music and food. I have never been to Louisiana, let alone New Orleans. It's on my Bucket List of places to go on of these days.
When I was growing up, one of my favorite cooking shows was Justin Wilson. I loved that guy - "I gar-on-tee"! Some of y'all may remember him. Here's a video with him if you wanna check it out ...
This recipe isn't a Justin Wilson recipe ... it's a derivative of a few recipes I've found over the years. I'm not sure how authentic this is to the Cajun culture .... I'm guessing not very. Someone probably decided to slip some pasta into their jambalaya instead of rice ... and pastalaya was born. Whoever did it first and shared it with their friends should be awarded some kind of food award equivalent to the Nobel Peace Prize. To any food purists out there, I apologize in advance.
I love that this is an easy and delicious, one-pot meal - what can be better than that?
One-Pot Chicken and Sausage Pastalaya
Yield: 4-6 servings
2 tbsp. vegetable oil, divided
½ lb. boneless, skinless chicken breasts, cubed
¼ tsp. Cajun seasoning, or to taste
1 lb. andouille sausage, sliced lengthwise and chopped
1 small onion, chopped
½ green pepper, chopped
3 cloves garlic, minced
1 can (28 oz.) diced tomatoes, undrained
1 cup chicken broth
1 cup shell macaroni
1 tsp. dried basil
1 tsp. dried thyme
½-1 tsp Cajun seasoning
½ cup heavy cream (optional)
Salt and pepper to taste
Heat 1 tbsp. of the oil in a Dutch oven over medium-high heat.
Sprinkle the chicken pieces with the ¼ tsp. Cajun seasoning. Add the chicken and brown on all sides. Remove the chicken to a paper towel lined plate and set aside.
In the same pan, add the remaining 1 tbsp. of oil and the sausage and cook until browned on all sides. Remove the sausage to a paper towel lined plate and set aside.
Add the onion and green pepper to the pan and cook until tender, about 3-5 minutes. Add the garlic and continue to cook for about another minute.
Stir in the tomatoes and chicken broth. Bring the mixture to a boil and add the pasta, chicken, sausage, basil, thyme and Cajun seasoning. Return the mixture to a boil. Reduce heat to medium-low, cover and cook for 20-25 minutes or until the pasta is tender and most of the liquid is absorbed. Add the heavy cream and cook another 5 minutes or until the sauce thickens slightly. Season with salt and pepper.
I hope you enjoy!
Shared at these fun parties!
Featured at Ms. enPlace
**Don't forget to link up YOUR Soup Recipes HERE**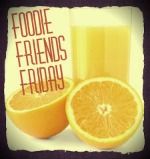 Copyright © Love Bakes Good Cakes 2012 All Rights Reserved