With the kiddos heading back-to-school, you can make mornings more manageable with this FREE Morning Routine printable! Plus, I'm sharing tips on how to control the after-school appetite! #fuelforschool #ad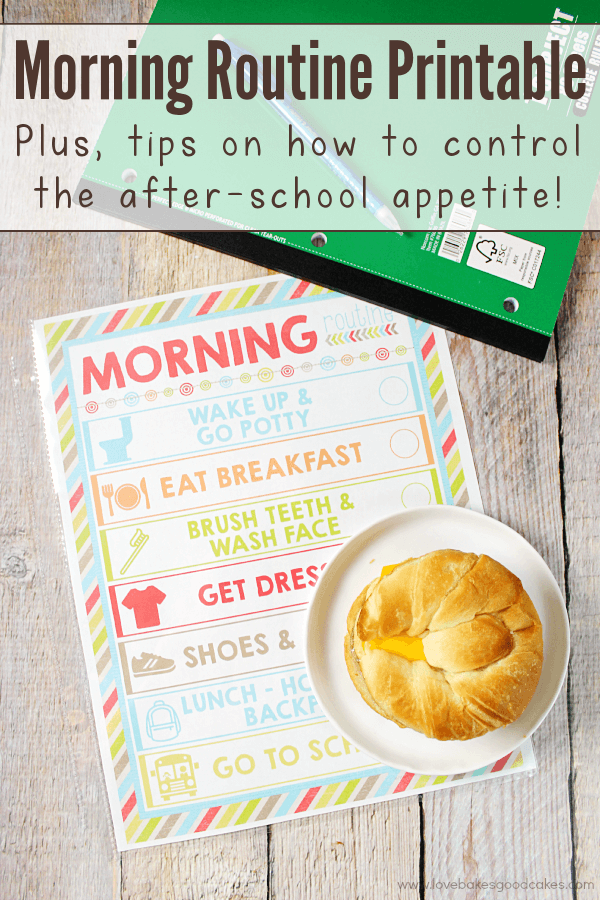 This is a sponsored conversation written by me on behalf of Jimmy Dean®. The opinions and text are all mine.
FREE Morning Routine Printable
It feels like summer came and went in the blink of an eye, doesn't it?! My kiddos had a great summer. We took a few day trips and we spent a ton of time in the pool! For the most part, we didn't live by any schedule.
However, with school starting, we've had to readjust to having a routine. I don't know about your kids, but with mine, readjusting is always a chore! My kiddos are usually okay with getting themselves up, but they immediately want to play or watch cartoons instead of doing the things they need to do. Getting them to get dressed and eat breakfast in a timely manner often proves to be my biggest challenge. It usually takes us two or three weeks to get everything ironed out to where they know what they should be doing. With back-to-school, you may be feeling the pressure of getting the kiddos back into a schedule, too? I have created a printable for my kiddos that may help in your house also! Plus, I have a few "tips" to help make these first few weeks easier.
Developing a routine
Use a Morning Routine Chart. Having a list helps stay focused and on task. I have a FREE one in this post that you can download below!
Ease back into a routine. About two to three weeks before school starts, start adjusting bedtimes and wake-up times to coincide with school.
Go to bed earlier. It's important to make sure we are getting enough sleep. Going to bed late makes us not want to get up in the morning. We've all done it and we suffer because of it. Children 5-12 years old should be averaging 10-11 hours of sleep per night. For teens, the goal should be 8-10 hours of sleep. Not having enough sleep affects your ability to concentrate, listen and learn. Lack of sleep may also be a factor in moodiness and behavior.
Do as much as you can the night before. Set out outfits. Prepare as much ahead as you can for lunches. Put homework in backpacks after it's done.
Eat breakfast. Just do it! You know the saying, breakfast is the most important meal of the day! Meal options like Jimmy Dean® Sausage, Egg & Cheese Croissant Sandwiches or Jimmy Dean® Pancakes & Sausage on a Stick make breakfast easy and delicious!
Eliminate distractions. Let's face it, technology is a huge time suck. It is too easy to waste a ton of time without even realizing it. Keep the TV and other electronics turned off.
CLICK HERE for free Morning Routine Printable
A new breakfast idea
While doing my weekly grocery shopping at Walmart, I picked up a few items to make sure the first few weeks of transitioning back into a morning routine are easier. You can ensure that everyone starts smart and finishes strong with easy, delicious solutions from Jimmy Dean® and State Fair® — always available at an Every Day Low Price at Walmart in the freezer aisle. An even better bonus? Less time in the kitchen means more quality time together as a family!
Not only do we need to think about getting our day off to a great start, but we need to consider what to do when those kiddos come home!! I remember when my older kids were in preschool and kindergarten! They were eating lunch as early as 10:30 in the morning! It was no wonder they were coming home like ravenous wolves! Now those same kiddos are teenage boys ….. and they eat …. a lot! Having State Fair® Classic Corn Dogs or State Fair® Beef Corn Dogs on hand makes it easy for them to microwave a quick afternoon snack for themselves! As you can see, you're never too old to draw silly faces with your ketchup and mustard! The boys can eat them while working on homework and since corn dogs are pretty portable, they can even eat them on the way to the park to shoot hoops! I love having stress-free options on hand!
A few tips for after school crowd control:
Keep easy to prepare snacks on hand. No one wants to fuss over snack time – keep it easy! It's a snack, not a meal!
Keep snacks in a designated space. Maybe it's just because I'm a food blogger and I often have "plans" for the majority of the food I buy. My family often had to ask me if certain things are "safe" to eat. To eliminate some of the questions, I have a basket in my pantry filled with snacks like crackers, granola bars, or dried fruit that the kids know they can have! I also have space in my fridge for things like yogurt cups or string cheese. In the freezer drawer, my kids will find State Fair® Classic Corn Dogs or State Fair® Beef Corn Dogs!
Give choices. Although I plan our families meals, I like giving the kids options when it comes to snacks. I have found that by giving them choices, they are more likely to eat their snack versus leaving the majority of it sitting on the table!
Make it fun! Tasty dips for cut up fruits and vegetables makes them 100x more fun to eat! Allowing your kids (or doing it for them) to draw silly faces with the ketchup and mustard makes the perfect dip for State Fair® Classic Corn Dogs or State Fair® Beef Corn Dogs!
A popular idea
Jimmy Dean® Sausage, Egg & Cheese Croissant Sandwiches and Jimmy Dean® Pancakes & Sausage on a Stick are popular breakfast ideas in the Love Bakes Good Cakes house! (Even Brian and I enjoy them!!) My kiddos love having their breakfast sandwiches or Jimmy Dean® Pancakes & Sausage on a Stick with fresh fruit and a cold glass of chocolate milk in the morning! State Fair® Classic (or Beef) Corn Dogs make a great after school snack idea perfect for getting the kids through until dinner!
Jimmy Dean® Pancake & Sausage, Jimmy Dean® Sausage, Egg & Cheese Croissant Sandwiches, State Fair® Classic Corn Dogs, and State Fair® Beef Corn Dogs are a great value at Walmart! Be sure to pick them up on your next shopping trip!
Other Posts You May Enjoy: