These Rouladen Burgers have all of the flavors you love in the classic Middle European dish! Fire up the grill for this fun twist! #KetchupsNewMustard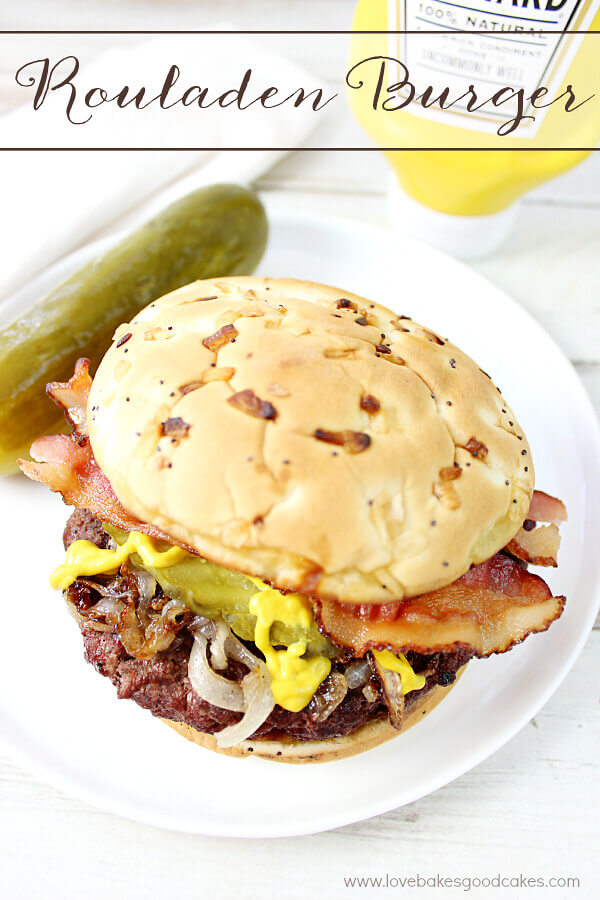 Rouladen Burger
This shop has been compensated by Collective Bias, Inc. and its advertiser. All opinions are mine alone. #KetchupsNewMustard #CollectiveBias
Yay for grilling season! I don't know about you, but I look forward to longer days, and having dinner on the grill almost every night. In the Love Bakes Good Cakes house, burgers are a favorite! We love coming up with all kinds of new topping ideas or converting dishes we love into burgers.
Of course, no backyard barbecue is complete without the condiments! New Heinz® Yellow Mustard launched in February at Walmart and is now being sold at other national retailers. Heinz Yellow Mustard and Heinz Ketchup are staples in the Love Bakes Good Cakes house! As a matter of fact, Heinz Ketchup is the only brand of ketchup I grew up with and it's the only brand of ketchup that comes into my house today!
My favorite dish
One of my favorite dishes from my childhood is a Middle European dish called "Rouladen." If you're not familiar with the dish, it's basically a meat roll stuffed with onions, bacon, pickles and mustard! It's often served with gravy. I have been craving this dish like crazy and decided to see if I could recreate the flavors in a burger. Burgers are quicker and much more simple. It was an instant hit and we will definitely need to make them again this grilling season! If you're interested in the classic Rouladen dish, keep your eyes peeled, because I totally see it happening in the near future!
Every family has its own variation of how to make Rouladen. Some people use pork, some people use beef. My mom always used beef. To someone who has never had Rouladen, the thought of pickles, onions, bacon and mustard wrapped in beef might sound like an odd combination, but let me assure you, it is absolutely delicious together. The combination of mustard, pickles, onions and bacon does something miraculous wrapped in beef! After seeing Heinz has a new thicker mustard, I had to try it out this grilling season!
Heinz has been making food taste good for almost 150 years and are now applying that expertise to mustard. No more water mess! – Heinz has designed their new Mustard top-down, squeeze bottle to prevent that first squirt of watered down product. No longer must you shake the bottle before using. It is a thicker mustard that sits on top – that also means no more soggy bread! Let's be real, how many times do you forget to shake the mustard bottle … for me, it's almost every single time! I hate that blob of watery mess! Heinz Yellow Mustard comes in 8, 14 and 20-ounce bottles and you can find it near Heinz Ketchup on the condiment aisle. (At my local Walmart, they are across the aisle from one another).
Making the Rouladen
Heinz Yellow Mustard goes great with all of your grilling favorites! Tonight for dinner, we're having Chili Dogs topped with diced onions and Heinz yellow mustard! It's great in potato salad, on burgers, on hot dogs, on sandwiches, as a base for sauces, marinades …. and the list goes on.
For an easy meal idea, serve this Rouladen Burger with French Fries served with Heinz Ketchup and a dill pickle!! I shared how I like to use Heinz Yellow Mustard® in my recipe, and now I want to know how you use it! What's your favorite dish to use mustard with?
Other Posts You May Enjoy:
Mushroom & Swiss Turkey Burger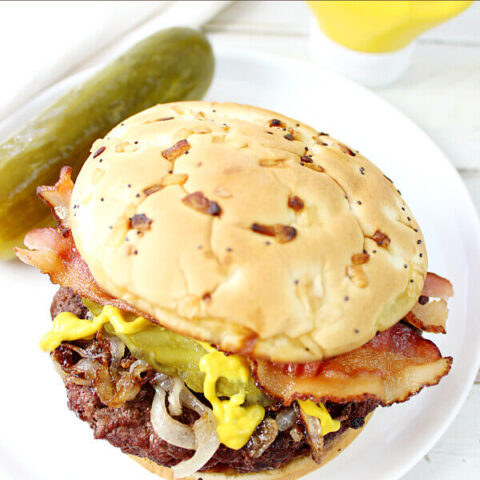 Rouladen Burger
These Rouladen Burgers have all of the flavors you love in the classic Middle European dish! Fire up the grill for this fun twist!
Ingredients
For the burger patties
2 lb. (80/20) ground beef
2 cloves garlic, minced
2 tbsp. Worcestershire sauce
1/4 tsp. salt
1/4 tsp. pepper
2 tbsp. vegetable oil
For the sandwich
12 slices bacon, cooked to desired crispness
1 large onion, cut into slices
1 tbsp. butter
Dill pickles slices
Heinz® Yellow Mustard
6 onion hamburger buns (or your favorite hamburger bun!)
Instructions
Preheat a gas grill over high heat or a charcoal grill until it glows bright orange and ashes over.
While the grill preheats, saute the onions in butter until softened and some of the edges begin to brown. Remove from the heat, cover and set aside.
In a large bowl, combine the ground beef, garlic, Worcestershire sauce, salt, and pepper until well mixed. Divide and shape the ground beef into 6 patties. Brush the burgers lightly with oil.
Grill the burgers until browned and slightly charred on the first side (about 3-4 minutes). Flip the burgers over and continue to cook until desired doneness - about 4 minutes for medium rare, longer for a more done burger.
To assemble the burger, place one burger patty on cut side of the bottom bun. Top with sauteed onions, Heinz Yellow Mustard, pickle slices and bacon. Replace the top bun over the bacon. Serve!
Nutrition Information:
Amount Per Serving:
Calories:

820
Total Fat:

62g
Saturated Fat:

21g
Cholesterol:

151mg
Sodium:

808mg
Fiber:

2g
Sugar:

5g
Protein:

38g