Thai red curry eggplant and kale over cauliflower "rice" is a delicious way to warm up on a cold winter night. This version, ready in less time than it would take you to order in, is loaded up with vegetables like eggplant and kale and is served over cauliflower "rice".
Red Curry Eggplant and Kale Over Cauliflower "Rice"
I am so excited to welcome Lauren from Healthy Delicious. I originally met Lauren through the Online Bog Conference! Although we're new friends, I am inspired by the healthy and delicious recipes Lauren shares on a regular basis! Be sure to stop by her blog and enter to win the NINJA Supra Kitchen System that she is giving away! Round out dinner by checking out Cupcakes & Kale Chips for some Healthy Desserts or The NY Melrose Family for some Healthy Snack Ideas in our #EatHealthy15 Series.

Hi! I'm Lauren from Healthy Delicious. I love creating healthy recipes that are full of bold flavors and finding ways to pack tons of fresh vegetables into my meals. I'm so excited to share an easy weeknight dinner with you today. This red curry eggplant and kale is a pretty typical weeknight recipe for me this time of the year. I live in upstate New York, where is and get pretty cold, and I'm always looking for warm, cozy comfort food. The spicy broth in this curry will definitely help warm you up!
Making the curry
I love the different textures that this curry has: the eggplant is soft and silky, the onion and red pepper still have a little bit of crunch to them, and the kale makes it seem really hearty. I also added some chicken breast, although you can easily leave that out if you don't want to include it. Instead of serving this curry over rice, I decided to serve it over cauliflower that I chopped into tiny pieces and cooked with ginger, garlic, and lime juice. Since cauliflower has such a mild flavor, it takes on the flavors of whatever you cook it with really nicely. While it doesn't taste exactly like rice, it's a really delicious substitute and a great way to pack extra nutrition into your dinner!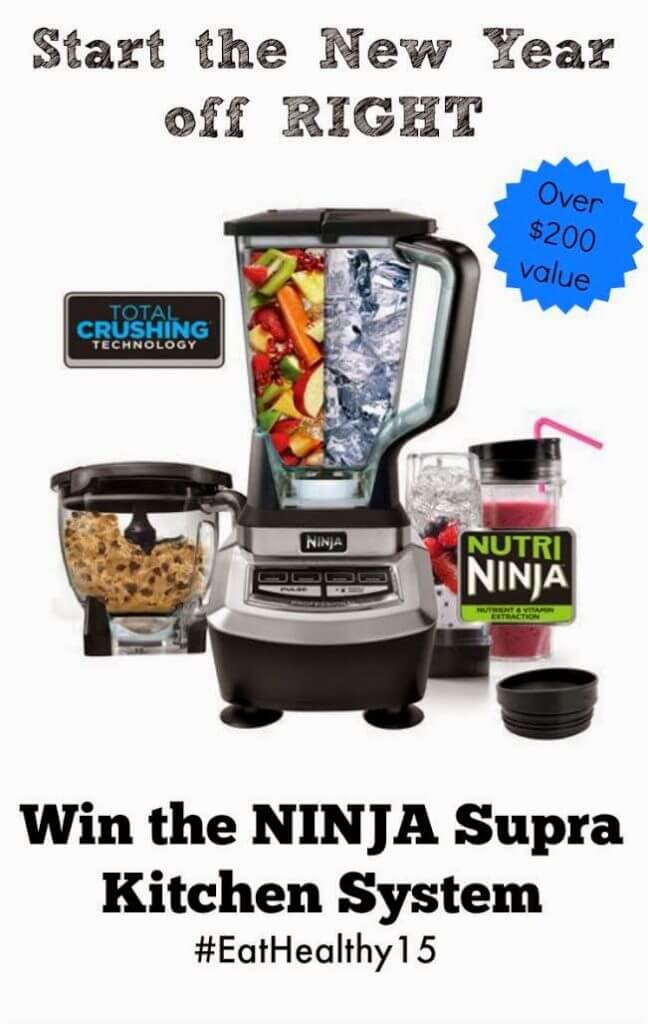 Don't' forget to stop by Lauren's blog and enter for a chance to win the NINJA Supra Kitchen System!
Follow Lauren on Facebook // Pinterest // Instagram
More easy and healthy weeknight recipes from Healthy Delicious: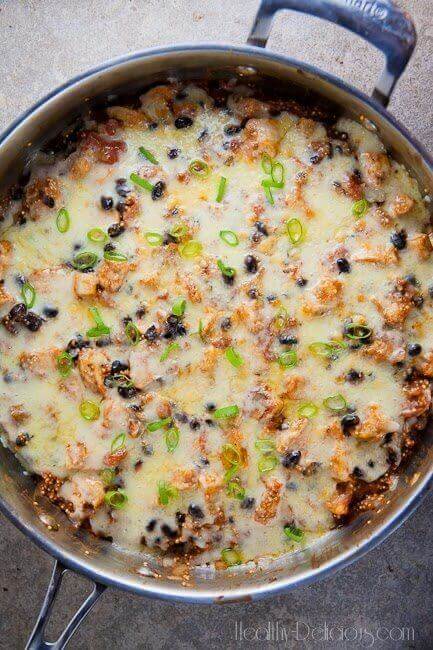 Smothered Chicken and Quinoa Skillet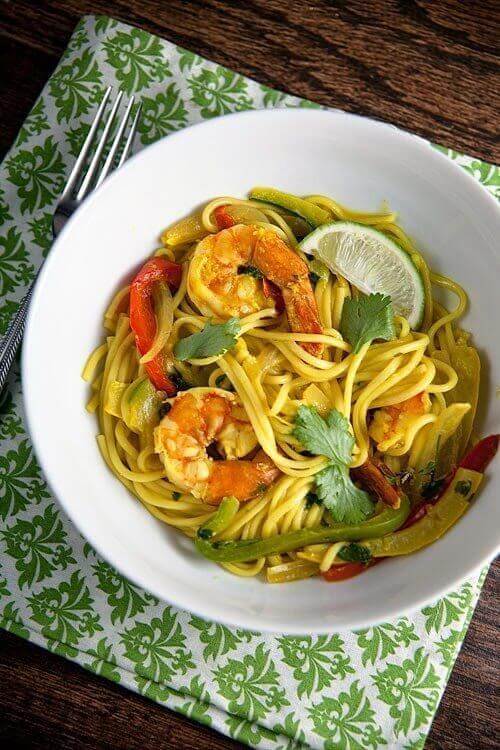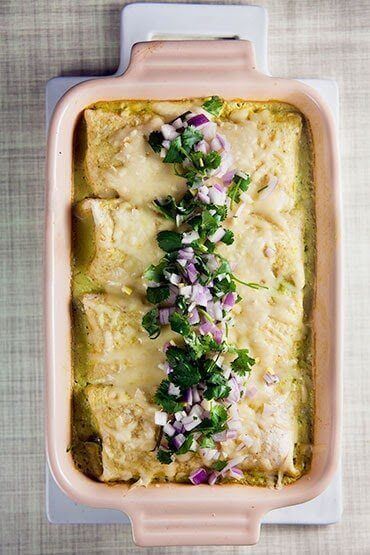 Chicken Enchiladas with Poblano Sauce
Other Posts You May Enjoy:
More than 100 Healthy Dinner Ideas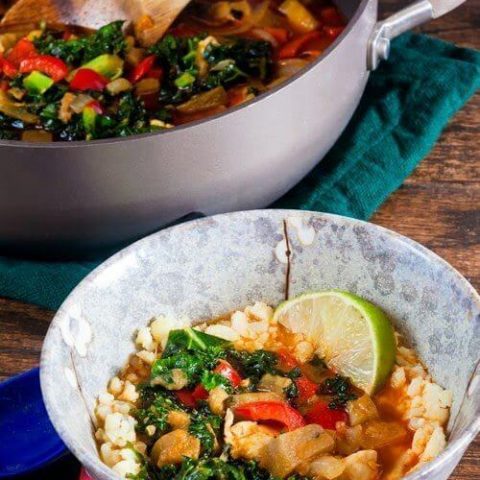 Red Curry Eggplant and Kale Over Cauliflower "Rice"
Thai red curry is a delicious way to warm up on a cold winter night.
Ingredients
For the Curry
1 tablespoon olive oil
1 medium eggplant, peeled and diced (about 2 cups)
1 red bell pepper, chopped
1 onion, sliced
1 can coconut milk
2 tablespoons red curry paste
1 tablespoon brown sugar
1 pound chicken breasts, thinly sliced
1 small bunch kale, chopped (about 2 cups)
1/4 cup fresh basil, chopped
1 tablespoon fish sauce
1 lime, cut into 6 wedges
For the Cauliflower "Rice"
1 large head cauliflower
1 tablespoon olive oil
1-inch piece of ginger, grated
1 garlic clove, grated
1/2 cup water
1 lime, juiced
Instructions
To make the curry, heat 1 tablespoon olive oil in a medium pan. Add the eggplant and cook for 1-2 minutes, or until just softened. Add the red pepper, onion, coconut milk, curry paste, and brown sugar; bring to a simmer and let cook for 5 minutes. Add the chicken and simmer another 5 minutes (do not boil), or until cooked through. Stir in the kale, basil, and fish sauce. Cook until the kale is wilted, 2-3 minutes.
Meanwhile, prepare the cauliflower by discarding the core and using a large knife or food processor to cut the cauliflower into very small pieces that resemble coarse grain. Heat 1 tablespoon oil in a large skillet over medium heat. Add the ginger and garlic and cook 1 minute. Add the cauliflower and water. Cook until the water is absorbed, 2-3 minutes. Stir in the lime juice.
Serve the curry over cauliflower with lime wedges.
Nutrition Information:
Amount Per Serving:
Calories:

398
Total Fat:

28g
Saturated Fat:

16g
Cholesterol:

49mg
Sodium:

374mg
Fiber:

6g
Sugar:

8g
Protein:

22g