Are you ready for some football?! This Game Day Cake will be the talk of your party – and it's easy to put together too!
Game Day Cake
This shop has been compensated by Collective Bias, Inc. and its advertiser. All opinions are mine alone. #BigGameTreats #CollectiveBias
In case you haven't heard, there is a pretty big football game coming up in just a few weeks – and Phoenix is the hosting city! Take a trip over near the stadium and you can see workers getting ready for the Big Game! My family loves to drive by and see all of the progress! 
My family also loves to have plenty of finger foods and lots of quick treats while we watch the Big Game. Although the game will be in Phoenix this year, we'll be watching it from the comfort of our own home with some of our friends! Friends and good food make Homegating so much fun!
This year, I wanted to do something fun and different for one of our desserts ….
A trip to my local Walmart always gives me plenty of foodie inspiration. When I spotted the SNICKERS®, I thought it would be fun to use the Snickers Minis as football players on a cake! I had my 13-year old with me on this trip and he offered to help me make a Game Day Cake! Score! Isaac suggested using Skittles® in the end zones to look like people in the stands. I think he gets his good ideas from his mom! 😉
Making the cake
When we got home, Isaac went straight to work! We didn't have a box the right size, but he easily put one together using a knife, a marker, and some tape! If you need to make your own box like we did, you will need to make it about an inch or two higher than the cake pan you want to use. We decided to cover our stadium in aluminum foil – but you could use craft paper, brown paper bags, wrapping paper or any similar material.
Although this Game Day Cake looks difficult, I assure you it is easy! The hardest part was gathering the Skittles that escaped when we opened the bag …. as you see above, someone is not in their assigned seating area!! LOL. 
After we put the cake together, Abby was upset that there wasn't any sprinkles on the cake …. I guess we use a lot of sprinkles on cakes in the Love Bakes Good Cakes house! I tried to figure out how to incorporate sprinkles for her without upsetting my boys. According to them, "football cakes" don't have sprinkles. Sheesh!! We ended up putting some "confetti" in the end zones for the winning teams – and all was right in her world. And theirs. That was the winning touchdown for mom!
This is such a fun cake to share at any football gathering! I hope you enjoy this as much as my family did!
Other grub for Game Day: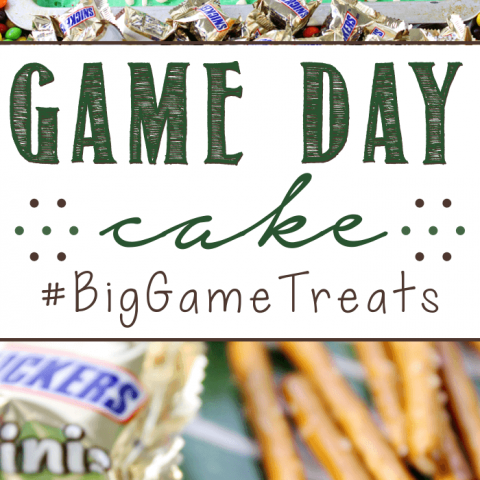 Game Day Cake
Are you ready for some football?! This Game Day Cake will be the talk of your party - and it's easy to put together too!
Instructions
Find or make your own cardboard box, slightly larger than the size of your cake pan. The edges need to be slightly higher (about 1 to 2-inches) than the edge of the pan. Cover the box in aluminum foil, brown paper bags, or similar material.
Prepare and bake cake according to package directions using a 9x13-inch baking pan. Allow to cool completely.
While the cake is cooling, lay out a square of waxed paper. Melt candy melts according to package directions. Dip pretzel sticks into the candy melts and lay on the wax paper to form a goal post shape. You may need to use an extra dab of melted candy melts in the corners to ensure they stay together.
Tint one can of frosting to the desired shade of green using green food coloring. Evenly spread the frosting over the top of the cake.
Place half of the can of white frosting into a ziptop bag and seal. Save remaining frosting for another use. Snip a small piece off of the corner. Pipe a football field design onto the top of the cake. Leave room for an end zone at each end.
Unwrap 10 SNICKERS Minis bars and arrange on the football field as the players. Using the white frosting in the ziptop bag, pipe "x" on one team and "o" on the other team.
Place the cake pan centered inside your prepared cardboard box. Fill the seating area with Skittles and wrapped Snickers Minis.
Insert the goalposts into each end zone just before serving.
Nutrition Information:
Amount Per Serving:
Calories:

0
Total Fat:

0g
Saturated Fat:

0g
Cholesterol:

0mg
Sodium:

0mg
Fiber:

0g
Sugar:

0g
Protein:

0g