This Pink for a Cure Cocktail is perfectly pink and delicious! Remember to take the steps to detect breast cancer in its early stages and to encourage your loved ones to do the same. #cookingforacure
Pink for a Cure Cocktail
Hi friends! Today's post is a bit different from most. I'm teaming up with some other very talented bloggers to share a cause very close to our hearts – Breast Cancer Awareness. Many of us know someone who has been affected by this horrible disease – or have been affected ourselves. While many of us know about the disease, many of us forget to take the steps to detect breast cancer in its early stages and/or to encourage our loved ones to do the same.
Did you know, 1 in 8 women will be diagnosed with breast cancer in their lifetime? Think about that for a minute. For every eight women that you know, the odds are that one of them will be diagnosed with breast cancer. Did you also know that when breast cancer is detected early, the five-year survival rate is 98%?! This is why early detection is sooooo important – and this is why we are doing this public service announcement!
The facts about breast cancer
Breast cancer is the most common type of cancer among women worldwide and it is the second most common type of cancer overall. The best way to fight breast cancer is to have a plan to help you detect the disease in the early stages. Monthly self-breast exams, regularly scheduled visits for clinical breast exams and depending on your family history, health and age – mammograms, should be a part of your early detection plan.
If you would like more information on breast cancer, please visit the Susan G. Komen website. Some of the topics covered include: what everyone should know, risk factors, screening & early detection, how breast cancer is diagnosed, treating breast cancer and quality of life topics.
Since a bunch of us bloggers got together for #cookingforacure – that means there's a recipe involved! 🙂 I really debated on what to share for this post – and ultimately decided on this Pink for a Cure Cocktail. I have to be honest, I'm not really a huge fan of pink, but I totally dig the color of this drink! It was a nice way to unwind after a long day. I hope you enjoy!
Be sure to visit the other bloggers participating in this cause and see the yummy recipes they have to share too!
Other Posts You May Enjoy:
mike's hard pink lemonade® cupcakes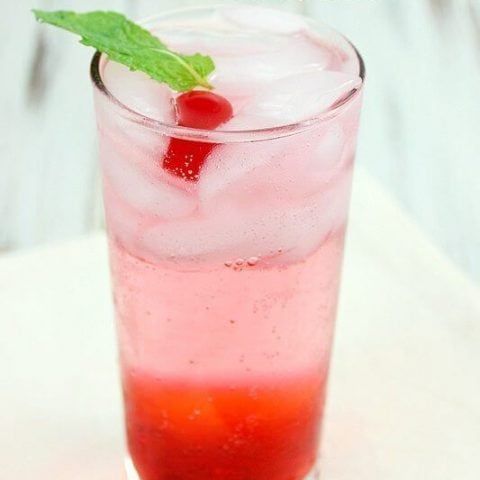 Pink for a Cure Cocktail
This Pink for a Cure Cocktail is perfectly pink and delicious! Remember to take the steps to detect breast cancer in its early stages and to encourage your loved ones to do the same.
Ingredients
1 1/2 oz Rum (Light)
1/2 oz Grenadine
Club Soda
Red Maraschino Cherry
Mint Sprig
Instructions
Add ice to a collins glass.
Pour in the rum and grenadine and fill with club
soda.
Garnish with fresh mint and a maraschino cherry.
Nutrition Information:
Amount Per Serving:
Calories:

137
Total Fat:

0g
Saturated Fat:

0g
Cholesterol:

0mg
Sodium:

5mg
Fiber:

0g
Sugar:

7g
Protein:

0g