Get dinner on the table quick with this Easy One Pot Mediterranean Chicken Pasta using La Romanalla products from Smart & Final #ChooseSmart #CollectiveBias
Easy One Pot Mediterranean Chicken Pasta with Smart & Final
This shop has been compensated by Collective Bias, Inc. and its advertiser. All opinions are mine alone.
This past weekend, my family went to the Arizona Science Museum courtesy of Blended Conference. We had such a great time that we're looking into getting a family pass for a year!
There was so much to see, and we checked out many of the exhibits on all 3 floors, but towards the end, Abby was getting kind of cranky – so it was more of a hurried pace. We missed some things and we would like to go back and see them!
As we drove home, I asked Brian to stop at the store so I could pick up something easy for dinner. Being a Sunday, most of the restaurants we passed were full of people and I really did not feel like trying to find a place to accommodate seven people! It's not easy with a larger family, let me tell you! We always have to wait – and sometimes, it's just not worth it. Since we had already had a long day and one kiddo was not being cooperative – picking something up on our way home really was the easiest solution.
A great dinner idea
We spotted a Smart & Final right off the freeway. Brian sat in the van with the kiddos while I made a mad dash inside to decide what to make! Pasta always goes over well in the Love Bakes Good Cakes house so I found the aisle with the pasta sauce. I grabbed the few things I needed for dinner, then headed home.
If you're not familiar with Smart & Final, it is a great place to do a one-stop shop of everything from produce to meats. Smart & Final carries warehouse size items without a club fee, making shopping easy, less expensive and less daunting to shop in than a big warehouse store! It is the perfect place for you to shop for all of your food needs, bakery items, etc. 
Smart & Final will be giving away 5 $500 Smart Cash Cards and 10 $100 Gift Cards to winners. Customers can purchase La Romanella products are eligible to win by entering in their code from their receipt onto the contest page. Contest runs October 1 – 14th.
Be sure to follow Smart & Final on Facebook or Twitter
for the latest news, recipes and special offers!
Other Posts You May Enjoy: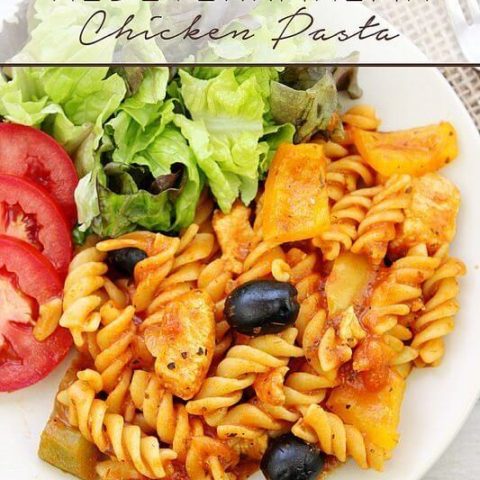 Easy One Pot Mediterranean Chicken Pasta
Get dinner on the table quick with this Easy One Pot Mediterranean Chicken Pasta
Ingredients
2 tbsp. La Romanella pure olive oil
1 medium onion, thinly sliced
1 lb. boneless chicken, cut into 1-inch cubes
2 cloves garlic, minced
1 green pepper, cut into 1-inch pieces
1 red or yellow pepper, cut into 1-inch pieces
1 jar (26 oz.) La Romanella Roasted garlic Pasta Sauce
3-3 1/2 cups water
1 cup black olives
1 pkg. (16 oz.) La Romanella Organic Fusilli
Instructions
Add the oil to a Dutch oven over medium-high heat. Add the onions and cook for 2-3 minutes. Add the chicken and garlic. Cook and stir until the chicken is no longer pink, about 4-5 minutes. Add the green and yellow peppers and continue to cook for an additional 2 minutes.
Add the pasta sauce, 3 cups water, black olives and pasta. Stir. Bring to a boil over medium-high heat. Cover with a lid and lower heat to low. Simmer for 9-11 minutes or until the pasta is al dente and most of the liquid has been absorbed.
Depending on how fast your pasta cooks, you may need to add more water.
Nutrition Information:
Amount Per Serving:
Calories:

587
Total Fat:

21g
Saturated Fat:

5g
Cholesterol:

59mg
Sodium:

727mg
Fiber:

6g
Sugar:

10g
Protein:

27g