A round-up of my favorite posts from 2015 – one recipe post for each month of the year!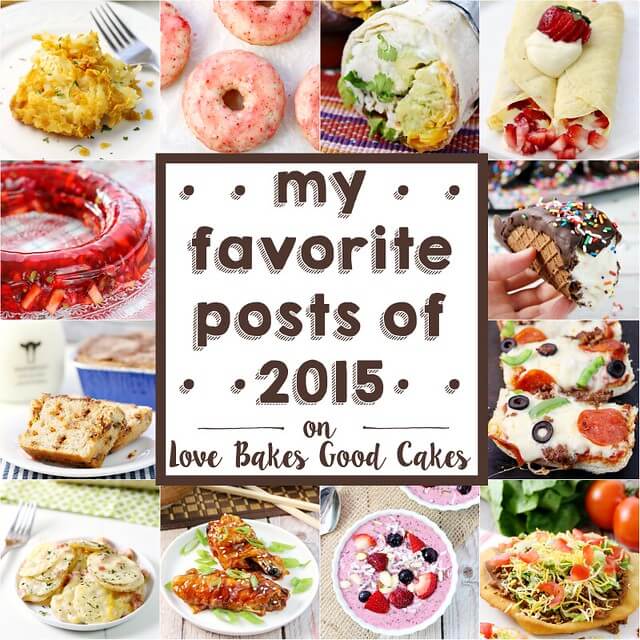 My Favorite Posts of 2015
Maybe it's just me, but it felt like 2015 just flew by. As 2015 comes to a close, I decided it would be fun to pick one favorite recipe from each month! Let me tell ya, that was a harder feat than I thought it would be! If you haven't tried these recipes – add them to you "to make list" for 2016! You'll be glad you did!
As you know, one of my goals for 2016 is to try to include more videos …. so I made one for this post! I hope you enjoy.
Now let's see the recipes I loved in 2015.
January – Hash Brown Casserole
This Hash Brown Casserole is a comforting side dish that everybody loves! It also goes by the name "Funeral Potatoes" because it is a popular dish to bring to grieving families or to potlucks!
February – Vanilla Cake Donuts with Strawberry Glaze
These Vanilla Cake Donuts with Strawberry Glaze are perfect for breakfast or a snack! They're easy to make and the glaze is made with fresh strawberries! So yummy! This was my submission for this month's #12bloggers series!
March – 7 Layer Burritos
I'm sure you have noticed that we love Mexican food here in the Love Bakes Good Cakes house! This 7 Layer Burrito recipe is an easy, fuss-free meatless meal option!
April – Strawberry & Lemon Cream Crepes
These Strawberry & Lemon Cream Crepes make a great breakfast or dessert! It's an easy and delicious recipe that is bursting with spring-like flavor!
May – Choco-Taco
It's fun to make these Choco-Tacos at home! These homemade novelty treats are easy and they're perfect for summer – or anytime you want a fun sweet treat!
June – French Bread Pizza
Add your favorite toppings to this French Bread Pizza for a quick, easy and fuss-free dinner idea the whole family will love! Have dinner on the table in 20 minutes!
July – Fry Bread Tacos
Change up your boring dinner routine with this easy recipe for Fry Bread Tacos (aka Navajo Tacos). A quick and simple bread dough is quickly fried and then topped with your favorite taco toppings!
August – Mixed Berry Smoothie Bowl
Smoothie bowls are all the rage right now and for good reason – they make a great breakfast or snack option, plus they're fun! This Mixed Berry Smoothie Bowl is easy to whip together and is a delicious way to start your day!
September – Asian Sticky Wings
Get your game day grub on with these Asian Sticky Wings! They're the perfect appetizer or snack food! They're also great for dinner! This was my submission for this month's #12bloggers series!
October – Cheesy Scalloped Potatoes with Ham
This Cheesy Scalloped Potatoes with Ham recipe is just like grandma used to make! Simple and delicious comfort food!
November – Snickerdoodle Bread
Calling all cinnamon lovers! This Snickerdoodle Quick Bread is the perfect breakfast treat or snack and it is so easy to make!
December – Red Hot Jello Salad
This Red Hot Jello Salad is a bit nostalgic and perfectly delicious! Serve it as a fun side dish for dinner! It's also a great accompaniment to holiday meals!
Other Posts You May Enjoy: