Margarita Chicken Tacos are the perfect weeknight meal! Fire up the grill and get dinner on the table in about 30 minutes. #tacos #grilling #chicken
Margarita Chicken Tacos
I just have to preface this post by telling y'all how much my family LOVED these Margarita Chicken Tacos. We all had a taste for tacos the other day, but wanted something a bit different from our regular tacos. I had this really awesome Lowrider Margarita at the Barrio Cafe in Phoenix awhile back – and as I sat and thought about it, I decided I wanted to take that flavor and put in a tortilla. (Just a side note about Barrio Cafe – if you're ever in Phoenix, definitely make a trip there! The food is soooo mouthwatering and delicious!!)
This is just one of many murals on and around the building. Have I told y'all how much I love living in Phoenix?? I love it, y'all! 😉 I ordered the Pollo en Mole with my Lowrider Margarita. Brian ordered a soda and the Suizas Enchiladas. Here is the Barrio Cafe's menu …. ensue drooling now. Seriously, it's the BEST Mexican food I've had in quite awhile!
Anywho, back to the Margarita Chicken Tacos …. they're super simple to make! Plan ahead on the marinating and the rest is a breeze to throw together! We had these tacos with Mexican Rice and fresh fruit for a simple and delicious weeknight meal. Enjoy!
Other recipes you may enjoy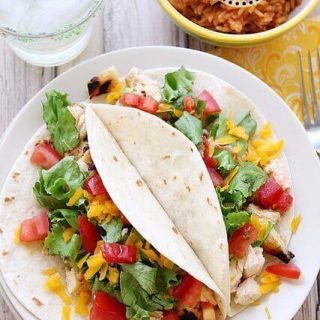 Margarita Chicken Tacos
Yield:
6-8 servings (2 tacos each)
Margarita Chicken Tacos are the perfect weeknight meal! Fire up the grill and get dinner on the table in about 30 minutes.
Ingredients
For the chicken
1 1/2 pounds boneless, skinless chicken breasts
1 cup Jose Cuervo Classic Lime Original Margarita Mix
1/4 cup Tequila (optional)
Salt and pepper, to taste
Additional ingredients
12-16 flour tortillas, warmed
Chopped lettuce
Chopped tomatoes
Shredded Cheddar cheese
Instructions
Place the chicken in a large zip-top bag or shallow glass bowl. Add the Maragarita Mix and Tequila, if using. Seal bag getting most of the air out. Squeeze the bag gently just enough to mix the ingredients. Refrigerate for at least 3 hours.
Lightly oil grill grates and preheat grill to medium-high.
Remove the chicken breast from the marinade and discard the marinade. Season with salt and pepper. Grill for 10-15 minutes per side or until the chicken is cooked through and the juices run clear.
Remove the chicken from the grill and allow it to rest for about 5 minutes. Coarsely chop the chicken into bite sized pieces.
For each taco, layer desired amounts of chopped chicken, lettuce, tomatoes and cheese.
Serve immediately.
Nutrition Information:
Amount Per Serving:
Calories:

494
Total Fat:

12g
Saturated Fat:

2g
Cholesterol:

83mg
Sodium:

954mg
Fiber:

3g
Sugar:

3g
Protein:

35g
Originally published on June 24, 2014. Updated on April 29, 2021.