This Kung Fu Panda Noodle Soup makes a quick and easy dinner idea! Simple ingredients create a dish full of flavor!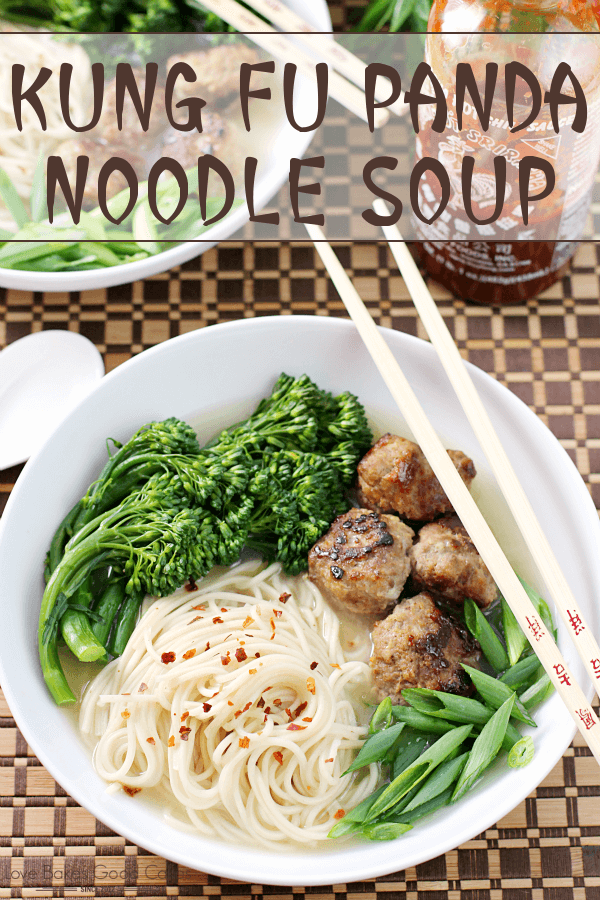 Kung Fu Panda Noodle Soup
I have been dying to share this recipe with y'all! If you follow me on Instagram, you probably saw the sneak peek of this recipe awhile ago! I'm excited that today is the day you can finally try it for yourself – heck, we might have to make it again this weekend in the Love Bakes Good Cakes house after going to watch Kung Fu Panda 3 in the theater!
You may remember that I'm part of a group of bloggers who share a recipe from one movie each month. As you might have guessed, this month's Blockbuster theme is Kung Fu Panda 3. If you have watched the other two Kung Fu Panda movies then you know that Po's adopted dad, Mr. Ping, owns a noodle shop in the Valley of Peace. He is famous for his secret ingredient noodle soup – and reveals to Po that the secret ingredient in his secret ingedient soup is "nothing" ……. he tells Po that to make something special, you just have to believe that it's special!
I had lots of ideas for how to make this soup – and really, the only clue I had from the first two movies was that there were no radishes in the soup! 😀 I knew I wanted the Kung Fu Panda Soup to have some sort of substance – not just broth and noodles. Since my Asian Glazed Meatballs are such a hit in our house, I decided to see if I could use them in the soup! Seriously, this soup was so good that we've already had it a few times! I love that although the ingredients seem simple, they are elevated to another level when put together in this Kung Fu Panda Soup!
The movie
My kiddos are excited that Kung Fu Panda 3 comes out today and they have been talking about it for weeks! We loved the first two movies and we are excited to see Po meet his real father and transition from being a kung fu student to a martial arts teacher! I know after watching the new movie, the kids will be asking for this Kung Fu Panda Noodle Soup, too! What about you … Will you be heading to the theater to see Kung Fu Panda 3?!
My bloggy friends also made a few things of their own for Kung Fu Panda 3 –
Other Posts You May Enjoy: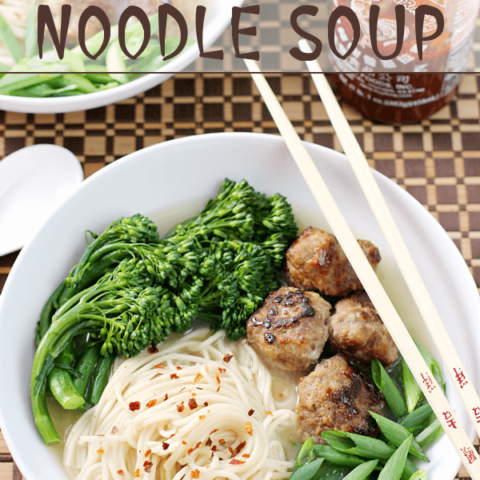 Kung Fu Panda Noodle Soup
This Kung Fu Panda Noodle Soup makes a quick and easy dinner idea! Simple ingredients create a dish full of flavor!
Ingredients
For the meatballs
1 lb. ground pork
1/2 tsp. sesame oil
1/2 cup plain, dry breadcrumbs
1/4 tsp. ground ginger
1 egg, slightly beaten
2 cloves garlic, minced
For the soup
1 carton (32 oz.) chicken stock
1/4 tsp. ground ginger
1 pkg. (16 oz.) chow mein noodles
1 bunch broccolini, trimmed and steamed until tender-crisp
4 green onions, sliced
Red pepper flakes, optional
Instructions
Preheat oven to 375°F. Spray a baking sheet with cooking spray and set aside.
In a large bowl, combine all of the meatball ingredients until well mixed. Shape into 1-1½-inch balls. Place the meatball on the prepared baking sheet and cook for 18-20 minutes or until the meat is no longer pink.
Meanwhile, bring chicken stock and ground ginger to a boil in a large stock pot. Add the chow mein noodles and cook according to package directions.
Once the noodles are cooked, divide the noodles and broth between 4 bowls. Next, divide the meatballs, broccolini and green onions between the bowls.
Top individual portions with red pepper flakes, if desired.
Nutrition Information:
Amount Per Serving:
Calories:

948
Total Fat:

35g
Saturated Fat:

12g
Cholesterol:

224mg
Sodium:

579mg
Fiber:

9g
Sugar:

10g
Protein:

49g