King Ranch Casserole is a classic! It's a creamy, cheesy dish that packs a kick! It's a popular covered dish for potlucks and it's sure to become a family favorite! #12bloggers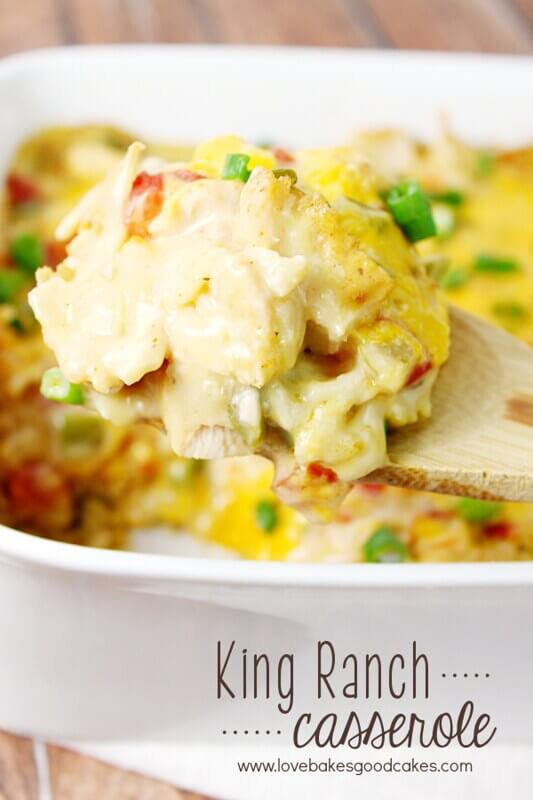 King Ranch Casserole
It's that time of the month again …. and no, not that time of the month! Haha! It's time for the #12bloggers series! Every month on the 12th of the month, 12 bloggers post a new themed recipe using 12 ingredients or less! This month, we're sharing some of our favorite casserole recipes!
If you have read my blog for any length of time, I'm sure you have figured out that I love Mexican food and foods with a Southwest vibe. It's really not a coincidence that I ended up smack dab in the middle of the Sonoran desert. Seriously, I can't get enough of the foodie mecca here in the Phoenix area. #LoveIt
I don't know if King Ranch Casserole is technically "Southwest" food, but the flavors remind me of a creamy, cheesy, spicy chicken enchilada. I mean, that's kinda what the casserole is …. a deconstructed enchilada. Just go with me, mmmkay?!
Making the casserole
Maybe your family makes this dish also. If you have never had this casserole, you have to try it!! From what I hear, there are about a million ways to make it and I'm sure they're all equally delish. I grew up with shortcuts …. as in cans of cream of whatever soup. That's the way I remember eating it and that's the way I make it for my family. I know some people are anti-cream of whatever soup – and that's ok. If cans of whatever soup make you squeamish, you could certainly make your own substitute. Whatever floats your boat. That's the great thing about casseroles like this, you can make them work for your family and your family's tastes.
Get ready y'all …. this is pure comfort food!!
Here are some more great casserole recipes from the bloggers in the #12bloggers series!
Other Posts You May Enjoy:
Black Bean & Corn Enchilada Quinoa Casserole
More than 100 Casserole recipes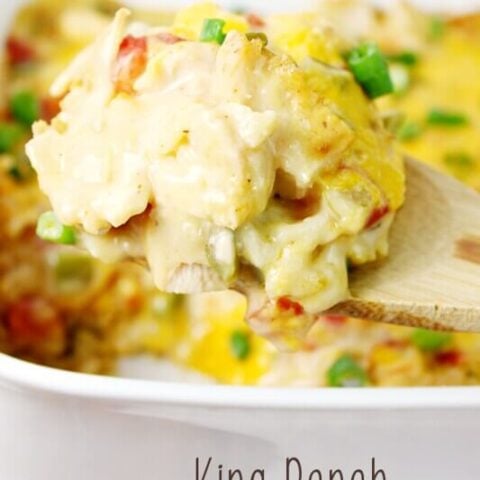 King Ranch Casserole
Total Time:
1 hour
5 minutes
King Ranch Casserole is a classic! It's a creamy, cheesy dish that packs a kick! It's a popular covered dish for potlucks and it's sure to become a family favorite!
Ingredients
1/4 cup butter
1/2 cup chopped green bell pepper
1/2 cup chopped onion
1 can (10.5 oz) condensed cream of chicken soup (do not add water)
1 can (10.5 oz) condensed cream of mushroom soup (do not add water)
1 can (10 oz.) RoTel® Original Diced Tomatoes & Green Chilies, undrained
2 cups chopped cooked chicken breast
12-15 corn tortillas (6 inch), torn into bite-size pieces
2 cups (8 oz.) shredded Cheddar cheese
Sliced green onion, for garnish (optional)
Instructions
Preheat oven to 325°F. Grease a 13x9-inch baking dish or spray with cooking spray. Set aside.
In large skillet over medium heat, melt the butter. Add bell pepper and onion; cook and stir until tender, about 4-5 minutes. Remove from the heat. Add both soups, the undrained tomatoes and chicken. Stir to combine.
In the prepared baking dish, layer one-third each of tortillas, followed by one-third of the chicken mixture and one-third of the cheese. Repeat layers twice.
Bake uncovered 40 minutes or until hot and bubbly.
Nutrition Information:
Amount Per Serving:
Calories:

395
Total Fat:

22g
Saturated Fat:

11g
Cholesterol:

77mg
Sodium:

749mg
Fiber:

4g
Sugar:

3g
Protein:

22g