With warmer weather on the horizon, it's time to get ready for burger season! Pep up that boring burger with this easy to make, Italian Pepperoni Burger with Hormel Pepperoni! It's big on flavor!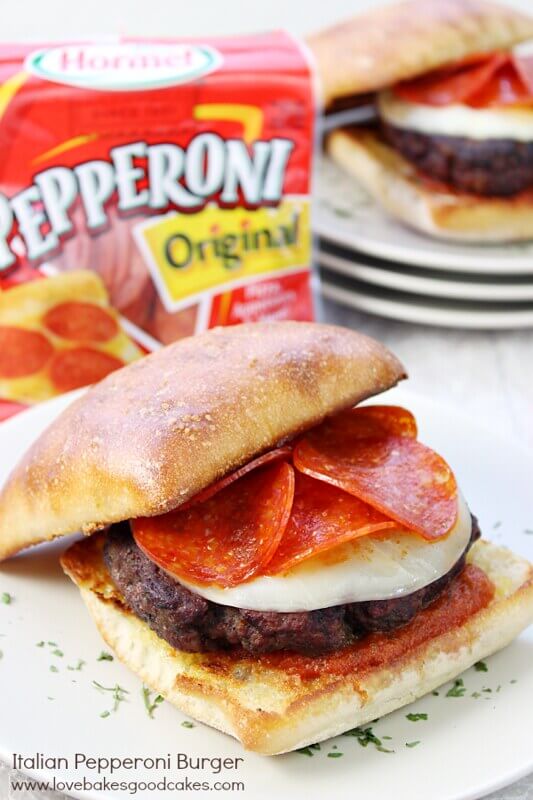 Italian Pepperoni Burger with Hormel Pepperoni
This shop has been compensated by Collective Bias, Inc. and its advertiser. All opinions are mine alone. #PepItUp #CollectiveBias
I love grilling season – don't you?! Yeah, yeah …. I know. Technically, you can grill year round – but lets ask some of my New England friends how many of them were out grilling these past few weeks?! Could they even find their grills under all that snow?! Geesh … It's been a crazy Winter to say the least – and I know more than a few of you are ready to bid Winter, with all of its snow and cold, a good riddance!
Seriously, this Arizona girl has been feeling bad for y'all – I can't tell you how many times I found myself saying, "what do you mean they're getting MORE snow?!" Yikes! I think I'm seeing why all the snowbirds come to Arizona (or Florida) … If I had to deal with that mess, I would leave too!
The great thing about Arizona is, we have near perfect weather most of the year. Admittedly, it does get a wee bit hot in the Summer months. I'll take the scorching hot heat in exchange for no snow. 😉 With all of this great weather, you can believe our grills are going 12 months out of the year here in the Phoenix area.
One of the dishes my family loves is hamburgers. On the grill, of course! We enjoy them quite often during the warmer months – and we love coming up with all kinds of combinations and flavors.
Making the burgers
I love keeping the pillow packs of Hormel Pepperoni on hand because I can use it in so many of my family's favorite dishes! The kiddos have even been known to have a few pepperoni slices as part of their snack! When we make homemade pizza, Gabriel always wants pepperoni and cheese. Always. And he has to be the one to put them on. I almost think he should be a spokeskid for Hormel pepperoni! Ha! No joke, that kid would put pepperoni in everything if we let him! We also love adding Hormel pepperoni to quesadillas, omelets, stuffed shells, lasagna roll-ups, pasta salad, quiche, antipasto skewers ….. you get the idea! We add pepperoni to lots of dishes!
A few years ago, we made an Italian-style burger with Hormel pepperoni. We have been hooked ever since. Brian told me they tasted like the fancy, gourmet burger you'd pay lots of money for at a restaurant. I have to admit, I agree with him! It's so easy to pair your burgers with Hormel pepperoni, spaghetti sauce and some Provolone cheese for a rockin' delicious burger the whole family will love! Trust me when I tell you the ciabatta rolls are a must! We've made these Italian Pepperoni Burgers with Kaiser rolls, regular hamburger buns and garlic toast – the ciabatta rolls are hand down our favorite!!
I'm sharing my unique Hormel Pepperoni recipe with you. I'd love to hear how you use pepperoni! Leave a comment sharing your most creative use of pepperoni in your family's favorite recipes.
Also, for the latest news, special promotions and more delicious recipes, be sure to check out Hormel Foods on Facebook or Twitter!
Other Posts You May Enjoy: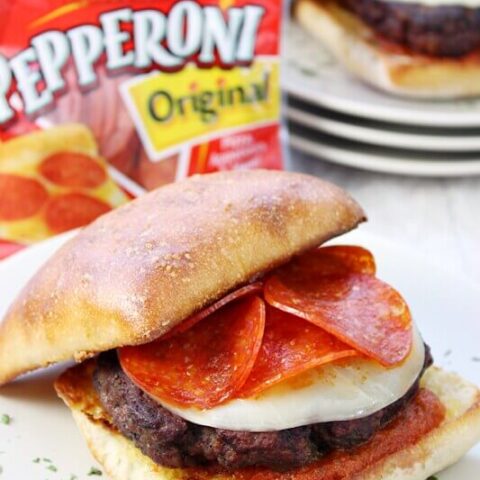 Italian Pepperoni Burger
With warmer weather on the horizon, it's time to get ready for burger season! Pep up that boring burger with this easy to make, Italian Pepperoni Burger! It's big on flavor!
Ingredients
2 lb. lean ground beef
1 lb. Italian sausage
6 Provolone cheese
6 ciabatta buns
Butter
1 cup spaghetti sauce
36 Hormel pepperoni slices
Instructions
Preheat a gas grill over high heat or a charcoal grill until it glows bright orange and ashes over.
In a large bowl combine the ground beef and Italian sausage. Shape the mixture into six patties.
Grill the burgers until browned and slightly charred on the first side (about 3-4 minutes). Flip the burgers over and continue to cook until desired doneness - about 4 minutes for medium rare, longer for a more done burger.
Meanwhile, butter the cut sides of the ciabatta rolls and toast on grill. Keep an eye on them - it won't take long.
To assemble the burger, spoon about 2-3 tbsp. of the spaghetti sauce onto the cut part of the bottom portion of the ciabatta rolls. Place one of the cooked burger patties on top. Add a slice of cheese. Top each burger with six slices of pepperoni. Replace the top portion of the bun. Serve!
Nutrition Information:
Amount Per Serving:
Calories:

1075
Total Fat:

57g
Saturated Fat:

24g
Cholesterol:

201mg
Sodium:

1828mg
Fiber:

5g
Sugar:

7g
Protein:

61g