Warm up with a bowl of this Italian Tortellini Soup! It comes together quickly! #ProgressoEats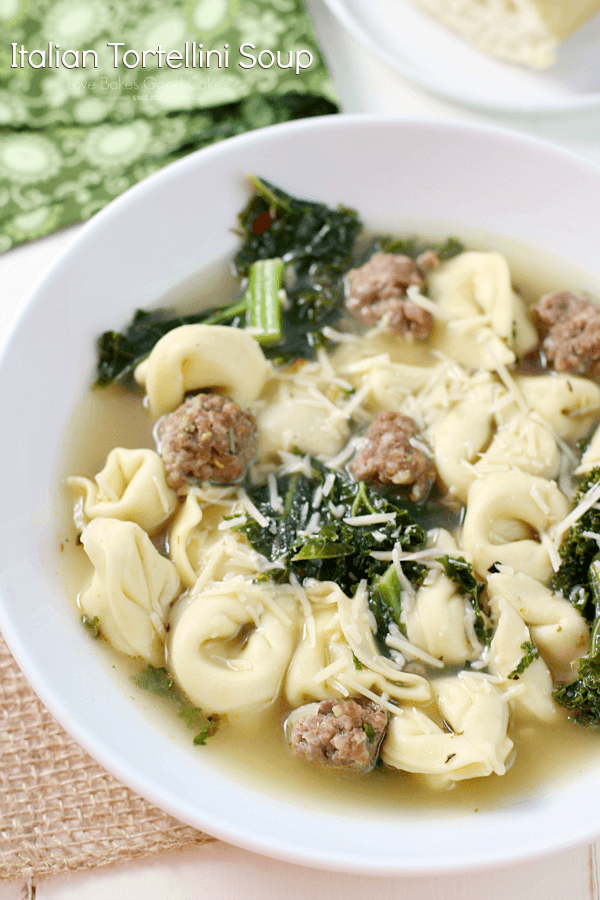 This is a sponsored conversation written by me on behalf of Progresso™. The opinions and text are all mine.
Italian Tortellini Soup
We're officially in the second month of the new year …. how are those resolutions working out for you?! While I feel like we're making progress to reach our goals in the Love Bakes Good Cakes house, I have to admit, that some days are tougher than others! While I feel like we're making better decisions when it comes to our diet and meal planning, I know we are falling short when it comes to getting enough activity! But, we're still working on that one! 🙂
If there's one thing I've noticed, eating healthy takes a lot of time and preparation! When I write out our menu every week, I try to make better choices by choosing leaner cuts of meat, adding meals with more colorful veggies, and by limiting fats and sugars. With Progresso™, it's easy to stay on track! They have a variety of delicious soups you can stock up on – or you can use the convenient Progresso™ Cooking Stocks to create your own delicious recipes, too! While I enjoy the Progresso™ ready-to-serve soup options for a quick weekday lunch, I prefer to make my own soup for dinner!
Making the soup
In the Love Bakes Good Cakes house, we love soup and eat it year round. It's just so comforting, isn't it?! As I noted with some of our resolutions for 2016, we are focusing on incorporating more veggies in our diet. I have to be honest …. kale is not a favorite with the kiddos, although they will eat it (begrudgingly, of course!). However, they love it in this Italian Tortellini Soup – maybe the fact that it's cooked in Progresso™ Cooking Stock helps because it adds so much flavor! I love that it tastes just like homemade stock – without all the work! If you think soup needs all day to simmer for the flavors to blend, this soup makes a quick and satisfying meal – all in about 30 minutes! Progresso™ Cooking Stock cuts down on the cook time while still providing that great slow-cooked homemade taste!
I also want to let you know about a special contest, too! You can submit your own Progresso™ recipe to http://www.foodnetwork.com/freshrecipecontest for your chance to win $5000 in the Progresso™ Fresh & Easy Recipe Contest! Entrants must be 21+ and live in the contiguous 48 states. The prize will be $5,000. All recipe submissions must include Progresso™ brand soup, broth, and/or stock in order to be reviewed. And, all entrants must check full contest rules and details on the site before entering. The contest runs from 2/1/16-2/29/16. I would love to see a Love Bakes Good Cakes reader enter and win!
Other Posts You May Enjoy:
Simple Southwest Chicken and Rice Soup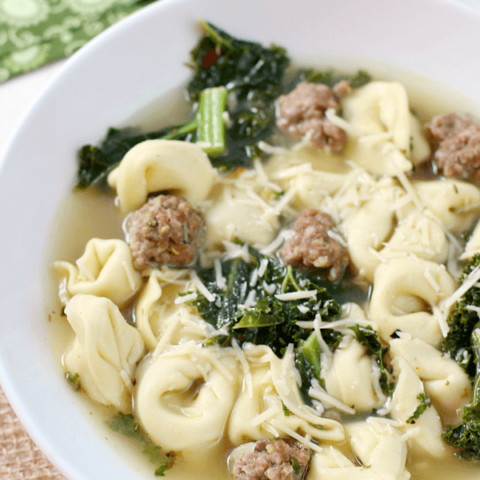 Italian Tortellini Soup
Warm up with a bowl of this Italian Tortellini Soup! It comes together quickly!
Ingredients
1 lb. Italian sausage, casings removed (if applicable)
1 medium onion, chopped
4 cloves garlic, minced
1 tsp. Italian seasoning
6 cups packed chopped kale, thick stems removed
8 cups (2 cartons) Progresso™ Chicken Cooking Stock
1 pkg. (20 oz.) refrigerated cheese tortellini
Shredded Parmesan cheese, for serving (optional)
Instructions
In a soup pot or Dutch oven, brown and crumble the sausage with the onion and garlic over medium-high heat for 6-8 minutes, or until meat is no longer pink.
Stir in Italian seasoning, kale, and stock. Cover and bring to a boil over high heat.
Add tortellini and cook an additional 5-6 minutes.
Serve individual portions topped with shredded Parmesan cheese, if desired.
Nutrition Information:
Amount Per Serving:
Calories:

514
Total Fat:

26g
Saturated Fat:

10g
Cholesterol:

80mg
Sodium:

1051mg
Fiber:

2g
Sugar:

5g
Protein:

24g