Tired of the same boring tacos?! Switch it up with this Italian Chicken Chopped Tacos recipe! Ready in 15 minutes or LESS! #SummerGoodness
This is a sponsored post written by me on behalf of Tyson Foods, Inc., Circle Foods LLC, and Pinnacle Foods Group LLC. All opinions and text are entirely my own.
Italian Chicken Chopped Tacos
Back in April, the Love Bakes Good Cakes family found a mama cat and her kittens living under our shed. We decided to feed the mama cat and went out and got her some food. After a few times of feeding her, it got to the point she would listen for our back door to open (it dings when it opens) and she would come running to see us! She even let us get close enough to pet her – even though she was a little skittish. As the kittens become more mobile, we discussed maybe kitten-napping the babies and mama to get them fixed and to help them find forever homes.
Rescue mission
One night, we had a good storm forecast for the evening and we know our backyard floods …. particularly where the shed is. I felt so bad for the kitties! Flooding is just a part of living in Arizona! We decided it would be in their best interest to put them in a box in the house – if we could get them out from under the shed. Oy!! That was interesting!! 🙂 It was quite the transition – mama cat didn't even know how to use a litter box! It's been a few weeks and I'm happy to say that all four kitties have become part of the family! We've taken them all in for shots and they have all been fixed …. and now, we just can't part with the little balls of energy!! They have officially found their forever home!!
Y'all, meet Claire, Cuddles, Mittens, and Cookie (Monster)!!
In addition to the kitties, I've also been holding out a new recipe that my family loves! My oldest son, Elijah, and his wife recently moved to the Phoenix area. After a day of moving them and their stuff into their new apartment, I just could not fathom the idea of making dinner …. I was too hot and tired.
I'm not a big fan of fast food. Especially if I know I can make something better at home! We decided to stop at Walmart to pick up something easy for dinner. All the way over there, I kept trying to think of what I could make. I had this idea for these Italian Chicken Chopped Tacos – it's similar to one of my favorite salads – why not make it into tacos?! Ya know what I'm saying? Tacos are always a good idea!
Making Italian chicken tacos
I picked up a bag of Tyson® Grilled & Ready® Chicken to make my cook time minimal! I spotted some TortillaLand® Flour Tortillas in the refrigerated section and decided to give them a try! Have you ever tried them? I just needed a few minutes to cook the tortillas. Easy peasy! A few chopped veggies and a drizzle of Wish-Bone® Italian Dressing to finish it off. BAM!!! Dinner in 15 minutes or LESS – and I didn't have to hit a drive-thru!!
We've made these tacos three times since moving day. They are such a tasty way to change up taco night! Not only are they delicious, but they're quick and easy too!! We can all use more recipes like that! Be sure to visit the Tyson® Wish-Bone® website for more delicious recipe ideas!
Other recipes you may enjoy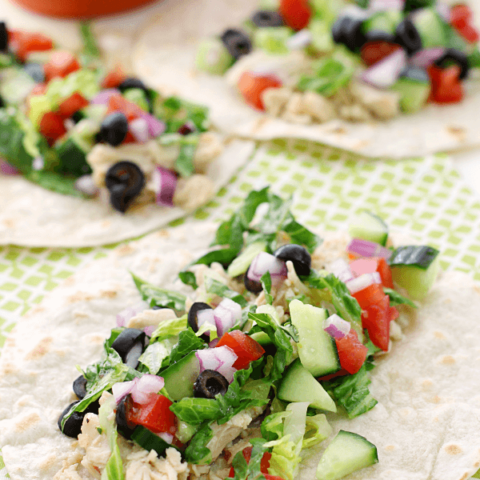 Italian Chicken Chopped Tacos
Tired of the same boring tacos?! Switch it up with this Italian Chicken Chopped Tacos recipe! Ready in 15 minutes or LESS!
Ingredients
1 package (30 oz.) TortillaLand Flour Tortillas
1 bag (20 oz.) Tyson Grilled & Ready Chicken - Pulled Chicken Breast
Chopped romaine lettuce
Chopped cucumber
Chopped tomatoes
Chopped red onion
Sliced black olives
Wish-Bone® Italian Dressing
Instructions
Cook Tyson Grilled & Ready® Chicken according to package directions.
Prepare TortillaLand Flour Tortillas according to package directions.
On a tortilla, layer chicken, lettuce, cucumber, tomatoes, red onion, black olives, and Wish-Bone Italian Dressing. Fold into a taco.
Serve immediately.
Nutrition Information:
Amount Per Serving:
Calories:

438
Total Fat:

15g
Saturated Fat:

3g
Cholesterol:

45mg
Sodium:

833mg
Fiber:

3g
Sugar:

3g
Protein:

23g