Crème Brûlée gets an update with the addition of Irish Cream! This Irish Cream Crème Brûlée is a stunning but simple dessert, and it's the perfect way to end your meal!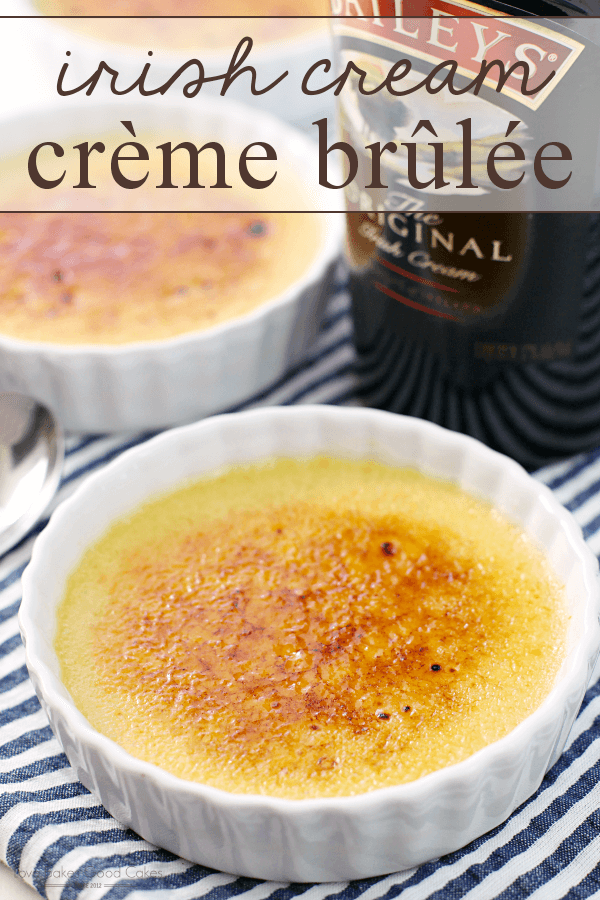 This post may contain affiliate links. As an amazon associate, I earn from qualifying purchases. See my full Disclosure Policy for details.
Irish Cream Crème Brûlée
Do you ever have those days or weeks where it just feels like it's one thing after another and you can't get anything done?! Geez …. that is how it has been for the past two weeks! I have been wanting to share this recipe with y'all and I swear, every time I plan on making it, something happens or comes up to prevent me from getting it done!
For the past few weeks, sickness has taken it's toll on the Love Bakes Good Cakes house – and if there's anything you should know about me, I don't do "sick" well. I don't care if it's my kiddos, my husband or myself … I just hate dealing with it. Gross. (Side note – If you are a nurse, you are basically my hero. I don't know how y'all deal with all of the things you have to deal with!) The thing with having a large family is once someone is sick, you know the sickness is going to make its rounds – and sometimes, it just keeps going around and around!! Ugggggh!!!
I'm hoping all that is behind us now so we can focus on better things – like Irish Cream Crème Brûlée. *swoon*
Making the Crème Brûlée
Crème Brûlée gets an update with the addition of Irish Cream and boy, oh boy!! It's sooooo good!! The good thing about this dessert is that it makes six desserts – and since it has alcohol, I won't let my kiddos have it! Which means, I can have a few more nights of this scrumptious dessert this week!! 😀 Believe me, after the past few weeks, I might need an Irish Cream Crème Brûlée and a splash (or two!) of Irish Cream in my coffee!
I also want to note that when it comes to the sugar topping, I like to throw a few teaspoons in my (well cleaned) coffee grinder and give it a few pulses to make my own superfine sugar! 😀
recipe slightly adapted from allrecipes
Here are some of the tools I used to make this recipe:
Other Posts You May Enjoy:
OREO Chocolate Irish Cream Cheesecake with Irish Cream Whipped Cream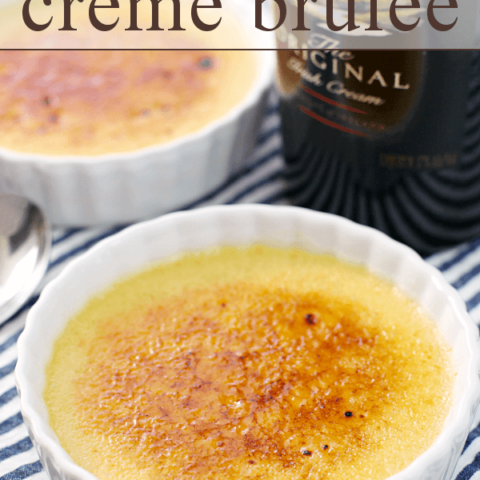 Irish Cream Crème Brûlée
Cook Time:
1 hour
15 minutes
Total Time:
1 hour
30 minutes
Crème Brûlée gets an update with the addition of Irish Cream! This Irish Cream Crème Brûlée is a stunning but simple dessert, and it's the perfect way to end your meal!
Ingredients
2 cups heavy cream
1/3 cup white sugar
6 egg yolks
1/2 cup Irish cream liqueur
1 tsp. vanilla extract
superfine sugar, as needed
Instructions
Preheat oven to 300°F. Place 6 ramekins on a towel set in a roasting pan at least 3 inches deep. Set aside.
In a large saucepan, stir together cream and sugar over medium heat until very hot.
In a medium bowl, whisk together egg yolks, Irish cream, and vanilla until combined. Slowly add 1/3 of the hot cream, whisking constantly until incorporated. Stir in the remaining hot cream.
Divide custard between the ramekins. Then fill roasting pan with boiling hot water to come halfway up the sides of the ramekins. Bake in preheated oven until set, 50 to 60 minutes.
Remove ramekins to a wire rack and allow to cool to room temperature, about 1 hour. Cover, and refrigerate until cold, about 4 hours. Custards may remain refrigerated until ready to serve.
Unwrap the custards and sprinkle about 1 teaspoon of superfine sugar onto each. Gently shake the custards so the sugar coats the entire top surface, then tip the custards to a 45 degree angle and shake off excess sugar.
Using a small hand torch, melt the sugar by making short passes over top of the custards with the flame not quite touching. Continue melting the sugar until it turns deep brown. Once the sugar has melted and turned to caramel, the cold custard underneath will harden the sugar into a crispy crust. Serve immediately.
Notes
Side note: The sugar-dusted custards may be browned underneath the broiler in the oven. Keep an eye on it as not to burn them!
Nutrition Information:
Amount Per Serving:
Calories:

446
Total Fat:

33g
Saturated Fat:

20g
Cholesterol:

255mg
Sodium:

39mg
Fiber:

0g
Sugar:

24g
Protein:

4g