These Hot and Dirty Stuffed Peppers aren't so piping hot that you have to have a gallon of water on hand. Not even close. But they are hot!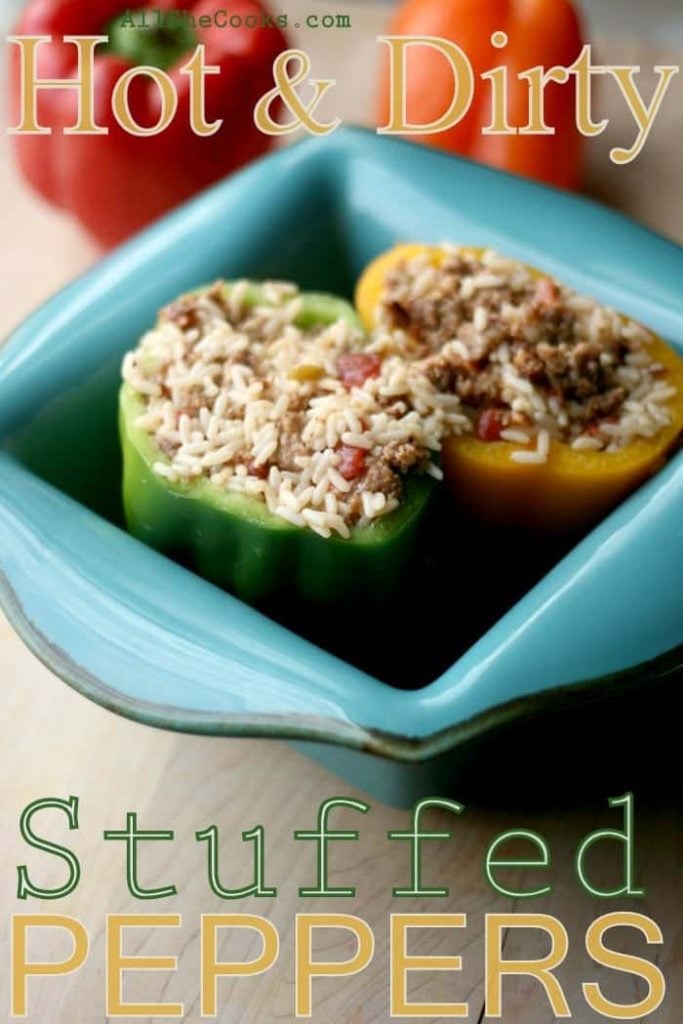 Hot & Dirty Stuffed Peppers
Hi ya'll! I'm Jessica from All She Cooks, a Southern transplant living and blogging in the Midwest. I'm really from all over, having been a Navy brat my first few years, and then later an Air Force wife. Now… I'm the wife to an Air National Guard hubby whose civilian career planted us near Madison, Wisconsin. We love it here!
I'm thrilled to be a new contributor on Love Bakes Good Cakes. You all know that Jamie is just wonderful, but let me tell you all something… she is an awesome blogging friend to have. Jamie is one of my go-to-gals when I have a question about whats working to monetize my blog, how to have great format for foodie blog posts to drive more traffic to my website and so much more. If you're a blogger and haven't started analyzing other blogs to see what is working for them, it's really worth the effort.
Enough of my chit-chat!
Hot & Dirty Stuffed Peppers
Look for me the 4th Friday of each month here on Love Bakes Good Cakes, where I'll be sharing a new recipe creation.This month, I'm starting you all off with my Hot & Dirty Stuffed Peppers…. because we all need something hot & dirty in our lives, right? Oh come on ladies- I'm talking cooking!
You'll find me mostly cooking up recipes that are EASY for anyone to make. I like simple. I'm not a fancy gal, and I like to keep things super simple in the kitchen. Except my messes, and those get quite extravagant!
Really, the fewer ingredients, the better… in my opinion. Recently, I've been experimenting with some recipes that really don't even require seasoning because its all done with the heat of peppers. You know what they say, 'If you don't like the heat, get out of the kitchen'.
Well, these Hot and Dirty Stuffed Peppers aren't so piping hot that you have to have a gallon of water on hand. Not even close. But they are hot. And as with anything else in life, feel free to add more spice.
Seriously… my husband has taken to having a side of sliced jalapenos with every meal! Now… I wouldn't go that far, but to each their own.
I love how there are SO many variations on stuffed peppers. Jamie even took it a step further with her Stuffed Pepper Soup! Can you say, 'YUM!'?
Enjoy!
Other recipes you may enjoy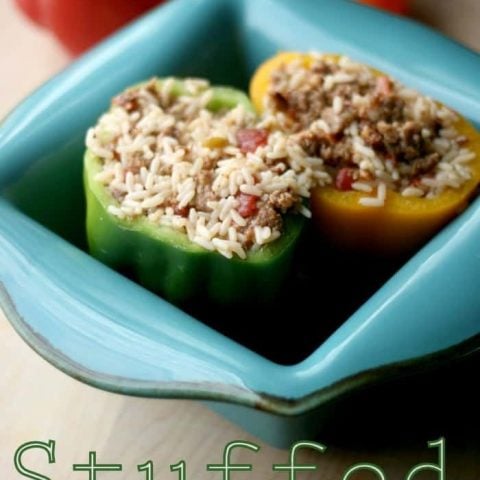 Hot and Dirty Stuffed Peppers
Hot & Dirty Stuffed Peppers
Ingredients
4-6 bell peppers (combination of colors, or choice)
1 pound spicy Italian sausage, browned
3 cups cooked rice
1 can Rotel (I used original)
Mozzarella cheese (optional, grated over top)
Instructions
Preheat oven to 375 degrees.
Mix together browned sausage, cooked rice and Rotel.

Wash bell peppers. Cut tops off of them and scoop out seeds.
Stuff rice and sausage mixture into bell peppers. Place in oven-safe casserole and bake for 15-20 minutes. Add grated Mozzarella cheese to top of stuffed peppers and bake for an additional 3-5 minutes.
Nutrition Information:
Amount Per Serving:
Calories:

400
Total Fat:

24g
Saturated Fat:

9g
Cholesterol:

57mg
Sodium:

594mg
Fiber:

3g
Sugar:

5g
Protein:

14g
Originally published on April 26, 2014. Updated on April 27, 2021.