Easy Homemade Spaghetti-O's recipe with Smart & Final Warehouse Store! Great for lunch or an easy dinner! Take a trip down memory lane with this childhood favorite! #ChooseSmart #ad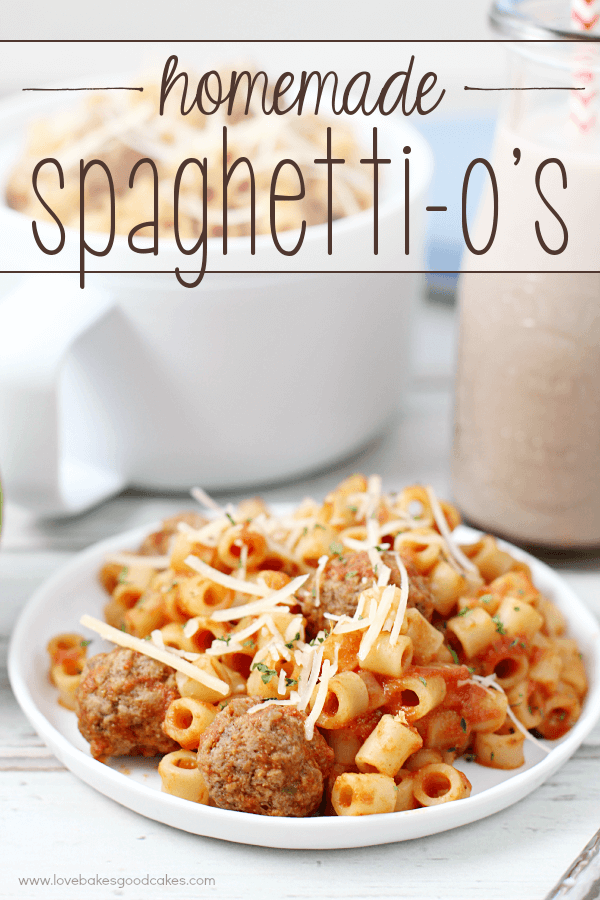 This shop has been compensated by Collective Bias, Inc. and its advertiser. All opinions are mine alone. #ChooseSmart #CollectiveBias
Homemade Spaghetti-O's
As parents, we make sure our kiddos have all of the necessary supplies for school, that they get a good nights rest and that they start their day with a good breakfast. However, many of us get stuck in a lunch rut. Peanut Butter and Jelly sandwiches …… again?! Ugh!
Let's face it, it's soooooo easy to get stuck in a lunch rut. While we're hurrying around in the mornings getting ready for school and work – or after a long stressful day at work and getting the kiddos through a nighttime routine and into bed, lunch is often an afterthought! Lunch meat sandwiches or the ol' standby, PB&J, are easy and take very little time!
Believe me, growing up I ate my fair share of sandwiches for lunch. Don't get me wrong, there's nothing wrong with sandwiches – I still eat them for lunch quite regularly. On the rare occasion that my mom gave us something else for lunch, it was always better than sandwiches. Always. I swear she could have given us liver and onions (which I hate by the way!!) and there would have been times throughout the year that I may just have been tempted to eat the liver and onions because I was soooo sick of sandwiches! Okay, maybe not liver and onions … but almost anything else!
One of my favorites when I was a kid, was Spaghetti-O's. Seriously, who didn't love them as a kid?! I haven't bought cans of Spaghetti-O's in years …. probably more than 15 years to exact! After I had Elijah, I knew I could make a homemade version that tasted better than the stuff I remember as a kid and honestly, I love being able to control the quality of ingredients!
A new experience
I picked up a few things from Smart & Final last week – including a few things to make Homemade Spaghetti-O's! I love their Organic Ground Beef!
While shopping, I noticed that Smart & Final is rebranding! Smart & Final has announced the launch of its new branding campaign which will place the ampersand ("&") front and center to showcase the company's relationship with both its customers and the communities it serves. The new campaign aims to tell the story of what the value-oriented food and staples retailer has become through its growth initiatives and will highlight the company's heritage.
Smart & Final Chief Marketing Officer, Eleanor Hong said, "We are rebranding to ensure customers know who we are, what we offer and what we stand for so that they can choose Smart & Final as their primary shopping destination."
If you're in California, be sure to take advantage of Instacart! You'll shop online and enjoy your groceries being delivered to you! That pretty much sounds like the perfect shopping experience to me!!! Right now, you get "$5 off and free delivery with promo code: SMART5".
Back to the recipe – this Homemade Spaghetti-O's recipe is great packed in a thermos for lunch at school or work! It's also an easy dinner idea with a side salad and breadsticks! Enjoy!
For the latest news and special offers, be sure to follow Smart & Final on Facebook and Twitter!
Be sure to check out more delicious recipes at http://community.smartandfinal.com. I'd love to hear your favorite!
Other Posts You May Enjoy:
S'mores Salted Caramel Apple Nachos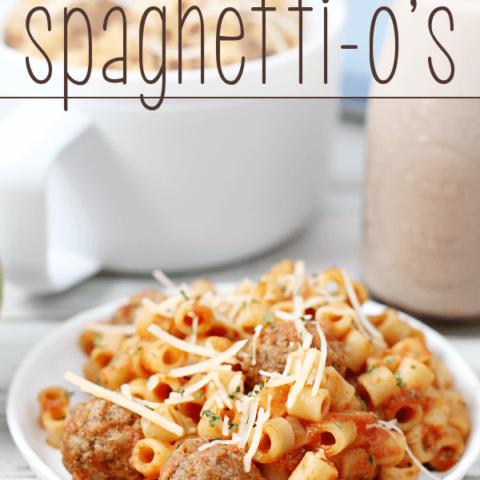 Homemade Spaghetti-O's
This easy Homemade Spaghetti-O's recipe is great for lunch or an easy dinner! Take a trip down memory lane with this childhood favorite!
Ingredients
1 lb. lean ground beef
2 cups beef stock
2 cups anellini (ring) or ditalini pasta
2 cans (15 oz. each) tomato sauce
1/4 cup milk
1/2 teaspoon salt
1/2 teaspoon dried oregano
1/2 teaspoon garlic powder
1/4 teaspoon onion powder
1/4 teaspoon paprika
Instructions
Place the beef stock in a large saucepan. Bring to a boil.
Meanwhile, bring 8 cups of water to boil in a separate large pan. Once boiling, add the pasta to the water and cook according to package directions or until al dente. Drain and set aside.
Meanwhile, using a rounded teaspoon to measure, form the ground beef into small meatballs. Once the beef stock comes to a boil, add the meatballs and reduce the heat to a simmer. Cook for 10-12 minutes or until meatballs are cooked through. Drain the liquid. Set aside.
In a large saucepan, add the tomato sauce, milk, salt, oregano, garlic powder, onion, powder, and paprika. Bring to a simmer and allow to cook for 8-10 minutes to combine the flavors. Add the cooked and drained pasta and meatballs. Stir to combine.
Serve immediately.
Notes
If you prefer less sauce, you can use less of the second can of tomato sauce.
You can use other small shapes of pasta in place of the anellini (ring) pasta or ditalini.
Nutrition Information:
Amount Per Serving:
Calories:

366
Total Fat:

24g
Saturated Fat:

9g
Cholesterol:

82mg
Sodium:

1327mg
Fiber:

3g
Sugar:

9g
Protein:

25g