These From-Scratch Chocolate Cupcakes with Chocolate Frosting are perfect for celebrating! They just may become your favorite cupcake too! Plus, a Blog Birthday Giveaway – enter for a chance to win $500 PayPal Cash!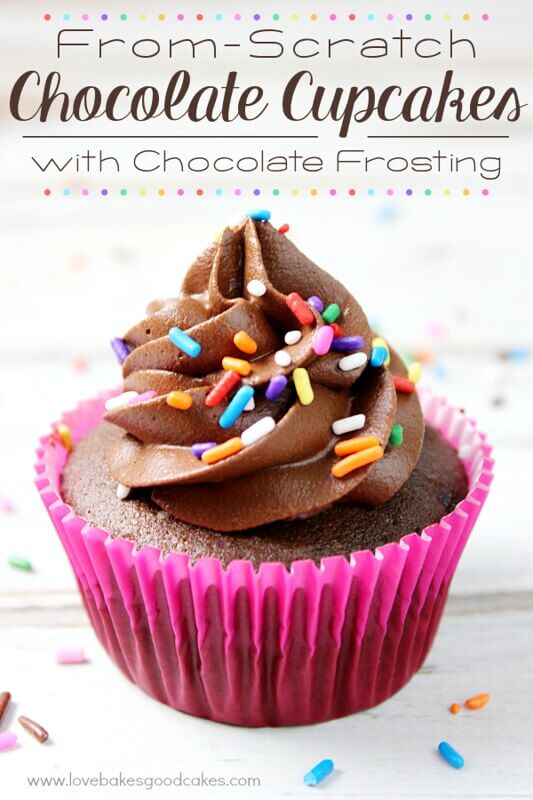 This post may contain affiliate links. As an amazon associate, I earn from qualifying purchases. See my full Disclosure Policy for details.
From-Scratch Chocolate Cupcakes with Chocolate Frosting
Hey friends! I am so excited to have you join me and a few of my blogging friends as we celebrate a few blogging birthdays! Well, I don't know about you, but at the Love Bakes Good Cakes house, birthdays are always filled with our favorite meal and the birthday girl or boy gets to pick their favorite dessert! I think blog birthdays should be just as much fun – which is why we're sharing all of these awesome treats! Seriously, read all the way to the end for sugar overload! 🙂 Love Bakes Good will be 3 years old on February 27th …. It has been a wild ride. This little ol' blog has turned into something much bigger than I ever imagined. I am grateful for my readers (you're the reason I do what I do!) and my online friends who have turned into real life friends.
I am sharing my favoritest (pretend that's a word, 'cuz in my world, it is) cupcake ever …. From Scratch Chocolate Cupcakes with Chocolate Frosting. My bloggy friends have made some pretty incredible treats to help us celebrate too! Plus, what's a birthday without a gift?! I almost forgot the gift!! We've decided to give you the gift …. that's right, one lucky reader is going to get $500 in PayPal Cash!! *horns blowing*
Meet the bloggers helping me celebrate … a few of them are celebrating their own blog birthdays too … they're all wonderful ladies with great blogs, so be sure to stop by and check them all out!
Birthday Bloggers:
Jamie at Love Bakes Good Cakes –  Deb at Cooking on the Front Burner
Paula at Call Me PMc – Emily at Nap-Time Creations
Aimee at Like Mother Like Daughter – Britney at The Princess and Her Cowboys
Blogger Friends Helping Us Celebrate:
Cindy at Little Miss Celebration – Lisa at Cooking With Curls
Sheryl at Lady Behind the Curtain – Cathy at Lemon Tree Dwelling
Julie at Tastes of Lizzy T – Marcie at Flavor the Moments
Carrie at Frugal Foodie Mama – Julie at This Gal Cooks
Julie at White Lights on Wednesday – Shauna at The Best Blog Recipes
Sandra at A Dash of Sanity – Rachael at Eazy Peazy Mealz
Claire at A Little Claireification – Evelyn at My Turn for Us
Nancy at The Bitter Side of Sweet – Emily at It Bakes Me Happy
Alyssa at What's Cooking Love – Erin at DelightEMade
Kristi at I Should Be Mopping the Floor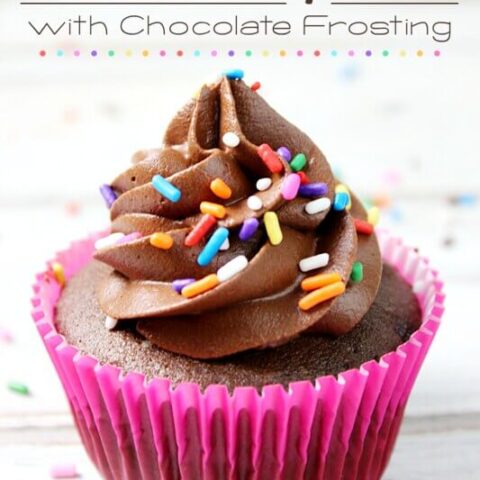 From-Scratch Chocolate Cupcakes with Chocolate Frosting
These From Scratch Chocolate Cupcakes with Chocolate Frosting are perfect for celebrating! Full of chocolate flavor - they just may become your favorite cupcake too!
Ingredients
For the cupcakes
2 cups sugar
1 3/4 cups all-purpose flour
3/4 cup baking cocoa powder
1 1/2 tsp. baking powder
1 1/2 tsp. baking soda
1 tsp. salt
2 eggs
1 cup milk
1/2 cup vegetable oil
2 tsp. vanilla extract
1 cup boiling water
For the frosting
1/2 cup (1 stick) butter or margarine
2/3 cup baking cocoa powder
3 cups powdered sugar
1/3 cup milk
1 teaspoon vanilla extract
Sprinkles (optional)
Instructions
For the cupcakes:
Heat oven to 350°F. Line muffin pans with paper cups. Set aside.
In a large bowl, stir together sugar, flour, cocoa, baking powder, baking soda and salt. Add eggs, milk, oil and vanilla; beat on medium speed with an electric mixer for 2 minutes. Stir in boiling water (batter will be thin). Fill cups about 2/3 full with batter.
Bake 22 to 25 minutes or until wooden pick inserted in center comes out clean.
Cool 10 minutes; remove from pans to wire racks. Cool completely.
For the frosting:
Melt the butter. Whisk in the cocoa. Alternately add powdered sugar and milk, beating to spreading consistency. Add small amount additional milk, if needed. Stir in vanilla. Spread or pipe frosting over the top of cooled cupcakes.
Top with sprinkles, if desired.
Nutrition Information:
Amount Per Serving:
Calories:

258
Total Fat:

10g
Saturated Fat:

4g
Cholesterol:

25mg
Sodium:

194mg
Fiber:

2g
Sugar:

32g
Protein:

3g