This post may contain affiliate links. As an amazon associate, I earn from qualifying purchases. See my full Disclosure Policy for details.
I received products to help facilitate this post. Any and all opinions expressed are my own.
This Cornmeal and Berry Cakes recipe from award-winning cookbook author, Dorie Greenspan, is perfect with tea or coffee. They make a great afternoon treat or dessert after a meal. Dress them up with raspberry coulis or a dollop of whipped cream, ice cream or crème fraîche. #RaspberryDessert
Some of you may not know that I am a recipe hoarder. By hoarder, I mean, hoarder. I have cookbooks, notebooks, scraps of papers, newspaper clippings, notecards, bookmarks on my computer and of course, there's always Pinterest. If you can believe it, before we moved to Arizona, it was much, much worse. Making a cross-country move will make you think twice about how much stuff you have and how much of it you truly need.
Adding to my addiction, I recently got a copy of Dorie Greenspan's new cookbook, Baking Chez Moi: Recipes from My Paris Home to Your Home Anywhere. I couldn't wait to start making some of her delicious recipes! I don't know about you, but I read cookbooks like I'm reading a novel. I'm always excited to flip through the pages for new recipes to try or to find that spark of inspiration. When I saw Dorie's Cornmeal and Berry Cakes, I knew they would be perfect with Driscoll's raspberries!
The Cornmeal and Berry Cake recipe is absolutely perfect for an afternoon treat. It would also be great after a filling meal. The cakes have a great crumb with just a hint of lemon flavor and the raspberries pair nicely with the loaf! Dorie suggests a few things to make these tasty cakes extra special – I think next time, I'll try that awesome lemon glaze on top of the cakes!
With the holiday season in sight, Dorie's latest cookbook
would make a great gift idea for any baker on your Christmas list!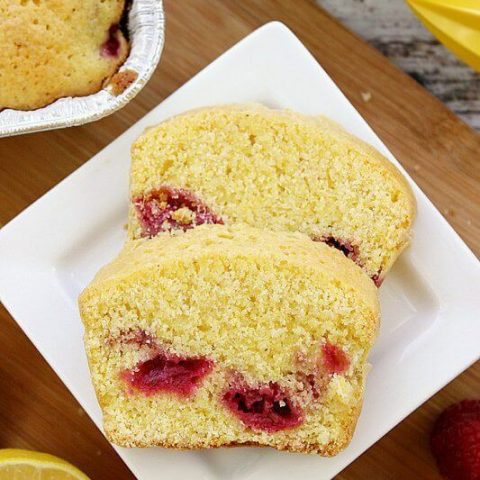 Dorie Greenspan's Cornmeal and Berry Cakes
They make a great afternoon treat or dessert after a meal.
Ingredients
1 1/4 cups fine cornmeal or fine polenta
2/3 cup all-purpose flour
1/4 cup cornstarch
1 1/2 tsp. baking powder
Pinch of fine sea salt
1 cup sugar
Finely grated zest and juice of 1 lemon
4 large eggs, at room temperature
1 tsp. pure vanilla extract
7 tbsp. unsalted butter, melted and cooled
1/3 cup olive oil
1/2 pint fresh raspberries
Confectioners' sugar (optional)
Instructions
Center a rack in the oven and preheat the oven to 350°F. Butter four 5x3-inch mini loaf pans (you can use foil pans), dust with flour and tap out the excess (or use baker's spray). Place the pans on a baking sheet.
Whisk the cornmeal or polenta, flour, cornstarch, baking powder and salt together in a small bowl.
Put the sugar and lemon zest in the bowl of a stand mixer or, if you will be using a hand mixer, a large bowl. Use your fingertips to rub the ingredients together until the sugar is fragrant and moist. If using a stand mixer, fit it with the paddle attachment and attach the bowl. Drop the eggs into the bowl and, working on medium speed, beat until pale and slightly thickened, about 4 minutes. Lower the speed and add the vanilla and lemon juice. With the machine on low, add the cornmeal mixture and mix until it disappears into the batter. Add the melted butter in a slow, steady stream, mixing until combined, then do the same with the olive oil.
If using the berries, divide half of the batter evenly among the prepared pans. Sprinkle the berries into the pans and then pour the rest of the batter; the pans will be about three-fourths full. If not using berries, just divide the batter among the pans.
Bake the cakes for 30-35 minutes, until they are golden brown and a skewer inserted into the center comes out clean; the cakes will have started to pull away from the sides of the pans. Transfer the pans to a rack and cool for 5 minutes, then unmold, running a knife around the sides of the cake if needed. Allow the cakes to cool completely on the rack.
Dust the tops of the cakes with confectioners' sugar, if you'd like.
Notes
STORING: Wrapped well, the cakes will keep at room temperature for up to 2 days; wrapped airtight, they can be frozen for up to 2 months (defrost in the wrappers). If the cakes seem stale, cut them into thick slices and toast them or, better yet, skillet-brown them in butter.
Nutrition Information:
Amount Per Serving:
Calories:

919
Total Fat:

44g
Saturated Fat:

17g
Cholesterol:

239mg
Sodium:

289mg
Fiber:

5g
Sugar:

53g
Protein:

13g
You can win your very own copy of Dorie Greenspan's new cookbook, Baking Chez Moi: Recipes from My Paris Home to Your Home Anywhere. It's a cookbook you'll be turning to time and time again! Good luck, friends!
Other Posts You May Enjoy:
Raspberry Ripple Lemon Bundt Cake