This Chipotle Chicken Pasta is quick, easy and delicious! It's perfect for a quick weeknight meal. Serve it with a side salad and crusty bread for a dish that will spice up dinnertime! #AeroGarden #ad
Chipotle Chicken Pasta
I received a MiracleGro AeroGarden to facilitate this post. Any and all opinions expressed are my own.
If you follow me on social media, you have probably seen pictures of my AeroGarden. Some of you may remember my first post about wanting to try my hand at a Winter herb garden (there's still time to enter the giveaway for your very own AeroGarden – see the first post or scroll down and enter below). I have wanted to do an indoor herb garden for the longest time, and the AreoGarden has been the perfect, easy solution for me! I cannot believe how easy it has been and I have enjoyed having fresh herbs right at my fingertips!
The AeroGarden
Although Arizona temperatures can be pretty mild in the Winter compared to most of the rest of the country, we still experience some pretty low nighttime temperatures. To be honest, I'm not very good at remembering to cover plants or to bring them in when it gets too cold outside. With the AeroGarden, I haven't really had to do anything …. it tells me when I need to add nutrients! I check the water level every few days and snip fresh herbs for dinner. It does not get any easier than this, folks. Seriously, even I can do it – and I do not have a green thumb!
Just a side thought since the holiday season is upon us: if you have a gardener or home cook on your holiday shopping list, consider getting them an AeroGarden for Christmas! I love mine so much that I am seriously considering getting another one just so I can grow lettuce! I have been enjoying salads for lunch lately and it would be so nice to have my own little lettuce garden!
Growing our garden
Our basil plant is growing like crazy – we've used it for homemade pizza sauce and spaghetti sauce. The dill plant is coming along very nicely as well and I can't wait to make a loaf of dill bread with it! The kiddos think dessert is extra special when I add a few mint leaves tucked on top of our dessert. They still check on how much all of the plants have grown in the morning while they get their breakfasts made. It has been fun watching them get so excited!
Since cilantro is one of my favorite herbs – and it was one of the herbs I was most looking forward to using, I thought it would be fun to share a recipe that helps highlight that herb!
This Chipotle Chicken Pasta is quick, easy and delicious! It's the perfect weeknight meal. If your family is not very tolerant of spice, you may want to cut the chipotle pepper in adobo down to one pepper instead of two. Two is perfect for my family! It provides just enough heat without being too overpowering. 🙂 The fresh cilantro really makes the flavors of this dish pop, not to mention, it looks pretty with that touch of green! I hope you enjoy!
As a side note, if you are thinking about purchasing an AeroGarden for yourself or as a gift, be sure to use promo code: Digital20
Other Posts You May Enjoy:
Spicy Jalapeno Taquitos with Cilantro Lime Cream Sauce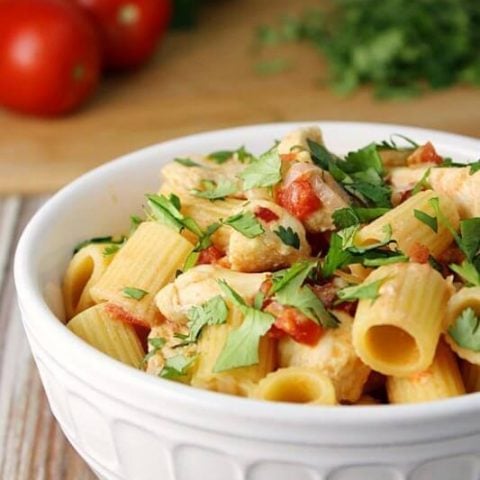 Chipotle Chicken Pasta
This Chipotle Chicken Pasta is quick, easy and delicious! It's perfect for a quick weeknight meal. Serve it with a side salad and crusty bread for a dish that will spice up dinnertime!
Ingredients
1 tbsp. vegetable oil
1 1/2 lb. boneless, skinless chicken breasts, cut into bite-sized pieces
1/2 cup thinly sliced onion
2 cloves garlic, minced
1 can (14.5 oz.) petite-diced tomatoes, drained
3/4 cup half & half
2 chipotle peppers in adobo, seeded and chopped
1/2 tsp. salt
2 tbsp. chopped cilantro
1 lb. pasta (I used mezzi rigatoni)
Instructions
Heat a large non-stick skillet over medium-high heat. Add the oil and chicken. Cook for 5 minutes, turning the chicken over after about 3 minutes. Add the onion and garlic; cook an additional 3 minutes. Add the tomatoes, half & half, chipotle peppers and salt. Stir to combine. Simmer, uncovered, for 4 minutes, stirring occasionally. Add cilantro.
Meanwhile, cook pasta according to package directions. Drain, reserving about ½ cup of the cooking water.
Toss the pasta with the chicken sauce mixture. Add reserved water as needed to thin out sauce. Serve immediately.
Nutrition Information:
Amount Per Serving:
Calories:

498
Total Fat:

10g
Saturated Fat:

3g
Cholesterol:

94mg
Sodium:

627mg
Fiber:

4g
Sugar:

6g
Protein:

37g