I am so excited welcome Andi from The Weary Chef. She shares really awesome family-friendly recipes and she recently went gluten-free! I followed Andi since the Summer of 2014 and I have been hooked on her blog since! Be sure to stop by her place and enter to win the NINJA Supra Kitchen System that she is giving away! Round out dinner by checking out Cupcakes & Kale Chips for some Healthy Desserts or The NY Melrose Family for some Healthy Snack Ideas in our #EatHealthy15 Series.
Tomorrow is a new year and a perfect time to start eating better. Healthy can be delicious like in this BBQ Chicken Quinoa Skillet Dinner!
Happy (almost) New Year! I'm Andi from
The Weary Chef
, and I'm very excited to share a dinner recipe with you today. If we haven't met, easy dinners are my favorite kind of recipe, and I write new ones every week. While some of my recipes might have more than their fair share of cheese, I generally try to keep them pretty healthy, especially this time of year!

If you're like me, cookies and candy have been a major food group for the past month or so and don't even get me started about eggnog lattes. (LOVE those things!) I definitely have some healthy eating ahead of me to recover from all the holiday treats, and this BBQ Chicken Quinoa Skillet is a good start. It's loaded with flavor, quick to throw together even on a busy weeknight, and tastes like comfort food!

I used shredded rotisserie chicken in this recipe, but you could use any leftover chicken or cook two boneless, skinless chicken breasts and shred them. If you are cooking chicken for this recipe, I would season it with a bit of Cajun seasoning. I hope you love this one as much as we did. Have a wonderful 2015!
BBQ Chicken Quinoa Skillet Dinner
by Andi @ The Weary Chef
Ingredients
2 tsp. olive oil
½ red onion, diced
2 cloves garlic, minced or crushed
14 oz. can reduced-sodium chicken broth
½ tsp. ground cumin
1¼ c. uncooked quinoa, rinsed
½ c. BBQ sauce (plus a little more for drizzling)
hot sauce to taste (optional)
2 c. shredded chicken (I used rotisserie chicken, or use cooked boneless, skinless chicken breasts)
½ c. shredded 2% milk cheddar or Mexican blend cheese (or more to taste)
4 green onions, sliced
Instructions
1. Heat olive oil in a 12″ skillet over medium-high heat. Sauté onion until translucent. Add garlic and sauté a minute longer until garlic is white. Pour in chicken broth, and add cumin. Bring to a simmer.
2. Stir in quinoa, reduce heat to medium-low, and cover. Simmer for 15-20 minutes until all liquid is absorbed.
3. Stir in BBQ sauce, hot sauce if desired, and shredded chicken. Sprinkle cheese over the top. Replace cover, and cook over low heat 3-5 minutes until heated through and cheese has melted. Drizzle a little BBQ sauce and sprinkle green onions over the top before serving.
Don't forget to swing by The Weary Chef to enter for a chance to win this awesome NINJA Supra Kitchen System that she is giving away!

Looking for more easy, healthy skillet dinners? Try these!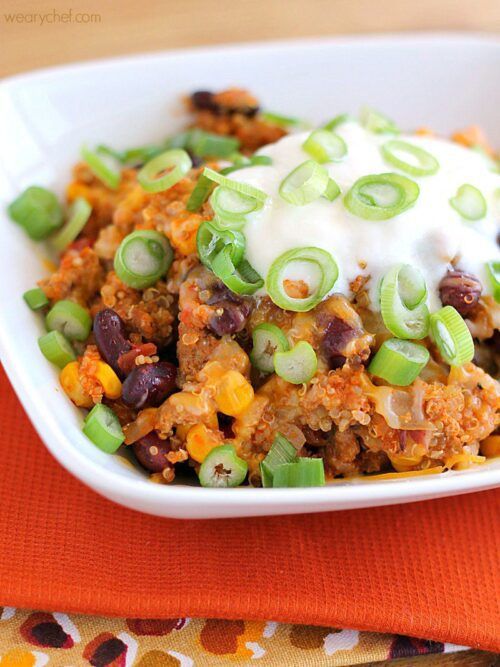 Other Posts You May Enjoy:
Fruit and Almond Quinoa with Apple Vinaigrette